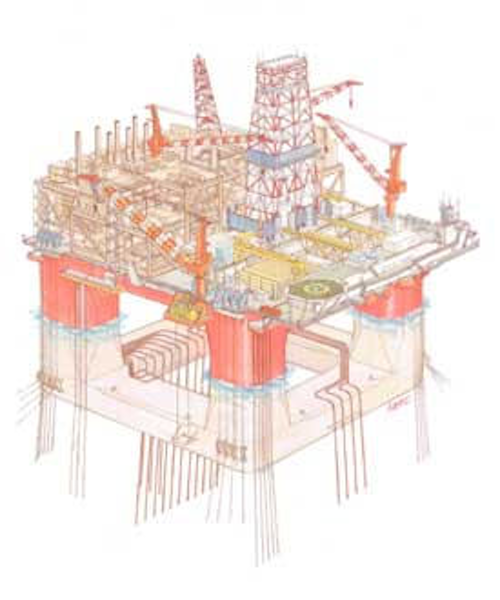 GVA Consultants, the semisubmersible platform specialist, has begun a new era as part of the giant Halliburton group. The move is likely to keep the company busy, as it will continue to seek contracts on its own account while being available to contribute to work won by other parts of the group.
Halliburton completed the acquisition in November last year. Previously GVA Consultants was part of the UK's BMT group. BMT had no plans to dispose of it, but received an offer it could not refuse - the value of which has not been disclosed.
"We expect Halliburton to provide a better fit for us," says marketing director Robert Ludwigson. "There were no synergies for us as part of BMT, and we acted very much on our own." The company now reports to the engineering and construction services division of Kellogg Brown & Root.
As Ludwigson sees it, Halliburton shares GVA Consultants' own belief that the semisubmersible platform is the most appropriate concept for ultra-deepwater developments compared with alternatives such as spars and tension-leg platforms. The new owner's main strategy is to seek EPC responsibility for field developments, and as such GVA Consultants can play a key role in the provision of production semis. But the company is also free to compete for its own contracts.
Thunder Horse and others
Recent success in this field means GVA Consultants is currently working on four projects - BP's Thunder Horse development in the Gulf of Mexico, Statoil's Kristin in the Norwegian Sea - both involving production semis - a drilling rig project for Khazar Exploration and Production Company, a subsidiary of the National Iranian Oil Company, and a recently won production platform assignment for a so far unnamed client in the Gulf of Mexico. Basic engineering began recently for this latest assignment, of which details will be made available when the project is sanctioned later this spring.
The Thunder Horse platform, a GVA 40000 design, takes the production semi into new dimensions. The unit includes both production and drilling capability - it will have a dual derrick - and its production capacity of 250,000 b/d of oil is thought to make it the largest floater yet in this respect. It will have a displacement of 130,000 tons, more than 50% greater than the 82,000 tons of Statoil's Åsgard B gas platform, the largest production semi currently in operation and also built to a GVA design.
Thunder Horse will be installed in a water depth of about 6,000 ft. Such deepwater operation calls for relatively little modification to the semi design, apart from taking into account higher riser and mooring loads, Ludwigson says. GVA Consultants' scope of work includes all front-end engineering design (FEED) for the hull, drilling system, accommodation, marine systems, utilities, and mooring system. Corresponding work for the production modules and riser systems was contracted to Mustang Engineering and CSO Aker respectively.
The benefits of a floater with combined production and drilling have long been proselytized by GVA Consultants. Such a unit can achieve substantial economies by being able to drill and maintain its own wells, compared with a non-drilling unit for which drilling and intervention services have to be hired in. The opinion is shared by Norsk Hydro, which in the 1990s contracted the company for the design of the Visund platform in the Norwegian North Sea.
GVA Consultants was due to complete the Thunder Horse FEED at its Gothenburg, Sweden, headquarters by the beginning of March. This was a 12-month assignment involving up to 130 staff, Ludwigson says. For the last six months an interphase team from the platform fabricator, Daewoo, was working in its offices. Its involvement carries on into the fabrication phase, when it will assist BP with post FEED work, and participate in BP's team based at Daewoo's yard in Korea.
Kristin
The Kristin job will be carried out in the context of GVA Consultants' long-standing collaboration with Kværner, which includes the Åsgard B platform. The two companies also performed the FEED work for the Kristin platform which formed the basis of last year's invitation to tender. The main contract, which includes engineering of the whole topsides and hull but excludes fabrication of some of the topside modules and the hull, was won by Aker Maritime, which, in view of its upcoming merger with Kværner, decided to subcontract the detailed engineering and procurement to Kværner. In continuation of its role at the FEED stage, GVA Consultants will be responsible for the detailed engineering of the hull and deck.
The Kristin platform is based on the Kværner GVA50 design. With a displacement of some 50,000 tons, it is the same size and design as Norsk Hydro's Troll C and Visund floaters. Like Troll C, however, Kristin will not have a drilling capability.
Steel cutting in Iran
After some delays, the Khazar project is now moving ahead, with a start being made to steel cutting earlier this year. This rig, which is intended for drilling in water depths up to 1,000 meters in the Iranian sector of the Caspian Sea, is based on the well proven GVA4000 design, which is the basis for three existing rigs: Sovereign Explorer, Transocean Winner and Vinni, now converted into the Petrobras XXIII production platform.
GVA Consultants heads a consortium with Iran Marine Industries Company (Sadra), an Iranian shipyard group which is building the rig at its Neka yard in the southeastern corner of the Caspian. In addition to design and engineering, GVA Consultants is also responsible for project management assistance. The high-spec unit, which will have some 30,000 tons displacement, is due to be delivered in summer 2004.
This is GVA Consultants' first contract in Iran, but not, Ludwigson hopes, its last. Although owned by Halliburton, the company, being Swedish, would not be subject to the US ban on commercial relations with Iran. Elsewhere in the Caspian, the company is hoping to bid for upcoming production semisubmersibles.
Meanwhile it is in discussion with a number of drilling contractors on the use of its patented DP-Add-On concept for upgrading conventional drilling rigs to deep-water units.
For more information contact Robert Ludwigson, GVA Consultants. Tel: +46 31 10 67 70, Fax: +46 31 13 56 92, Email: robert.ludwigson@gvaconsultants.com.