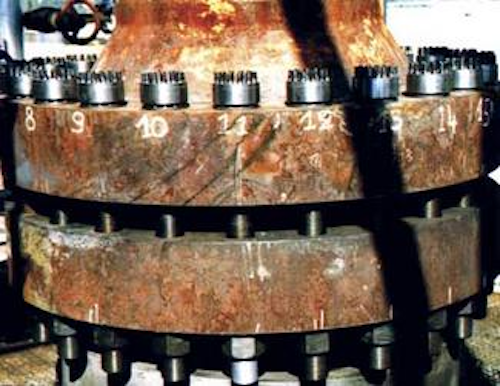 Skruvteknik's superbolt tensioning system gained Det Norske Veritas certification in late August. The Swedish company is seeking offshore applications for the system, which is currently used in gears, turbines, and on ships, in addition to other industrial functions.
The bolts were designed to replace hex nuts, and they can be threaded onto new or existing bolts, studs, threaded rods, or shafts. The main thread positions the tensioner on the bolt or stud against the hardened washer and the load-bearing surface. Once positioned, simply using hand tools to torque the jackbolts around the main thread will tension the bolt or stud.
The company claims that up to 10,000 tons of force can be generated using hand tools, and that a torque wrench is all that is needed to pre-stress Superbolt Torquenuts or Torquebolts to stress levels of up to 160,000 psi. Pre-stressed nuts and bolts remain tight despite placement on vibrating or pulsating equipment. Tests by independent units show that tension does not yield after 1 million load cycles, the company adds.
For more information, contact Gösta Rydin, Skruvteknik. Tel: +46 303 930 22, fax: +46 303 914 63, email: gosta@skruvteknik.com, website: www: skruvteknik.com.