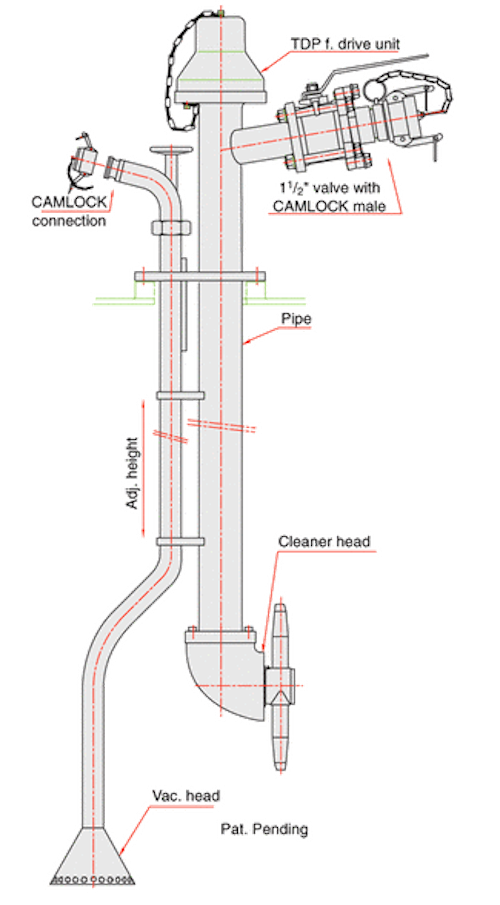 Modern drilling rig designs are adept at using all available space. The large open spaces in tanks needed for mixing drilling and completion fluids and for holding produced liquids are often unusually shaped, with awkward to clean corners, as well as internal pipework, baffles, and other obstructions. These obstructions make cleaning tanks very difficult.
Traditionally, these spaces are cleaned by sending men into the tanks with fire hoses to wash the interior surfaces. The disadvantages of this system are:
At least three men are needed for the task
It is a dirty, dangerous job
It is a time-consuming operation
It creates large volumes of wastewater that must be properly handled
It is expensive.
Gunclean Toftejorg has been designing and manufacturing automated jet cleaning systems for crude oil, product, chemical, and bulk carriers for over 40 years. The company has developed software to optimize the cleaning process, modeling the spaces to be cleaned and the jet systems necessary to clean tank interiors of product and debris. Gun types, nozzles, and spray patterns can all be modeled and modified to thoroughly clean tanks of any size or shape.
The company has also developed a line of cleaning solutions and fluid-handling methods to minimize the cleaning solution needed, as well as minimize the disposable fluids generated. This helps the marine industries comply with the latest environmental regulations, limits costs, and minimizes the disposal problem created by necessary tank cleaning.
Zero discharge
Environmental regulations limit the amount and type of fluids that can be discharged into the seas. This has driven the company to develop ways to recycle cleaning fluids so that the volume of disposable fluid produced by the cleaning process is minimal.
For example, manual cleaning methods can create up to 3,000 bbl of contaminated water that must either be transported to shore for treatment or treated on the rig before being pumped downhole. Both methods are expensive options. By using an automated system, cleaning fluids can be recycled, which reduces the fluid volume to 50 to 100 bbl, a much easier volume to deal with.
The company realized that the flat-bottomed tanks of most mixing tanks on older rigs were very difficult to service and that automating the cleaning process could save significant money. A significant improvement in rig productivity could also be realized due to reduced downtime and better use of personnel. Gunclean developed a way to install its cleaning equipment so that it is suspended below deck with an access cover that can be removed to reach the cleaning equipment.
The 'Vac & Clean' system is straightforward. A circular hole is cut in the top of the tank. An inverted dome with the cleaning gun hung below is attached to the tank's ceiling. A flush access cover then completes the installation.
To clean the tank, the access cover is removed and a pump is connected to the automated jet cleaning system. Cleaning fluid is cycled through the jet and returned to the surface by a siphon until the tank is clean. This allows for quick, safe cleaning of tanks using available rig power and assets, but with a minimal commitment of men.
The normal cleaning process requires several hours using a minimum of three men. For a normal rig with eight tanks, tank cleaning can take one to four days per rig. Experience shows that payback for the new system can occur within two cleanings.
Jackup installations
GlobalSantaFe installed the new automated jet cleaning system as part of the rebuilding of its jackup rigs Rig 184 and Rig 185. Each rig has eight active tanks and eight reserve tanks. The first of the new systems was delivered in May 2002.
Mærsk Contractors also ordered the system for some of its rigs, including two jackup newbuilds from Hyundai Heavy Industries. A total of 11 tanks will use the new cleaning system.

For more information, contact Rene Elgaard, Gunclean Toftejorg. Tel: +46 31 710 7950, fax: +46 31 710 7975, email: re@gunclean.toftejorg.com.
null