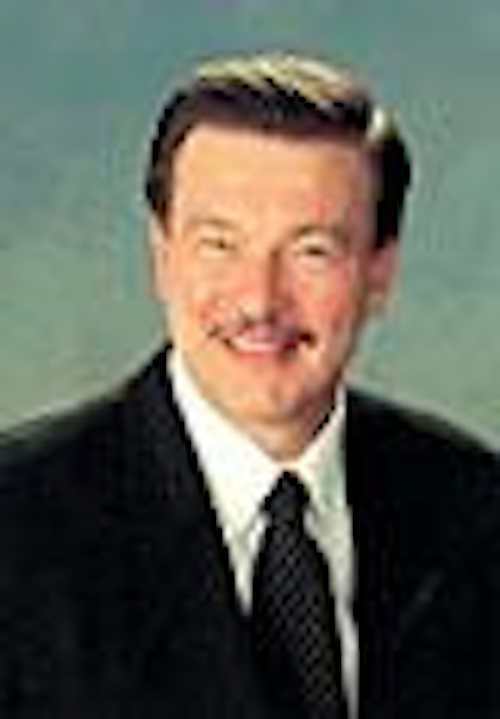 People
Phillips Petroleum Co. and Conoco named Rob McKee Executive Vice President, E&P; W.B. (Bill) Berry President, Asia Pacific; Sigmund L. Cornelius Vice President, upstream business development; Dodd W. DeCamp Vice President, exploration; James R. Knudsen Vice President, upstream technology; James D. McColgin, President, USA Lower 48 and Latin America; Henry I. McGee President, Middle East and Africa; Kevin O. Meyers President, Alaska; Henry W. Sykes President Canada; Steven M. Theede President, Europe, Russia and Caspian; Kirk A. Heinritz General Manager, upstream human resources; F.H. (Mim) James General Manager, upstream finance; Ryan M. Lance Vice President, Lower 48; Darren C. Jones General Manager, strategy and portfolio management; Mark R. Harper President, wholesale marketing; David B. Holthe Vice President. The positions are effective after the two companies merge.
After the Ensco and Chiles merger, Peter S. Atkinson, President of Global Industries Ltd., will assume responsibility for all administrative functions; J. Michael Pearson was appointed Chief Operating Officer; Nicholas A. Alvarado was named Senior Vice President, worldwide business development; Eduardo Borja was named Area Vice President, Mexico and Latin America.
Paragon Engineering Services Inc. named John Augustine Senior Vice President.
Ivan Replumaz joined Technip-Coflexip as Senior Vice President, business and opera-tions of the offshore branch.
Forest Oil promoted James R. Good to President of Canadian Forest Oil Ltd.
Contracts
BP Pipelines Vietnam B.V. and BP Explor-ation awarded a contract to BJ Process and Pipeline Services to provide a range of pipeline commissioning and testing services for the BP Nam Con Son Gas Project in Vietnam.
Smedvig extended the $50.6-million contract with Statoil for the Statfjord Field in the North Sea until September 2004. Smedvig also signed a $3.1-million contract with Nederlandse Aardolie Maatschappij to use the jackup drilling rig West Epsilon offshore Holland for 40 days until the end of July. The company entered an estimated $18-million agreement with PTT Exploration and Production Co. in Thailand to extend the contract for the tender rig T-8 for 17 months.
Statoil awarded Fabricom a NKr160-million contract to carry out work at the Karst gas treatment complex in the Norwegian Sea.
Edison Chouest Offshore and El Paso Marine formed a joint venture company named Energy Maritime LLC to design, build, and operate US-flagged tankers.
Prosafe Offshore received a letter-of-intent from Ocean Oil Construction and Services to provide offshore accommodation services to Pemex in the Gulf of Mexico in a contract worth $13.3 million.
Mobil Equatorial Guinea Inc. awarded FMC Energy Systems a $100-million contract to install subsea systems offshore Equatorial Guinea, Africa's Zafiro Southern Expansion Area project, in 1,411 to 2,625 ft of water.
Keppel Corp. Ltd. clinched contracts worth a total of $46 million. One contract, worth $23 million, is to upgrade and repair Ensco Offshore's jackups Ensco 51 and Ensco 54. The other is a $16-million contract with Fels Setal, and the remaining contract is to build an anchor-handling tug supply boat in Singapore for a Middle-Eastern client.
ChevronTexaco Corp. and Tenaris agreed on a five-year contract for Tenaris to supply ChevronTexaco's international requirements for well casing and prod-uction tubing.
LeTourneau Ellis Williams Co. (Lewco) entered an agreement with a unit of Varco International Inc. for Lewco to manufacture and Varco to sell a line of general duty and heavy duty oilfield mud pumps, parts, and accessories.
The Joint Airborne Lidar Bathymetry Technical Center of Expertise awarded Fugro Chance Inc. a $29.5-million, five-year contract to operate and maintain the Shoals system.
Mergers & Acquisitions
Ensco International Inc. and Chiles Offshore Inc. signed a definitive merger agreement in which Ensco will acquire Chiles in a transaction valued at $578 million.
Schlumberger Oilfield Services acquired Comeau and Associates Ltd., a leading provider of electrical engineering products and services for artificially lifted wells.
Bayou Companies signed a securities-purchase agreement to acquire John Pfeiffer's, majority in Commerical Coating Services Inc.
Grant Prideco Inc. acquired 65% controlling interest in Scana Rotator AS with an option to buy the remaining 35%.
Petro-Canada completed the acquisition of most of Veba Oil & Gas.
Paradigm Geophysical is in discussions to sell the company after an investment firm made a $100-million offer.
Atofina agreed to sell its Flourinated Telomers business to DuPont.
Companies
Transocean Sedco Forex Inc. changed its name to Transocean Inc.
Elf Petroleum Nigeria Ltd. discovered oil in OPL 222, offshore Nigeria.
OceanWorks International Inc. and Global Marine Systems Ltd. signed an order to supply two custom-designed tools to recover telecommuni-cations cable.
New Century Shipbuilding Co. purchased the Tribon M1 Shipbuilding system to design and build ships at its shipyard in Jingjiang City on the northern bank of the Yangtze River.
PAL Indonesia purchased the Tribon Shipbuilding system to design and produce ships at its shipyard in Surabaya.
Apache Corp. reached total depth on its Blue prospect well, Abu Sit-1X, offshore Egypt.
TotalFinaElf started the bidding process for the $750-million Moho/Bilondo floater development off the West African state of Congo Brazzaville.
null