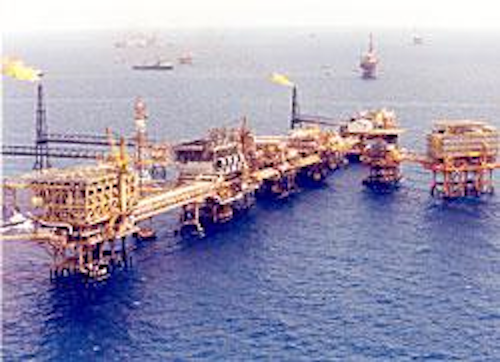 David Shields
Correspondent
Cantarell's role as the mainstay of Mexico's oil production has become vital as the nation's light-crude fields decline. Petroleos Mexicanos' (Pemex) $13-billion Cantarell project aims at maximizing crude output from the Cantarell field in Campeche Bay through secondary recovery and improved infrastructure.
Production from the field is now close to 1.7 MMb/d. The company momentarily reached 1.95 MMb/d output during a production test in December 2001 and expects to boost Cantarell's production capacity to 2.23 MMb/d within the next two years. Pemex says it has received over $14 billion in oil sales from the field in the last five years. This is more than the $13.23 billion total investment expenditures estimated over the project's 15-year duration (1997-2011). Just over $7 billion of these investments have already been made.
More than 200 new wells will be drilled, 26 platforms will be added, and 285 mi of pipelines will be laid for the Cantarell project. There is also a major secondary-recovery project based on injecting nitrogen into the field. That project was designed to halt declining pressure in the field, a goal that has been achieved, Pemex officials say. Nitrogen is injected into Cantarell through seven wells. Pemex will pay international consortium Cantarell Nitrogen Co. $2.7 billion over 15 years for nitrogen.
Pemex has acknowledged for the first time that most of the recent increase in output from the project was due to drilling new, wide-diameter wells, rather than nitrogen injection for pressure maintenance. Indeed, there has been controversy among Pemex engineers about nitrogen injection effectiveness. The company is considering using some of the nitrogen from the Atasta production plant for secondary recovery projects in other fields, both offshore and onshore southeastern Mexico.
Company figures show that the field has produced 8.5 Bbbl of crude oil over 22 years. There are 9.8 Bbbl of oil in the field's possible reserves. Accumulated natural gas production over the period has been 3.5 tcf, with about 4.7 tcf of reserves untapped. The Cantarell field contains 45% of Mexico's proven oil reserves and accounts for 54% of the nation's current output, an amount roughly equivalent to the total volume of Mexican crude oil exports.
Of the 1.95 MMb/d production record achieved at the end 2001, 270,000 b/d were attributed to nitrogen injection for pressure maintenance, while 830,000 b/d were attributed to additional wells and new infrastructure, according to Pemex. The additional wells have a 9 5/8 in. diameter, instead of 4 1/2 in. or 7 in., which has tripled oil flow per well in many cases.
Overall, the Cantarell project has been handled in a secretive manner by Pemex, largely because of political, technical, and financial controversies in the early stages. Public works projects in Mexico have often been stymied by a poor public works law, excessive government control, administrative bureaucracy, and complex processes in project planning, budgetary assignments, bidding processes, and contracting. The secretive nature of the project makes it difficult to evaluate the experience for the worldwide oil industry .
Some problems in executing major engineering, procurement, and construction (EPC) contracts still delay progress toward some objectives. This is particularly the case with EPC-1 and EPC-22, two major offshore gas compression projects, which together are worth about $1.5 billion. Major project delays mean that Pemex still has to flare 300 MMcf/d of natural gas from Cantarell, which it had hoped to bring onshore for the domestic market. Gas flaring on Cantarell has been a contentious issue with environmentalists and other pressure groups in Mexican society over the years.