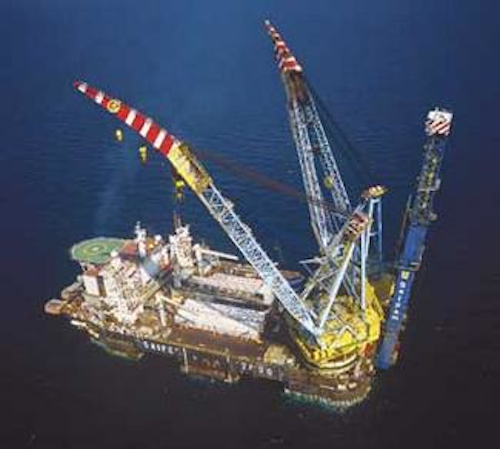 Jeremy Beckman
Editor, Europe
Buying Bouygues Offshore has transfor-med Saipem from a force into a potential powerhouse in oil and gas services. The buyout, tendered by the majority of BOS' shareholders by late summer, marked the climax of a six-year program of investments and acquisitions designed to equip Saipem for the realities of new-age contracting.
"We believe the oil and gas business has changed really dramatically over the last five years, in ways many people haven't appreciated," says Saipem Managing Director Hugh O'Donnell. "We think there are as many, or even more, big oil and gas projects, on and offshore, as there were in the heyday of the North Sea, Gulf of Mexico, and the Middle East. The fundamental difference is that today's projects are not just in these locations. They're worldwide."
Most of the projects are being driven by the new super-majors and remaining majors. But now that this elite has downsized its own in-house technical operations, the onus is increasingly on contractors to manage the full spectrum of field development services, wherever the business may be. The problem, according to O'Donnell, is that "there is not enough business in any one location to sustain a contractor of Saipem's size."
Rather than compartmentalize the market in geographical terms, Saipem has focused since the late 1990s on four "frontier" sectors where the big investments have seemed to be heading. These are:
•Large-scale offshore projects, many in deepwater, but some also in conventional water depths
•Projects in isolated areas with only limited infrastructure, in particular the Caspian and other parts of the former Soviet Union
•Traditional oil provinces – not just the Gulf of Mexico and the North Sea, but also OPEC countries such as Nigeria, Saudi Arabia, and Algeria, where Saipem has historically been strong
•Emerging gas markets, involving development through long-distance trunklines, LNG, or novel gas-processing technologies.
"There is a bit of overlap between all four categories," O'Donnell maintains. "We thought this was where the majors would spend the bulk of their money over the next decade. If you concentrated on any one of these sectors, such as deepwater, there would not be sufficient opportunities to keep a company as large as Saipem going. But if you focus your efforts on all four, a portfolio of opportunities opens up."
To compete regularly for this type of work, Saipem felt it needed to fulfil three criteria. One was to be a genuine superpower in engineering, procurement, construction, and installation. "A lot of companies claim to be EPIC contractors," O'Donnell points out, "but in reality, they subcontract the toughest parts of the job. It was important for us to prove ourselves as an EPIC contractor that could do all these tough tasks and do them in the toughest areas."
Deepwater pipelay project
As an example, he cites the recently completed J-lay installation of two gas trunklines in the Black Sea by the company's flagship laybarge S7000, in a hostile, toxic (seabed) environment, and in water depths exceeding 2,000 m.
"Drilling is another example," he said. "Routine drilling in mature areas is likely to be very crowded in future. Drilling at the frontiers, whether in deepwater or in isolated areas, is much more challenging and therefore potentially more rewarding for those that succeed."
"Another pressing requirement for us was to build up a local labor force near to all these four frontier sector projects," O'Donnell added. "To satisfy the demands of national oil companies, it was going to be more important to employ thousands in Azerbaijan, Kazakkhstan, Nigeria, Russia, and Saudi Arabia than in the so-called First World countries. And if we couldn't supply the service locally, it needed to be as low cost as possible, that is, sourced from low cost fabrication and engineering centers in regions such as the Far East."
Investment plan
Saipem set the foundations for its current program with a series of R&D and equipment investments between 1996 and 2001. The major new items were two deepwater drilling rigs – the semisubmersible Scarabeo 7 and the drillship S10000 – the deepwater J-lay package for the S7000, and the deepwater pipelay/heavy lift barge FDS, built jointly with Bouygues Offshore for the SaiBos venture along with Sonsub's Innovator fleet of ultra-deepwater ROVs.
"All these investments gave us more confidence to take on EPIC contracts," O'Donnell says.
From 2000 on, Saipem also embarked on a string of acquisitions to broaden its capability beyond drilling, pipelay, and general offshore construction. It began by acquiring the remaining 50% share of Sasp, a subsea engineering company based in Milan and London, from Snamprogetti. Sasp's activities were subsequently assimilated into Saipem Energy, a new field development company established in London. Next up came two US design consultants, PetroMarine and Barnett and Casbarian, based in Houston and New Orleans. This was followed late last year by Moss Maritime, a Norway-based designer of floating production platforms, semisubmersible drilling rigs, and LNG vessels. At that point, Saipem was employing over 600 engineers at its offices in Milan, Houston, London, and Oslo.
In the first part of this year, Saipem also closed a buyout of the remaining 50% of two other joint ventures, European Marine Contractors and SaiClo. The former was a pipelay/subsea construction operation co-owned with Brown & Root, active mainly in the North Sea and Gulf of Mexico.
"Buying the remainder of EMC gave us the freedom to reallocate our vessels in this company's fleet to other areas," O'Donnell points out. Taking control of SaiClo from Australian partner Clough Engineering gave Saipem greater freedom to pursue large gas projects in the Far East – one of its frontier goals.
Despite these additions, Saipem still considered itself below par in overall project management and engineering capability. Those skills had been provided to an extent by its one remaining joint venture, SaiBos, formed in 1995. Under an agreement with Bouygues Offshore, this company was focused on offshore construction projects in West Africa and South America, driven by a pooled fleet of installation vessels and engineering teams in Paris and Milan. Often, fabrication work would be subcontracted to other ventures owned by the two groups, such as RosBos in Ravenna, Italy, and Intermare Sarda in Sardinia, or alternatively to local organizations.
Saipem saw BOS' strengths as complementing its own.
"Traditionally, we were viewed as "doers," says O'Donnell, "while they were designers and project managers. We also thought we might complement each other as the first and only true European superpower in oil and gas services." An initial approach in spring 2001 was rebuffed by BOS' parent company Bouygues, but there was a change of heart a year later during discussions over Saibos' future.
This led to an agreed sale of Bouygues' 51% stake in BOS to Saipem, approved this July by the European Commission's anti-trust division. By September, Saipem had achieved more than 98% control of the company, and expected to be 100% owner in October. The transaction values BOS at around $1 billion. The newly combined workforce of the two groups (to be known as Saipem) will exceed 23,000, spread across 40 countries. Of these, more than 3,000 are French, while less than 2,500 are Italian.
"So you could argue we are more French now than Italian," O'Donnell points out. "More realistically, we are very international, but with a fundamentally European basis."
BOS brings to Saipem wide-ranging expertise in shallow and deepwater engineering. Its more recent R&D achievements have been in deepwater flow assurance, risers, and floating production systems. The multi-function barge concept with surface wellheads, for instance, appears to be a strong candidate for major deepwater projects offshore Angola and Nigeria. Through its joint venture with Gaz de France – SN Technigaz – BOS has also worked on a design for an LNG FPSO. Elsewhere, it joined the throng competing for construction projects in the Caspian through forming ventures with yards in Azerbaijan and Kazakhstan. It also brings Saipem stakes in innovative conceptual/development engineering companies such as Doris and Sofresid in France and Offshore Design Engineering in the UK.
The new, enlarged Saipem will be organized as six global business divisions. Three of these, Offshore, Drilling, and Leased FPSOs, will be based in Milan under O'Donell's supervision. Offshore will encompass platforms, pipelines, subsea (or SURF). LNG, Onshore, and MMO (maintenance, modifications, and operations) will be coordinated from Paris, headed by Jacques Leost.
Assets (Saipem's broad spread of equipment) will be managed from Milan, while the EPC competencies will be directed from Paris. Both centers will continue to pursue R&D, with Paris concentrating on concepts and Milan on methods. Saipem also attaches importance to the role of area managers representing the group in regions such as Angola, the Caspian, Nigeria, Russia, Saudi Arabia, and Southeast Asia.
As separate entities, Saipem and BOS had consistently strong links with their countries' major oil companies, Eni and TotalFinaElf.