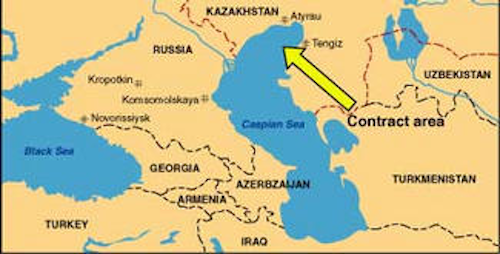 Kashagan, the giant shallow-water disc-overy in the northern Caspian, could be developed using artificial islands in place of conventional platforms. Kazakhstan's government aims to finalize the oil export route next year, with first production targeted by end-2005.
These were some of the key issues to emerge from IBC's recent Kazakhstan Oil & Gas Conference in London. Progress on Kashagan was outlined mainly by ENI-Agip's Domenico Spada. His company was named operator this February of the North Caspian Sea project, previously known as OKIOC. The other partners in the consortium are BG, BP, Exxon-Mobil, Inpex, Phillips, Shell, Statoil, and TotalFinaElf.
Thus far, two successful exploration wells have been drilled from the ice-resistant Sunkar barge, operated by Parker Drilling. The first, Kashagan East-1, was completed in summer 2000. This was followed by Kashagan West-2, 40 km distant, which was spudded last October, and completed this spring following tests. The location was 75 km southwest of Atyrau on the Kazakhstan coast.
According to ENI-Agip, the second well encountered the same producing strata as Kashagan East-1, with "excellent" correspondence between the test results and the interpreted seismic data. Producibility has been loosely estimated at 5,000-20,000 b/d of 42-45 degree API oil.
The Sunkar has since returned to Kashagan East to drill the KE2 appraisal well (8 km north of KE1), with a second appraisal well to follow in this area by year-end or early 2002. Spada said that at least four more exploration wells would be drilled by 2004, with another rig being brought in at some point.
Year-round drilling
This suggests that the partners now feel comfortable with year-round drilling. Before the campaign started, there had been concerns over buildup of ice during the winter months. Largely on this account, the barge is stationed on a submerged berm, with protective structures for the wellheads.
New 3D seismic is being acquired by WesternGeco over 1,600 sq km in the field's eastern section, using vessels specially modified to work in ultra-shallow waters. This program will be suspended during the ice season, resuming over western Kashagan next summer. Altogether, the production sharing agreement incorporates 11 offshore blocks covering an area of 5,500 sq km.
Purpose-built icebreakers bring in materials to the seismic vessels and the drilling barge. Spada pointed out that the ice is mobile, which makes it difficult to manage and impossible to walk on. The ice also leads to sedimentary scouring. When it melts, water depths vary from 2 meters to 10 meters, but in the planned location for the third exploratory well, it drops to 1.7 meters. "Sometimes when the wind blows, the water disappears completely in that area," he pointed out.
Gale-force winds also extinguished the barge's oil and gas burning flare this April. That led to a 210-liter oil spill in the sea, forcing temporary suspension of tests on Kashagan West-1. Spada claimed that the consortium was operating a zero discharge policy where possible, but the incident underlined the potential hazards for the local eco-system. Spada described this as "the most biologically productive part of the Caspian," being the main breeding grounds for sturgeon and other important fish and birds. The spill will not, however, lead to curtailment of the extensive tests planned for the current appraisal well.
Development hurdles
Spada said the consortium was aiming to get first oil out to the markets by late 2005. However, the development team faces numerous challenges, including weather extremes (40° C in summer and -30° C in winter) the reservoir's large areal extent, high pressure, the 18-20% hydrogen sulfide content in the gas produced to date, and a high gas-oil ratio.
Logistical problems include a poorly developed road network leading to and from the offshore location, and a general lack of fabrication/ marine back-up capability at this end of the Caspian Sea. "These are problems common to other areas of the world, but it's unique to have them all together," Spada suggested.
Drilling and seismic operations are supported from the Bautino base, situated on a peninsula 350 km south of the contract area. "Local sites are not up to serving offshore activities, " Spada claimed. However, according to another paper at the IBC conference from Michael Wilson of Eurobak, state company Kazakhoil is working with the North Caspian Sea consortium to develop a program for new supply bases, ports, storage, and waste treatment facilities.
Transportation
Due to the ultra-shallow water depths, the consortium may opt for a central production complex comprising bridge-linked, man-made islands rather than platforms. These islands could separately house drilling facilities, risers, and oil processing/gas reinjection equipment. In turn, they would be linked to living quarters and utility modules dedicated to compression, heating, and steam generation.
All the modules would have to be transported during the summer months and lifted onto pre-installed piles. Several of these facilities would be needed to attain production plateau as planned by 2014.
Between 2005-2010, Kazakhstan's installed pipeline capacity should be sufficient to handle oil exports from Kashagan, Spada claimed. "Today, Kazakhstan can export over 23 million tons per year, and the CPC line will add 24 metric tons/year when fully operational in 2002." The partners are also investigating the potential for oil shipments via Kazakhstan's rail network.
A dedicated pipeline transportation system is not on the agenda for the time being, but that may change following further appraisal of Kashagan and other suspected structures in the northern Caspian. The government recently issued tenders for the Karazhanbasmunai-more and Darkhan offshore blocks, and KazakhOil also has plans to drill its Yuzhny Zhambai - Yuzhny Zaburunye license.
According to Bulat Elemanov, a Vice-Minister at the Ministry of Energy and Mineral Resources, there are over 100 promising structures that have yet to be explored in the Kazakh sector of the Caspian Sea. "The most optimistic expectations suggest 100 million tons could be extracted."
By the end of this year, the government aims to institute new legislation covering offshore licensing terms, including operator responsibilities and bonus payments. By then, the government will also decide whether to initiate further, more geologically detailed, seismic acquisition.