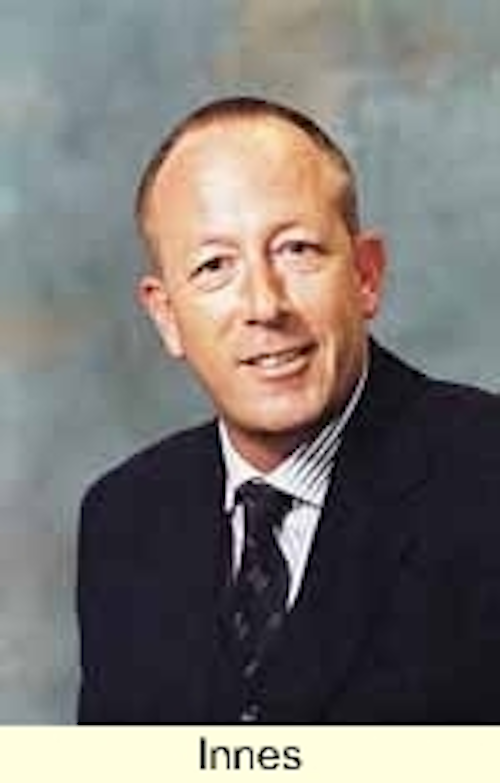 People
Sonsub Inc. namedGiorgio Martelli as Chief Operating Officer for their Houston facility. Gary Milner was named Commercial Manager for Sonsub APAC in Singapore.
Larry D. J. Pope will replace David Baker, who will be retiring, as President and CEO of Technip USA.
Gulf Canada Resources (Calgary) appointedRon McIntosh as Senior Vice President and Chief Operating Officer.
David Boyle joined the board of Ramco Energy (Aberdeen) as a Non-Executive Director.
James L. Payne was elected to the Board of Directors for Global Industries, Ltd.
Jorma Eloranta is the new CEO of Kvaerner Masa-Yards (Helsinki).
Mike Hutchisonis the new General Manager of Racal Survey in Aberdeen.
Arne Rosenkrands Larsen was appointed Managing Director of Greenland oil company Nunaoil (Nuuk).
John McDonald of Texaco is the new President of the UK Offshore Operators Association (London).
Fraser Innes was promoted to Senior Vice President - Eastern Hemisphere at Weatherford Comp-letion Systems (Aberdeen). Nick Gee became Vice President Europe and Africa, and Scott Aitken was promoted to Vice President Middle East and Asia/Pacific.
Graham Makin was named director for Flow Control, Well Servicing, Downhole Instrumentation, and Control Systems, and Paul Metcalfe was named Director, Control Systems and Expandable Products.
Martyn Millwood Hargrave is head of Business Development of the con-joined Troy Petroleum Management Services and IKODA of London, while Mike Dodworth assumes the role of Managing Director, Operations.
Oceaneering International, Inc. promotedRobert "Pat" Mannina to ROV Manager for North America.
Robin A. Forté, CPL was named Executive Vice President of the American Association of Professional Landmen and William D. Patterson, RLP was chosen Director of Education/General Counsel.
Steven G. Landry was promoted to Vice President of safety & Compliance Services for Production Management Industries.
William R. Cook was elected to the Board of Directors for Envirogen, Inc.
Contracts
Halliburton Energy Services, Inc. and Micro Mining Technologies Int'l Inc. finalized an exclusive multi-year international licensing agreement for MMI's Advanced Oxidation Process (AOP) technology.
Bollinger Shipyards, Inc. began construction of three 145-foot supply/utility boats for Bordelon Marine, Inc.
Enterprise Oil signed a two-year worldwide technology-access agreement with Paradigm Geophysical for complete access to Paradigm solutions, consulting services, and on-site support.
Bestolife Corporation and Bardahl Lubricantes Argentina S.A. signed an agreement for Bardahl to manufacture and distribute thread compounds in South America.
Petroleum Geo-Services ASA signed a definitive agreement withHalliburton and Landmark Graphics to sell its global Petrobank Data Management business and related software for $179 million.
Spectrum Energy and Information Technology Ltd entered a joint-venture with Samit Enterprises Pvt. Ltd. to offer comprehensive geophysical services to oil companies in India.
Western State Australian Government approved the $2.4 billion LNG project, named North West Shelf Joint Venture Partners, to seek board approvals for project commital.
A contract was awarded toWest Australian Company and BGC Contracting Pty Ltd. for more than $25 million for site preparation works on a LNG project.
Woodside Petroleum Ltd. & Subsidiaries will acquire 15% in the Ohanet Risk Service Contract; 50% in the Boukhechba Production Sharing Contract; and 50% in the Quest Hassi R'Mel Gas Study Agreement from BHP for $22.5 million.
Expro Americas Inc. and Kerr-McGee Corp. entered a contract for Expro to provide subsea intervention services for the Boomvang and Nansen developments in the Gulf of Mexico.
Transocean Sedco Forexand R&B Falcon Corporation signed a non-binding letter of intent with Gary and Laney Chouest (Chouest Offshore) to create a US Gulf of Mexico marine support vessel joint venture (JV) in Galveston, Texas.
J. Ray McDermott, S.A. signed a contract with Unocal Thailand, Ltd. for fabrication, transportation, installation, hook-up and pre-commissioning of the North Pailin Development Project in the Gulf of Thailand.
Bouygues Offshore, Saipem SpA, and a Japanese consortium signed a contract to design, engineer, procure, and construct the offshore section of the Blue Stream pipeline system in the Black Sea.
Dresser-Rand signed a contract worth more than $20 million to supply gas turbine power generation packages for BP Norway.
Paragon Engineering signed an agreement to form a joint venture company with Stolt Offshore.
Mergers & Acquisitions
Schlumberger Limited and Baker Hughes closed the transaction to have Baker Hughes Incorporated create WesternGeco, a seismic joint-venture.
Quicksilver Resources Inc. acquired Mercury Exploration Company for approximately $18 million.
Colfexip Stena Offshore finalized acquisition of Aker Maritime's ASA deepwater operations for $513 million, plus the assumption of net debt of $112 million.
R&M Energy Systems acquired Campbell Industries, Ltd. of Edmonton, Alberta, Canada.
TheUS Department of Justice verbally informed Transocean Sedco Forex and R&B Falcon that it has completed its review of the proposed merger of the two companies.
Ramco agreed to sell 2.08% carried interest in the Azeri Chirag Gunashli fields offshore Azerbaijan to Amerada Hess for approximately $150 million in cash. Hvide Marine Incorporated showed interest to purchase the remaining 24.25% equity interest in Lightering Tankers LLC from Newport New Shipbuilding for $11 million.
Apache Corporation announced a definitive agreement to acquire Canadian properties with proved reserves of about 71.6 million boe from Canadian affiliates of Phillips Petroleum Company for $490 million.
Crowley Maritime Corporation will acquire all the outstanding shares of Marine Transport Corporation for $7 per share.
.