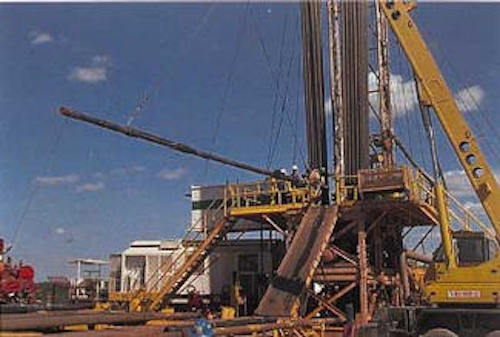 People
Forest Oil Corporation elected H. Craig Clark as President and Chief Operating Officer.
Enron Corp. promoted Greg Whalley to president and chief operating officer and Mark Frevert to vice chairman.
Bard Johansen was appointed president of Aker Energy.
Ian Phillips become Vice President of Project Development at Ramco Energy.
Joseph H. Netherland is President and Chief Executive Officer of FMC Technologies; Peter Kinnear is Vice President; Robert L. Potter is also Vice President.
Michael Mannering is the new chairman and chief executive of Schlumberger plc.
Steve Bullock becomes Director, Operations Support of PGS Production Services; Paddy Mallan is Director, Engineering and Construction; and John Methven is Director.
Kenneth Loch is the new Director of Business Development in the Americas for PGS Production, Inc.
Paul Blakeley of Talisman Energy UK is co-chairman of the Industry Leadership Team; also, co-chairman is Sir Ian Wood of the Wood Group; Tom Botts replaces Blakeley as chairman of the UK's Step Change safety campaign.
Oceaneering International promoted Lawrence Watt to assume responsibility for its Smart emergency pipeline repair systems within the Eastern Hemisphere.
Laura Skrmetta joined EDG, Inc. as Technical Recruiter.
KCA Drilling named Chris Rose Commercial Director.
ENSR International named Michael A. Beck Senior Vice President.
Contracts
China Petroleum & Chemical Corp. signed a letter of intent with the Shandong provincial government to build a 10 million ton/year refinery in Qingdao.
Premier Petroleum Myanmar Ltd. awarded the Singapore office of Kværner ASA a contract as part of the upgrade of the Yetagun platform in Myanmar's Gulf of Martaban.
Atwood Oceanics, Inc. was awarded a contract from Burullus Gas Company for eleven wells.
Jacobs signed a letter of intent to acquire Onshore Engineering and Construction Operations from McDermott International.
Ocean Rig ASA received a letter of intent from ExxonMobil Corp. and BP plc for the Leiv Eriksson semisubmersible.
Phillips Oil Company Ltd. signed a deal with Nigerian National Petroleum Corp. and Nigerian Agip Oil Co. to develop a liquefied natural gas plant.
Williams Energy Services awarded Coflexip Stena Offshore Inc. a contract for two 18-in. export lines from Devils Tower field in the Gulf of Mexico.
ExxonMobil Corp. awarded Saibos CML a $230 million contract as part of the Kizomba A project off Angola.
Norsk Hydro USA Oil & Gas Inc. and Conoco entered a joint-venture agreement where Norsk Hydro will acquire 25% working interest participation of three exploration wells in the GOM.
Schlumberger Oil & Gas Information Solutions signed a reseller agreement with Barco Simulation Products to enhance virtual-reality visualization and collaboration through the SIS iCenter*.
Logic was awarded a contract by DTI to deliver an innovative new scheme to bring e-commerce to companies in the oil and gas sector.
Shell Exploration & Production Co. began production from its Brutus tension leg platform on Green Canyon Block 158 in 2,985 ft water depth.
Schlumberger Oil & Gas Information Solutions signed a joint marketing agreement with the American Productivity & Quality Center to link people to information through communities of practice and expertise.
NKK Corp. received a second order for welded pipe from Royal Dutch Shell and ExxonMobil Corp.
Company
Kværner Oilfield Products performed the groundbreaking on its Research and Development laboratory.
Vaalco Gabon Inc. selected the floating prod-uction, storage, and offloading vessel Petroleo Nautipa to develop the Etame field off Gabon in a $30 million contract.
Offshore drilling contractor Global Marine Inc., Houston, reports that its worldwide Summary of Current Offshore Rig Economics (SCORE) for July fell by 0.3% from June.
ExxonMobil Corp. began production at its $330 million subsea Mica development on Mississippi Canyon Blocks 167 and 211 in the Gulf of Mexico.
DNO Heather Ltd. began drilling an exploration well on Block 2/5 in the UK North Sea.
Parker Drilling Company completed a major refurbishment program and a five-year inspection of its jackup rig 22J.
Conoco and its partners declared that the Sutu Den discovery on Block 15-1 off Vietnam is commercial.
Australia granted the $400 million BassGas development project off Victoria state major project facilitation status.
BJ Services Company successfully completed a contract for Woodside Petroleum to provide cement pumping and related engineering services offshore Mauritania in North Africa.
German company Veba Oil Nederland BV brought onstream the Hanze oil field, located in the North Sea off the Netherlands.
PanCanadian Petroleum Ltd. announced its Musquodoboit E-23 exploration well off Novia Scotia was unsuccessful.
Mergers & Acquisitions
Santa Fe and Global Marine entered a definitive agreement to merge into GlobalSantaFe at a market value of $6 billion.
American Resources Offshore Inc. acquired Blue Dolphin Energy Co.
Abbot Group PLC acquired Deutsche Tiefbohr AG for 134 million British pounds in cash, including repayment of 75 million pounds in debt.
The Federal Trade Commission approved Chevron's $38.7 billion acquisition of Texaco.
Gulf Drilling & Production Services acquired 90% of shares in ITAG Group.
Devon Energy Corp. will acquire Anderson Exploration Ltd. in a $4.6 billion deal.
M-I LLC acquired BW Group PLC.
Lukoil Overseas Holding Ltd. acquired the remaining 50% of joint venture Permtex LLC from SOCO International PLC, London, for $50 million.
Amerada Hess Corp. acquired 27.5% interest of EEX Corp.'s Llano Field in the Gulf of Mexico.
Oceaneering International, Inc. acquired Gulf Coast International Inspection, Inc.
Petris Technology's industry applications and data integration tools will merge with GeoNet's Application Service Provider.
Shell and Saudi Refining Inc. are expected to buy Texaco's interests in Equilon and Motiva.
Dominion Resources Inc. will acquire Louis Dreyfus Natural Gas Corp. in a $2.3 billion cash, stock deal.
Schlumberger Oilfield Services entered an agreement in principle to acquire Sensor Highway Ltd.
Schlumberger Oilfield Services acquired Kav ernen Bau und Betriebs GmbH from the Preussag Group.
Superior Energy Services, Inc. acquired Workstrings, LLC and its related company Technical Limit Drillstrings, Inc.