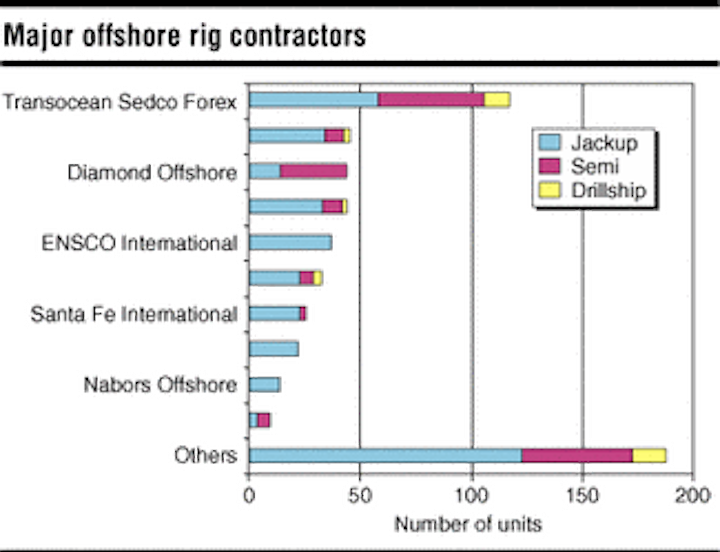 The offshore drilling industry is no stranger to consolidation. Over the last 10 years, the number of major players has been cut in half through mergers and acquisitions. In the last few years alone, the leading drilling contractors have gotten larger, an action taken to complement their consolidating customer base of oil companies and maintain pricing discipline.
Last year, Transocean Sedco Forex announced its $8.8 billion acquisition of R&B Falcon, which was preceded nearly a year earlier by the announced $3.6 billion merger of Schlumberger's offshore assets into Transocean.
While Pride has not undertaken a major acquisition since its $320 million purchase of Forasol-Foramer N.V. in 1996, the company has made several rig acquisitions, including land rigs, jackups, and more recently, purchasing the remaining interest in two of its ultra-deep floaters, the Pride Carlos Walter and Pride Brazil, and acquiring two Transocean-managed North Sea semisubmersibles (semis), the Pride North Atlantic and Pride North Sea.
In late May 2001, Pride International was rumored to be an acquisition target, with Nabors Industries as the likely buyer. Days after the rumor surfaced, it was replaced by Pride's announcement to merge with Marine Drilling in an equal stock-for-stock transaction, creating a $6.2 billion company.
Contractor ranking
While the merger creates the third-largest offshore drilling contractor in terms of enterprise value, the combined companies will be a close, fourth-largest offshore drilling contractor in terms of jackup and floater units. The newly combined entity will own 44 units, including 33 jackups, nine semis, and two drillships.
Pride will contribute the majority of deepwater capacity, adding seven of the nine semis and both drillships. Six of the floaters are newly constructed and capable of operating in 5,000 ft water depth or greater.
These fleet figures do not include the Amethyst 4 and Amethyst 5 ultra-deep semis, which are under construction and are expected to be delivered in the first half of 2002. With 27 of its 33 jackups in the US Gulf of Mexico, the new Pride focus will be heavily centered in this market where both companies operated large jackup fleets. The combined company will also operate a fleet of 29 tender-assist, barge, and platform rigs, as well as 246 land rigs in international markets, primarily in Latin America.
Currently, the Gulf of Mexico jackup market consists of 141 contracted rigs of 159 available. With the consolidation of Pride and Marine, the top three drillers in this market will control 50% of the supply, and Pride will be the number one operator with all 27 of its US Gulf jackups contracted (while Transocean owns 29 rigs, only 22 are currently contracted).
Additionally, Pride will be the largest operator of mat-supported rigs in the range of 200-300 ft, operating 22 of the 43 jackups in supply. As some contractors begin to mobilize jackups from the Gulf of Mexico to other markets to take advantage of longer contract terms and higher day rates, Pride is unlikely to mobilize its jackups from the Gulf of Mexico. Although day rates for US Gulf jackups have recently stalled, market fundamentals remain strong with international markets competing for US Gulf supply and domestic natural gas prices holding well above historical norms. The combined company will be highly leveraged to US Gulf jackup rates, as every $1,000 increase in day rates will add an estimated $0.04 in annual earnings per share on a fully diluted basis.
Pride's leverage
The new Pride jackup fleet will have an average backlog of 159 days worldwide and 68 days in the US Gulf. The combined company has a strong backlog on its six ultra-deepwater floaters of over 13 years. Once the Pride Brazil and Pride Carlos Walter begin programs in Brazil, daily cash flow from the six rigs will be approximately $560,000, net of minority interest in the Pride Angola and Pride Africa.
Based on first quarter results, the combined company will be financially stronger, with a total debt/capitalization ratio of 54% (compared to Pride's current ratio of 63%) as well as EBITDA/interest coverage of 5.1x (compared to Pride's current coverage of 3.2x). The merger will also enhance trading liquidity and market capitalization. The combined company will have approximately 132.3 million common shares outstanding, compared to Pride's current shares outstanding of 73.6 million.
Additionally, the combined company's earnings will have greater leverage to the attractive ultra-deepwater and US Gulf jackup markets and less emphasis on international land operations. According to Pride's financial advisors on the deal, the international onshore operations will contribute an estimated 23% to 2001 gross margins on a pro-forma basis, compared to first quarter international onshore contribution to gross margins of 32%.
Current First Call 2002 consensus estimates for Pride and Marine are $2.50 and $2.71, respectively. Industry analysts believe that the deal will include minimal cost savings and are estimating that the deal will be neutral to Pride's 2002 earnings. On a valuation basis, Jefferies & Company estimates Pride's most recent net asset value (NAV) per share on a fully diluted basis of $15.93 while Marine Drilling's NAV per share is estimated at $16.14.
An accompanying chart serves as a perspective on which to reflect upon the industry's past transactions - and lead us all to wonder ellipse who's next?
Authors
Oscar Hernández and David Smith are industry analysts with the ODS-Petrodata Group, a OneOffshore company that provides printed and electronic information tools. At the time of publication, both analysts held positions in the securities of Marine Drilling, but held no positions in other stocks mentioned in this article (holdings can change at any time). The information in this article does not represent a recommendation to buy or sell stock.