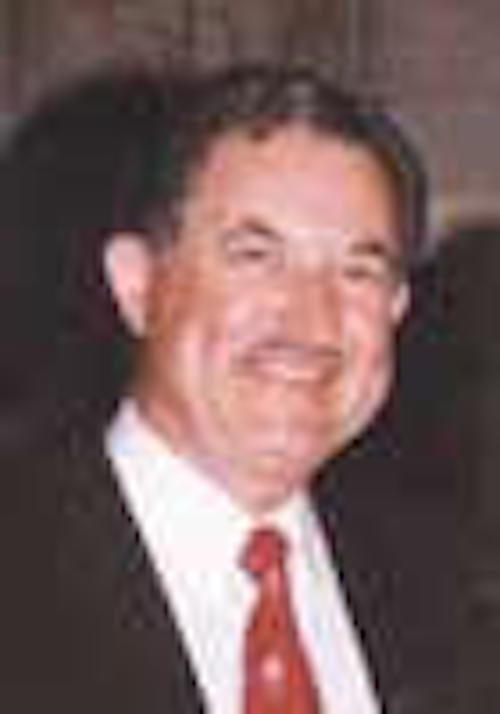 People
Arvind Murlidhar Uplenchwar took over as pipelines Director of Indian Oil Corporation Ltd.
Benthos, Inc. namedDamon Bizuka Product Manager for its remotely operated vehicles.
John R. Milligan resigned as Director of Petroleum Geo-Services ASA.
Cajun Tubular Services, Inc. addedTroy Michel as Manager of Assembly Make-up & Testing Services Division.
Charles Redmon joined Well Master Corporation as President.
Daniel Sammartino of Techint agreed to take over as President of IPOLCA one year earlier than planned.
Uniqema appointedClive Grannum as Senior Vice President, Americas.
The International Association of Geophysical Contractors appointedG.C. "Chip" Gill as President.
Stratos Global Corporation appointedDave R. Oliver, Jr. to its Board of Directors.
IHS Energy Group hiredDoug Carroll and Charles C. Matthews as account managers.
Expro International Group PLC appointedGavin Prise as Region Director for Europe.
Enterprise Oil appointedSam Laidlaw as Chief Executive.
CGG's Data Processing & Reservoir Services appointedBertrand Chavane as Manager of CGG's Massy center.
Mike Read joined Ocean Design as CEO.
Hugh Jackson, a major player in the offshore indu-stry, died Sept. 27, 2001.
Contracts
Global Offshore Mexico S. de R.L. de C.V. contracted with Petróleos Mexicanos Exploración & Producción to provide engineering, procurement, and construction services in the Bay of Campeche.
FMC Energy Systems contracted with Petrobras to supply a subsea solution for the Albacora Leste field offshore Brazil.
BJ Tubular Services contracted with British Gas Trinidad and Tobago Limited to provide casing and tubing running services and hydraulic hammer conductor driving services for wells on the NCMA development.
BJ Process and Pipeline Services was awarded a contract by Amerada Hess Limited to provide process and pipeline services in the North Sea.
International Mooring Systems joined Offshore Marine Contractors to offer global service for mobile rig moves.
C&C Technologies, Inc. and NavCom Tech-nology, Inc. entered a commercial agreement to supply StarFireTM differential global positioning service receivers and signals worldwide.
Enginuity, LLC and Gulf Interstate Engineering Company formed an alliance to offer turnkey services for the natural gas industry.
Baker Energy and Phillips Petroleum Company finalized a contract for operations and maint-enance of seven production platforms in the Gulf of Mexico.
Aker Maritime ASA postponed the planned redemption of its minority shareholders due to an objection from Coflexip S.A.
Friede Goldman Halter, Inc., Petrodrill IV Ltd. and Petrodrill V Ltd. agreed to advance the con-struction of two Amethyst-class deepwater semisub-mersible drilling rigs.
Statoil awarded European Marine Contractors a contract to lay a pipeline between the Mikkel field in the Norwegian Sea and a subsea template on the Åsgard field's Midgard deposit.
BP Norway awarded Smedvig a letter of intent to contract for the jackup drilling rig West Epsilon to drill on the Valhall Flank off Norway.
Dunlaw Engineering Ltd. and Flotation Technologies, Inc. will jointly design and manufacture deepwater buoyancy systems and design in solid elastomer engineering.
UpstreamInfo awarded EDS a contract to host the company's production centers.
Mergers & Acquisitions
Chevron Corp. and Texaco Inc. merged into ChevronTexaco totaling revenues of nearly $117 billion and more than 11 billion bbl in gas and oil reserves (see figure below).
Superior Energy Services, Inc. acquired Workstrings, LLC and its related company Technical Limit Drillstrings, Inc.
Weatherford International, Inc. acquired the Kopp Group from PII Limited.
Cheniere Energy Inc. acquired all rights held by Zydeco Energy Inc. of proprietary seismic data in an area covering 230 sq miles offshore Louisiana.
Duke Energy and Duke Capital Corp. will acquire Westcoast Energy, Inc. for $3.5 billion, plus $4.5 billion of debt.
Talisman Energy AB offered to acquire all outstanding shares and warrants of Lundin Oil AB.
TotalFinaElf finalized the 70% interest acquisition of Hidroneuquen.
Technip now holds 98.36% of Coflexip and 99.05% of Isis.
Schlumberger Oilfield Services acquired Phoenix Petroleum Services.
TotalFinaElf is forming a joint venture with Air Liquide to develop a liquefied petroleum gas marketing operation.
Company news
The Seismic Data Processing division ofPGS Geophysical opened a processing facility in Aberdeen, Scotland.
Chevron Canada Resources and Irving Oil Limitedwill continue a feasibility study to add LNG capability at the Irving Canaport terminal in Saint John, New Brunswick, Canada.
The Society of Exploration Geophysicists opened its Geoscience Center at the organization's world headquarters in October.
Bardex Corporation used a riser pull-in system on the ExxonMobil Hoover deep-draft caisson vessel in the Gulf of Mexico to pull in and tension the steel catenary risers on the Marshall and Madison subsea developments.
Comsat Mobile Packet Data Service is expected to be commercially available during the 4Q 2001.
Paradigm Geophysical Limited reached agreements on $30 million of committed funding to strengthen its financial structure.
Foster Wheeler is the first contractor to use the Sasol GTL process outside of South Africa.
ENRG is the new name for PFC/eFuels.