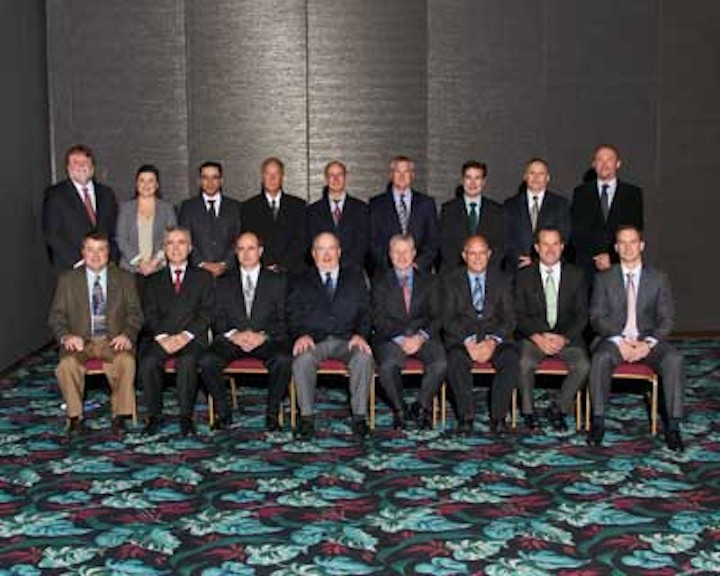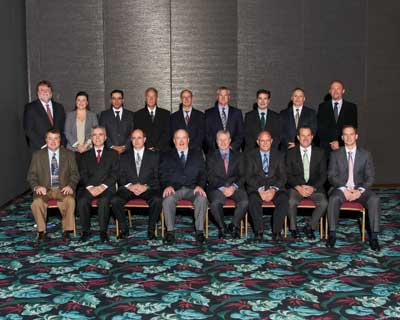 Deepwater Operations Advisory Board. Back row standing – left to right: Pete Stracke, Statoil; Robin Dupre, Offshore; Amro Hamza, Anadarko Petroleum Corp.; Mike Lynch, Granherne; Jay Hachen, W&T Offshore; John Glithero, Wood Group PSN; Dave Blackburn, Hess Corp.; Wayland Christensen, Chevron Global Upstream & Gas; Tim Colwell, Shell Brasil Petroleo Lt. Sitting – left to right: Kris Kallaway, ConocoPhillips; Sergio Matos, Petrobras America; Charles Hutto, Noble Energy; Craig Sherer – Advisory Board Chairman, Chevron North America; Jeremy Burford, BHP Billiton; Shawn Lurry, Apache Corp.; Donny Burleigh, FMC Technologies; and Paul Danos, Danos. Not pictured: Ron Sloan, Murphy Exploration and Production.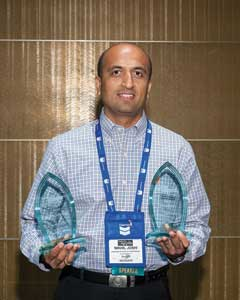 Nikhil Joshi won the best presenter and best presentation awards at Deepwater Operations.
A record-breaking 1,442 people attended the Deepwater Operations Conference & Exhibition in Galveston, Texas, on Nov. 4-6, 2014. Nikhil Joshi of Anadarko Petroleum Corp. received both the best presenter and best presentation awards. In his presentation "Low Dosage Hydrate Inhibitor Experience" he discussed continuous and startup shutdown use of LDHI (low dosage hydrate inhibitor) in deepwater fields. It included qualification process (lab and field), lessons learned, and operations. Joshi is a flow assurance advisor with Anadarko. He has 15 years of experience in the Gulf of Mexico, international deepwater, and US onshore assets in the flow assurance and production management areas. He has been supporting Anadarko since 2005 managing its chemical program and production optimization. He has also supported brownfield expansions and greenfield projects. The annual event returns to the Moody Gardens Hotel & Convention Center in Galveston, Texas, Nov. 3-5, 2015.
People
DONG Energy has appointedDavid B. Cook as CEO of Exploration & Production and group executive vice president. He succeeds Søren Gath Hansen, who will continue in the company as head of the group's Quality, Health, Safety and Environment activities.
MEO Australia Ltd. has appointedPeter Stickland as CEO.
Chevron Corp. has electedAlexander B. Cummings Jr. to its board of directors. He will serve on the company's Audit Committee.
Total has restructured the Exploration and Production branch into five geographical divisions, an Exploration division and five functional divisions.Guy Maurice will head the Africa division; Michel Hourcard the Americas division; Olivier de Langavant the Asia Pacific division; Michael Borrell the Europe and Central Asia division; Stéphane Michel the Middle East and North Africa division; Kevin McLachlan the Exploration division; Pierre Bang the Quality Health Safety Societal Security Environment division; André Goffart the Technical Support to Operations division and Development division; Martin Deffontaines the Strategy Growth Research division; and Namita Shah the Corporate Affairs division. The company has appointed Ladislas Paszkiewicz as senior vice president mergers and acquisitions in the Finance division.
The US Senate has confirmedChristopher A. Smith as the Department of Energy's assistant secretary for fossil energy.
Lundin Norway has appointedKristin Færøvik as managing director. She succeeds Torstein Sanness, who will retire from his executive position in April 2015 and assume the role of chairman.
Sietze Hepkema has decided to retire as chief governance and compliance officer of SBM Offshore. He will continue to serve in his current role until the Annual General Meeting of Shareholders on April 15, 2015, at which time it will be proposed that he join the company's Supervisory Board. At that time, it will also be proposed that Erik Lagendijk succeed him.
TGS has appointedKristian Johansen as COO, effective Feb. 1, 2015.
Norwegian Energy Co. ASA has appointedTommy Sundt as CEO following the departure of Svein Arild Killingland. Chairman of the board Erik Henriksen has given notice of resignation from his position on the board. Employee elected board member Hilde Alexandersen has resigned from the board. Alexandersen's deputy member Liselotte Vibeke Kiørboe will be the new employee-elected board member.
LUX Assure has appointedHesham El-Brollosy as its Middle East vice president of business development, who will be based at the company's newly launched office in Dubai.
El-Brollosy
David Odling has been named a member of the Brevia Energy Advisory Board. He will assist Brevia in developing its presence in the oil and gas market, providing policy insight and assisting with business development.
Ensco plc has promotedCarey Lowe to executive vice president. Steve Brady will succeed Lowe as senior vice president – Eastern Hemisphere and will relocate to London. Gilles Luca has been appointed senior vice president – Western Hemisphere.
Kyle Lorentzen has joined Express Energy Services as executive vice president and CFO.
Bibby Offshore has appointedPete Hughes as interim managing director, Asia/Pacific.
International Marine Contractors Association has appointedDenis Welch as regional director for Asia/Pacific, and Andy Bolton as regional director for Australia and New Zealand.
Welch
BMT Asia Pacific has appointedJoanne Tse as head of risk management based in Hong Kong.
Tse
Abdulaziz F. Al Khayyal has joined Halliburton's board of directors.
Energy XXI has namedJames LaChance and Norman Louie to its board of directors.
InterAct, an Acteon company, has appointedVal Lerma as engineering manager.
Raymond Domingue has been named director of business development for Knight Oil Tools.
Deep Blue Engineering UK Ltd. has namedDieter Watelle to the newly created position of design engineer.
3sun Group has appointedJames Smith as general manager for its subsea division, RRC Controls Services.
ProfessorMark Randolph, Fellow of the Royal Society (UK), has been appointed Fugro Chair in Geotechnics at the University of Western Australia's Centre for Offshore Foundation Systems.
2H Offshore, an Acteon company, has appointedMadhu Hariharan as an additional director in its London office.
Hariharan
Patrick John Tallon, CEO of Civmec Ltd., has been named "Construction Executive of the Year" by Australia's CEO Magazine for its 2014 Executive of the Year Awards.
Suretank has appointedDarren Nutter as UK sales manager.
Fastnet has appointedCarol Law as CEO. Cathal Friel has assumed the role of non-executive chairman. Paul Griffiths, managing director, has resigned from the board.
Coretrax has promotedJohn Fraser to global business development director.
James Eadie has joined Elite Control Systems as field sales engineer.
Company news
KBR Inc. has restructured into three business units: consulting and technology, engineering and construction, and government services. Technology & Consulting combines all proprietary KBR technologies, knowledge-based services and KBR companies Granherne, Energo, and GVA under one customer-facing global business to provide licensed technologies and consulting services to the oil and gas industry. Engineering & Construction is the company's project delivery branch. It will provide engineering, procurement, construction, commissioning, and maintenance for oil and gas, as well as other segments.
SBM Offshore says it will release 600 contractors and 600 permanent staff worldwide in response to the downturn in the market. As a result of this action, to be implemented during 2014-2015, it aims to generate annual savings of around $40 million, with total redundancy costs of $33 million. In addition, the company will relocate its corporate headquarters to Amsterdam effective from 3Q 2015. The reasons include the presence of many stakeholders in the Netherlands, the company's Euronext listing, and the proximity to Schiphol international airport.
Around 100 people will work with the management board from new offices in the Amsterdam region. The company says Monaco will remain a strategic location for technology, engineering, and operations.
Amec Foster Wheeler has acquired Scopus Group (Holdings) Ltd., a laser scanning, dimensional control and lean engineering company whose survey data is used to engineer piping and structural solutions for the global oil and gas industry.
Reliance Industries Ltd. has entered a memorandum of understanding with Petroleos Mexicanos. The two companies plan to jointly assess potential upstream oil and gas business opportunities both in Mexico and internationally. Additionally, they will pool their expertise in deepwater oil and gas exploration and production.
2H Offshore has relocated to larger premises in Kuala Lumpur, Malaysia, and Perth, Australia.
Dragon Oil has dropped a proposed bid for Dublin-based independent Petroceltic in light of recent oil price developments. The two parties had discussed an offer values at £2.30 ($3.60) per share in cash, subject to shareholder approvals. Under Ireland's takeover rules, Dragon can submit a new offer 12 months after pulling out or earlier if invited by Petroceltic to re-start talks.
HitecVision is establishing a new oil service group under the name Global Maritime Group by merging five companies in its portfolio: Global Maritime, Marine Contracting, Deep Sea Installation, Vryhof Anchors, and Deep Sea Mooring.
Sound Oil says it plans a public offer for the entire share capital of Calgary-based Antrim Energy. The combined business, Sound Oil says, would create a "high impact" exploration company with producing assets generating revenue covering its cost base. Antrim responded that it would review and evaluate the announcement in consultation with its legal and financial advisers. However, it remains concerned by Sound Oil's previous unwillingness to allow Antrim to conduct due diligence procedures.
Petroleum Geo-Services ASA has decided to relocate its Asia/Pacific regional headquarters from Singapore to Kuala Lumpur. The move is expected to take place in July 2015.
The Lubrizol Corp. has signed an agreement to acquire Weatherford International's oilfield chemicals business, known as Engineered Chemistry, and its drilling fluids business, known as Integrity Industries.
Intertek and Letton Hall Group have signed a memorandum of understanding, enabling the two companies to work together to enhance metering and allocation service capabilities to oil and gas clients worldwide.
Elite Control Systems has opened its first office in Aberdeen, Scotland.
Smith Flow Control has added ACE Controls & Equipment Inc. to its distributor network in the US. Located in Bakersfield, California, ACE Controls provides start-up and commissioning services, valve actuator adaptation and mounting, certified calibration and repairs.
Peak Well Systems has commissioned two new ISO test facilities in Perth, Western Australia, and Aberdeen, UK. The new facilities provide a controlled environment in which to test downhole plug systems under extreme conditions for prolonged periods of time. Both sites have refrigeration capabilities essential for rapid temperature cycling, thus simulating the most hostile of thermal conditions.