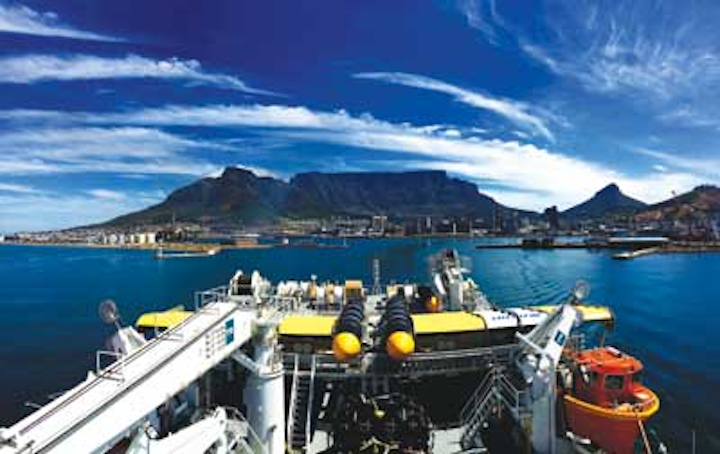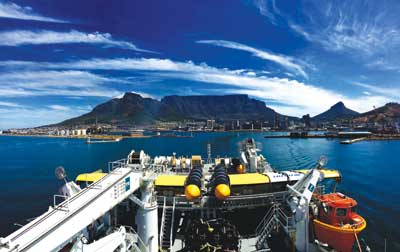 A view from onboard Dolphin Geophysical's newbuildSanco Sword, taken while offshore Cape Town, Table Top Mountain. (Photo courtesy Dolphin Geophysical)
Sarah Parker Musarra
Editor
This year's annual global seismic vessels survey was undertaken during one of the greatest periods of uncertainty the oil and gas industry has seen in recent years. Seismic budgets are generally corroborative to exploration and production budgets; in the current climate, the latter may not see a significant share of company budgets. The current fear is that the hesitancy or inability on the part of exploration and production companies to fund or commit to robust exploratory programs will affect money allocated for related seismic surveying. Without new acreage acquired, new data is not necessarily needed.
"With a strong sense that in 2014 the industry was dealing with capacity issues, the drop in oil prices took away the demand side, which makes it difficult for companies to model pricing or vessel utility," International Association of Geophysical Contractors (IAGC) President Ken Wells said.
Tumbling alongside oil prices is confidence in the overall industry. The tight correlation between the two was documented by a February DNV GL report entitled, "A Balancing Act: The outlook for the oil and gas industry in 2015," which surveyed 367 senior international oil and gas executives from all sectors of the industry – operators, suppliers, service companies, and regulators. In fact, DNV GL found that the level at which oil prices and confidence correspond is an astounding 0.96, meaning that they are almost directly linked.
Elisabeth Tørstad, CEO of DNV GL – Oil & Gas, acknowledged this strong correlation, and related the organization's findings to the impact the seismic markets might experience.The dilemma faced is balancing long-term growth or cutting back sharply to respond to short-term pressures, Tørstad said. Historically, seismic budgets are intrinsically tied to exploration and production budgets – depending on the markets, sometimes for better, sometimes for worse.
Without the confidence to proceed with exploration, budgets have been delayed in some cases, causing a ripple affect so that seismic contractors have entered a corresponding period of relative uncertainly. The demand side has become an unknown factor because so many of the oil companies have delayed their own budget processes, Wells explained.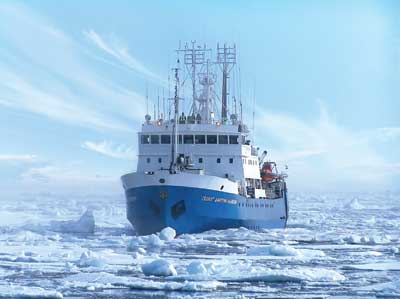 The 72-m longGeolog Dmitriy Nalivkin operates primarily in the Arctic and the North Sea. (Photo courtesy MAGE)
Examining the data
According to the information the company submitted inOffshore's 2015 Global Seismic Vessels Survey, CNOOC-subsidiary China Oilfield Services Ltd. (COSL) put its second seismic vessel, the 12-streamer Hai Yang Shi You 721, into operation in August 2014 and plans to roll out five new vessels over the course of 2015: two survey vessels, one deepwater survey, one 2D seismic acquisition, and one support vessel. Despite the augmented fleet, the company's 2015 guidance echoed in parts the more tempered attitude that is gaining traction in the current seismic vessel market. COSL expressed confidence in its international competitiveness and market adaptability; but said that due to slowed investment resulting from falling crude prices and increased market competition, the company expected a decline in 2015 revenue and operating profit from 2014.
However, Dolphin Geophysical saw a jump in revenues, announcing in its 4Q report that its quarterly revenues rose nearly $92 million over 2014. Revenues for 2014 were $440.2 million, over 2013's $246.5 million. After having expanded its fleet in 2014 with the DNV ICE-1B-classSanco Sword, Dolphin Geophysical will proceed to launch its anticipated purpose-built, high-end 3D Polar Empress during 2Q 2015. Polar Empress will be outfitted with 16 full-length Q-Fin streamers, steering arrangements, and source and control systems from WesternGeco's Q-Marine point-receiver marine seismic system. In its 2015 guidance, the Oslo-listed company said it plans to splash $50- 70 million on multi-client investments and allocate 15-20% of its 3D vessel capacity.
However, it will divest full from the marine 2D and low-end 3D seismic markets in 2015, noting that, in what it described as a challenging market environment, it will focus on positioning 3D seismic vessels, seismic processing, and sales from its multi-client seismic data library.
Fellow survey participant Petroleum Geo-Services (PGS) issued a darker 2015 guidance, noting that the current market has sparked delays in the landing of active tenders. Decreased bidding activity has impacted pricing and led to weaker utilization. It expects nearly a 15-20% decline in square kilometers acquired in 2015 over 2014, and announced that although strong multi-client activity has reduced its earnings volatility, 15% of its capacity will require decommissioning to balance supply with short-term demand. PGS will postpone the deliveries of two newbuilds:Ramform Tethys and Ramform Hyperion.
Although the company elected not to participate inOffshore's survey this year, one of the biggest harbingers for concern was the restructuring of seismic leader WesternGeco. Parent company Schlumberger said in its full-year 2014 earnings release that the downsizing was due to "the expectation of lower exploration spending as a result of lower commodity prices."
Displaying 1/2 Page 1,2Next>
View Article as Single page