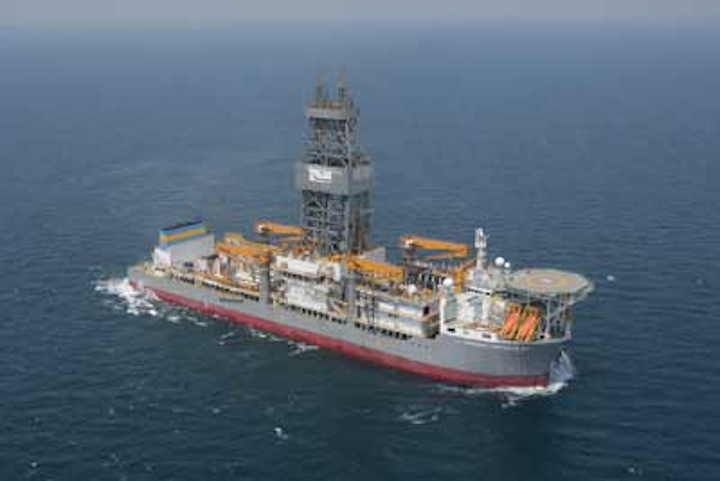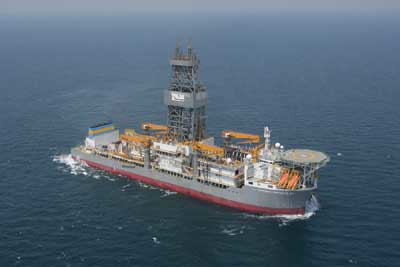 The drillshipDhirubhai Deepwater KG1 will operate offshore Brazil at a rate of $440,000/d. (Photo courtesy Transocean)

Petrobras revs up its deepwater drilling program
Justin Smith
IHS Petrodata
Brazil has ambitions to become one of the largest oil exporters in the world over the next decade or two, but the country's ability to reach that goal is the pressing question. In September 2014, Brazilian federal energy planning company Empresa de Pesquisa Energetica (EPE) laid out its 10-year plan for energy expansion, which foresees that the country will be able to produce 5 MMb/d of oil by 2023. That would be a significant jump from the roughly 2 MMb/d of oil the South American nation currently produces. According to the EPE, domestic demand will only consume approximately 3.5 MMb/d, leaving 1.5 MMb/d to be directed for export to the international market.
A significant level of investment will need to be placed in Brazil's hydrocarbon segment if this goal is to be reached. Of the BRL 1.26 trillion ($540 billion) the EPE believes will be spent on energy projects in the country over the next decade, including electricity generation and biofuels, 61.6%, or BRL 778 billion ($332.7 billion), will need to go toward the exploration of oil and natural gas. It is likely that a large portion of that investment will be spent on presalt areas, as the EPE expects two-thirds of oil production to come from those fields by 2023.
Libra to lead presalt movement
To meet these targets, Brazil's largest producer, Petrobras, will need to keep ramping up production, which is something the operator has been doing with regularity during 2014. The company achieved new record production levels in December, hitting 2.286 MMb/d of oil and natural gas liquids. The majority of this volume is coming from the historically prolific postsalt areas of the Santos and Campos basins, and new facilities came online in 2013 and 2014 at several fields including Papa-Terra, Roncador, Baúna, and Parque das Baleias.
However, presalt production also hit a new high point in December when Petrobras crossed the 700,000 b/d mark, which is a fairly significant jump from the 500,000 b/d the company was drawing from presalt fields only six months earlier. Each presalt well is highly productive, because while a total of 12 facilities are currently pumping from presalt fields, including newer FPSO vessels at Sapinhoá, Lula and Iracema, the entirety of the volume is coming through a mere 34 wells.
While this clearly demonstrates that presalt fields are increasing in importance, one in particular, Libra, is the field du jour in Brazil. Discovered in 2010 and covering an area of 1,548 sq km (598 sq mi), the Libra oil field is located in the Santos basin presalt layer in water depths of around 2,000 m (6,562 ft). This gigantic field is of such importance in the mid-to-long-term future in Brazil that national regulator Agencia Nacional do Petroleo, Gas Natural e Biocombustiveis (ANP) held a lease sale for solely this field in 2013. Petrobras, which was guaranteed at least a 20% operating interest in the block, now holds 40% interest, while Shell and Total each hold 20%, and CNPC and CNOOC each hold 10%. In addition to the signing bonus of $6.9 billion, the group will have to conduct a minimum exploration program valued at approximately $281.1 million.
The reservoir depth at Libra is around 3,500 m (11,483 ft) below the seafloor, for a total depth of approximately 5,500 m (18,045 ft). According to estimates by the ANP, the field holds an expected recoverable volume of 8 to 12 Bbbl of oil, plus total gross peak oil production could reach 1.4 MMb/d. That said, further appraisal is required to firm up that estimate, as well as the full development plan and a first oil date.
To that end, Petrobras started drilling the first two appraisals well in the Libra area in August. Being drilled by Schahin drillship Cerrado, this is the first of two wells planned for the first phase of the block's minimum exploration program, while the second well is being drilled by another Schahin drillship, Sertao. Both of these wells have encountered oil and gas in the anticipated layers. The exploration program also calls for the acquisition of 3D seismic data over the block, which the operator has already completed, as well as an extended well test (EWT). Petrobras plans to start the EWT in December 2016 and wrap up the appraisal program by the end of 2017.
Displaying 1/3 Page 1,2, 3Next>
View Article as Single page