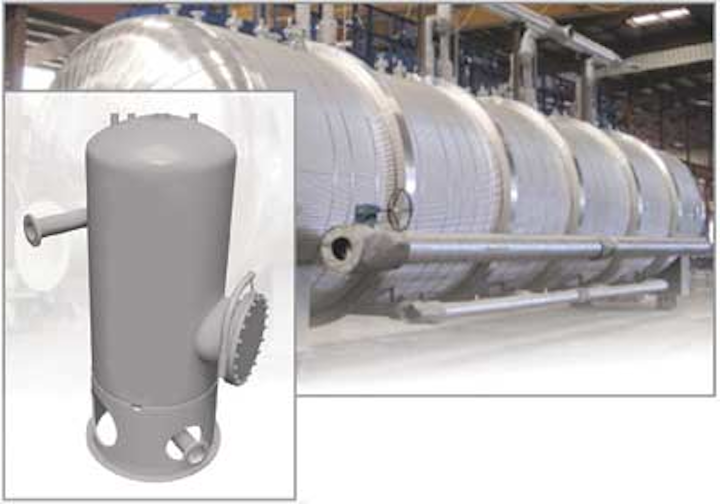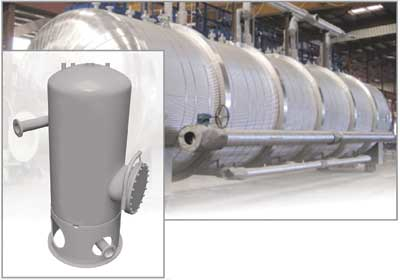 The optimized internal design of the EPCON Dual CFU features a second oil removal section within the vessel and a second outlet for separated oil. The result, Schlumberger claims, is improved oil removal efficiency in half the footprint of conventional technologies. Images courtesy EPCON
Produced water treatment in half the footprint
Jeremy Beckman
Editor, Europe
The Schlumberger EPCON produced water treatment technologies group in Porsgrunn, Norway, has redesigned its compact flotation unit (CFU) technology. The resultant EPCON Dual CFU, the company claims, offers major improvements in separation and treatment of produced water on fixed and floating installations.
The original EPCON team began working on the CFU concept in the late 1990s, with the first offshore installation completed on a Norsk Hydro's Troll C platform in the Norwegian sector in 2001. According to regional sales manager Stian Johnsen, "In the North Sea we were seeing water rates increasing significantly in production wells and at the same time much stricter limits on oil-in-water discharges. We decided to respond to these changes and their potential impact on offshore operations by developing a lighter-weight, low-maintenance separation unit occupying a much smaller footprint – typically one-third of conventional technology."
The original EPCON CFU is a vertical, multi-phase (oil/gas/water) separator with no moving parts, requiring no external energy aside from supply pressure or hydrostatic head, and with a smaller volume and shorter retention time than traditional flotation units used offshore. Various processes, including gas flotation and induced centrifugal inertia forces, act in combination on the incoming fluid mixture to separate components with differing gravities. The small oil droplets agglomerate and coalesce, facilitating separation from water. Devices inside the chamber and a gas flotation effect induced by the release of residual gas from the water further aid the separation process significantly. Separated oil and gas is removed continually via an outlet reject pipe.
In 2006, M-I SWACO, part-owned by Schlumberger at the time, acquired EPCON and merged the company with UK-based hydrocyclone/sand system specialist Cyclotech with a view to bidding for a broader range of process packages. Four years later, M-I SWACO was itself fully acquired by Schlumberger. Today, EPCON has CFUs operating offshore in the UK and Norwegian North Sea, Africa, Australia, Canada and China, and onshore in the Middle East and Russia.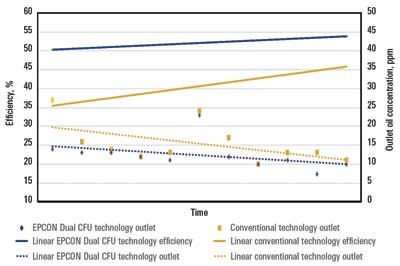 Click image to Enlarge
Actual oil-in-water measurements compared with separation efficiency for the EPCON Dual CFU (blue) and for conventional technology (yellow). The EPCON Dual CFU delivered 27% improved efficiency throughout a field trial on a North Sea installation, including at low-inlet oil-in-water values.
Performance goals
"Two years ago," said Johnsen, "we decided to remodel the system to obtain a higher performance but using the same footprint. Most of the separation was being performed in the vertical medium's upper part, and we felt sure that we could make better use of the lower section. We examined the velocity profile of the gas bubbles with different internal designs, and following extensive CFD simulations and tests we ended up with the most optimal internal design.
"We built a laboratory-scale pilot at our facilities in Porsgrunn, using synthesized produced water with crude oil and saturated with gas, subjected to pressure drops." The first offshore prototype then underwent a field trial on a produced water stream in the Norwegian North Sea in cooperation with Statoil.
"The existing installation delivered very clean water that was within the permissible overboard limits. But we still achieved a 27% improvement in oil removal efficiency, comparing the EPCON Dual unit with our traditional EPCON CFU in parallel operation.
We got the results that we expected from both the CFD simulations and lab benchmark tests in terms of oil removal efficiency and the behavior of the bubbles, and the number of bubbles that reached the center of the lower part of the vessel."
Johnsen continued, "Basically, what we have done is to combine two separation units into one. Other multi-stage units merely repeat the same process over and over again, whereas in our redesigned system there are two different processes going on in the upper and lower part of the vessel. We now take advantage of what was previously 'lost' gas to recover more oil from the water. In our EPCON Dual, this last stage capturing of the 'lost' bubbles is also different compared to other technologies – the gas flow patter is co-current with the liquid flow."
In addition, the combination of the gas-stripping effect and optimized reduction in dispersed oil through use of nitrogen as flotation gas can lower polycyclic aromatic hydrocarbon emissions by up to 83%, the company claims. Alkylated phenols and benzene, toluene, ethylbenzene, and xylem compounds can be reduced by up to 88%.
Offshore gas/condensate streams tend to be low in salinity. In certain applications, it may be necessary to add some salinity to the water, Johnsen said. For other applications where there is limited availability of process gas on the platform, nitrogen can be applied as an alternative medium. "However, you must be careful about the composition of the chemistry that you use and where you choose to inject it into the liquids/gas stream. If the field's production profile changes over time, you want to avoid creating shear forces."
As with the traditional EPCON CFUs, the EPCON Dual CFU can be delivered with design capacities for produced water ranging from 6 to more than 1,200 cu m/hr. The EPCON Dual CFU system, too, is designed typically for a 20-year lifespan and can be manufactured from different materials.
Depending on the operating environment and requirements, systems can be customized. Internally-lined low-temperature carbon steel versions of the systems typically have faster delivery times. In demanding environments and process conditions, higher grade alloy systems such as duplex or super-duplex stainless steels and titanium would commonly be used. Standard pressure vessel designs accommodate most pressure, tempertaure, and design codes.