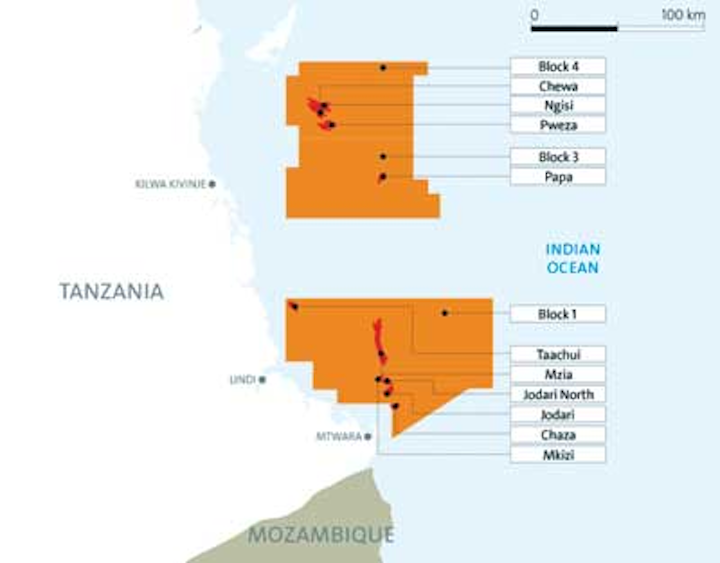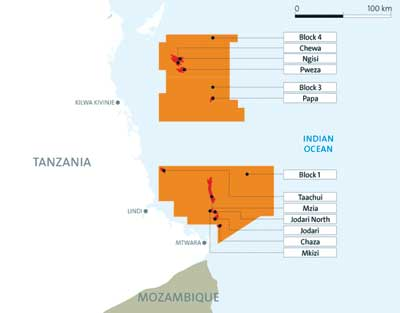 Gas discoveries in blocks 1, 3, and 4 offshore Tanzania. (Map courtesy BG Group)
Jeremy Beckman
Editor, Europe
Operators off West Africa should revise their goals to suit changing market conditions, according to speakers at the Institute of Petroleum's recent IP Week 2015 conference in London.
Ramin Lakani, Halliburton's regional general manager, said there was an improved climate of political stability across the region. "The nervousness around West Africa some years ago is not there now, with no major conflicts, and statistics show that in 2011, 11 of the world's top 50 improving economies were in Africa. That generates a lot of local demand for power and energy."
Lakani pointed out that in West Africa increasingly, and particularly Nigeria, operators can rely on a local skills base, an important consideration when planning new projects. East Africa is moving in that direction too, he added, although it will take time.
"Throughout West Africa there are still opportunities for every type of player," he continued. "There are plenty of mature fields. In a volatile price environment, these fields provide a strong base, and although they are not as sexy as big deepwater developments, people will pay attention to them." Opportunities to scale up production from pilot projects are also generating interest, he added, while for the bigger players the deepwater hotspots are continuing to draw.
Compared to other mature basins elsewhere, West Africa remains relatively underdeveloped, he claimed, with potential for new exploration plays such as the ultra-deepwater subsalt offshore Angola. The general euphoria over the initial discovery in this play faded following last year's dry wells, but that is the reality of frontier exploration, Lakami insisted. "It takes time to understand a new basin. In this case, hydrocarbons have been proven, but we still need to unlock the code."
Despite the industry's growing capital constraints, West Africa's national oil companies (NOCs) remain active, with some operating significant volumes of production. It is in their interest to keep their programs going, he said. "Our experience latterly with the NOCs, particularly Nigerian National Petroleum Corp. (NNPC), is a general recognition that they need to be more agile, and have to reduce red tape." IOCs hoping to remain in West Africa in the current climate must accept the need to be there for the long term, he added. "Then they can make money.
"Farther down the scale are the smaller players exploring the lesser known basins and a growing large number of indigenous companies, mainly in Nigeria, with Angola now following suit. And there are countries that are new entrants in production such as Ghana, where the costs are quite high, but there are also prolific discoveries."
Another positive, Lakani noted, was the growing desire among the various players to monetize the region's gas, initially via LNG, and more recently via gas to liquids in Nigeria. "Even so, just under 500 MMcf/d is still being flared off Nigeria, and Angola is not far behind. But there is a general recognition that gas is the way forward, and that it can be harnessed to develop more reservoirs." Now the indigenous companies too are looking at gas, he added, partly in recognition that the easier field opportunities, or "low-hanging fruits" have gone. "They can look to squeeze out more production, but they also have to go deeper and hotter."
One of the dilemmas for West African producers is that LNG exports to the US are no longer viable, he said, so the region needs to look for new solutions for gas monetization. "In 15 years, it could be that African power stations will be buying US shale gas." One option might be to exploit West Africa's gas in new ways, he suggested, for instance via conversion to methanol or petrochemicals.
Lakani concluded that there are now more than 50 indigenous E&P companies in Nigeria providing 5-10% of the country's production. "That level can be increased via acquisitions, but at the same time these companies need to become more muscular, and grow their reputation at the top table."
One of the most ambitious is Seplat, which tried to bid earlier this year for fellow independent Afren. Mason Ochenejobo, Seplat's strategy and portfolio adviser, said one barrier to growth was Nigeria's licensing process "which can be tortuous and infrequent. Or you may have a field, but you don't know when you may get the chance to increase your holdings around it. But the government does listen."
Displaying 1/2 Page 1,2Next>
View Article as Single page