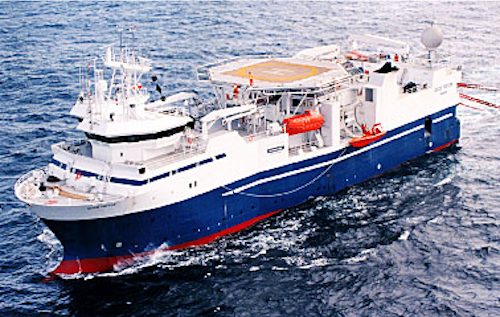 Victor Schmidt
Houston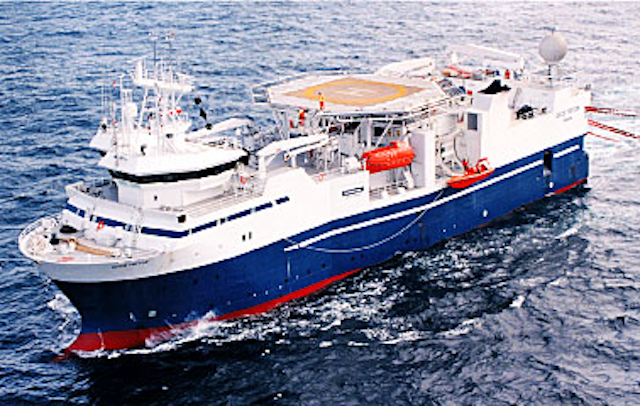 The Geco Triton is shooting a 4,400 sq km survey for Total Gabon over Astrid and Anton Marin blocks offshore Gabon.
VR definitions, status, and ergonomics
So, you want to be inside pictures; you soon will be. In the space of two years, the industry has installed 30 virtual reality (VR) facilities for the processing and interpretation of 3D seismic datasets. There is one in your future if you have not experienced it already. To help readers understand the technology and experience of VR imaging, the following are definitions provided by Mike Zeitland of Texaco:
Visualization: A set of techniques using computer graphics to stimulate the visual cortex of the brain. This requires at least 15 frames per second (think of television) for comfort.
Immersion: A way to display data which encompasses the peripheral vision so that the "mind's eye" sees only the computer-generated graphics.
Haptic devices: Tools that extend the human senses into the computer by providing tactile feedback. They allow the user to "feel" the data with the normal senses: sight, sound, touch, smell, or taste. Most research is focused on the first three.
Virtual reality: The combination of visualization, immersion, and haptic devices that place the user in a computer-generated but user-controlled environment.
...setting standards
Significant advances in virtual reality were evident at VR '99, an annual show organized by the IEEE, the electrical engineering society. The technology is the "developing" way that most routine datasets will be handled in the near future. The term "developing" is used because there is software competition without set standards.
Is it the PC revolution all over again? Yes, it is, with one exception. The hardware and software vendors are working together to develop standards. The goal is to create individual software modules that will be "plug-able" without major translation problems between systems.
The complexities are an order of magnitude beyond the PC operating system. But, the push for standards is a strong positive for the continued growth and dispersion of this technology into the oil and gas world.
...and VR ergonomics
As exciting as the technology and imagery is, and as effective as VR is in increasing productivity, there are problems. Just as the PC brought ergonomic problems, VR systems carry their own set of physical strains. People require some time to adjust to the immersive VR world and then require time to re-adjust to normal space after an interpretation session.
One of the most interesting things about the VR world is the separation of the physical senses. Actually, the separate senses are fed different or slightly divergent information. This tricks the brain and can create major difficulties for some people immersed in the VR environment.
Mismatches between visual cues and aural (inner ear) cues can lead to nausea, disorientation, and motor skill confusion. Such problems can disturb people and may lead to injury in rare cases.
Those readers who enjoyed the very large screen cinemas or Imax theaters will remember how the human eye moved with the image as the car, airplane, or helicopter as it climbed or banked. Even though viewers were safely fixed in their theater seat, their minds were one with the image. Similar movements occur in the VR world because of misaligned sensory cues.
Deborah Harm, Senior Scientist with NASA, mentioned the need to pre-adapt to novel environments. The mind must create a new context or sensory-motor program to navigate properly in the VR world. The computer-human interface has unusual delays that do not happen in our normal world. Disturbances in moving and placing objects and well as posture disturbances (trying to keep the head "upright" or body aligned with the VR space) are common problems.
Eye strain and screen flicker have their counterparts in VR as well. "Active" VR glasses use synchronized lenses that turn on and off at 30 Hz (cycles per second). Flourescent bulbs oscillate at 60 Hz as do low-end computer screens. Even those screens that operate at 75 Hz become tiring late in the day. Most interpreters can only spend about two hours in a VR session before they tire.
The pace of business and need in the industry for faster data interpretation will force longer times in VR. Interface improvements will come and we will adjust, but we must be aware of the problems and realize that there are still many unknowns.
All VR sessions are a form of active undocumented experimentation at this point. There are currently no research projects focused on the psycho-physical effects of VR systems on interpreters. There are only limited systematic tests to establish safe limits for use and recovery in the systems.
Data do exist from aircraft flight simulators that can form the basis for use limits. Current practice in the existing VR centers will need to incorporate some basic data collection on user's physical responses that can help set practical limits for safe use.
Much research is in progress to quantify the details of the human-computer interface in the laboratory. Human response times as well as computer cycle times, screen refresh times, haptic device response, image edge-blending, and image overlap from multiple projectors are all being quantified and calibrated. In a few years, an interpreter will be tested so that his/her physical responses can be met or balanced by the computer system to provide a longer, more comfortable interpretation session within the data cube.
Total contracts for Gabon survey
Total Gabon has awarded Schlumberger Geco-Prakla the contract for a 4,400 sq km survey over Astrid and Anton Marin blocks. The survey is underway and will be completed by July 1999.
The survey is being shot by the Geco Triton using eight 6,600 m streamers and dual sources. Svein Kjellesvik, Vice President, Marine said, "We are very pleased to have been awarded this project, which is the largest proprietary survey currently planned in West Africa."
Vietnam seismic
Western Geophysical has released a new non-exclusive survey covering the South Nam Con Son basin. Over 6,000 km of long-offset 2D data are available complemented by gravity and magnetic surveys in the South Nam Con Son and Mekong Delta basins.
Copyright 1999 Oil & Gas Journal. All Rights Reserved.