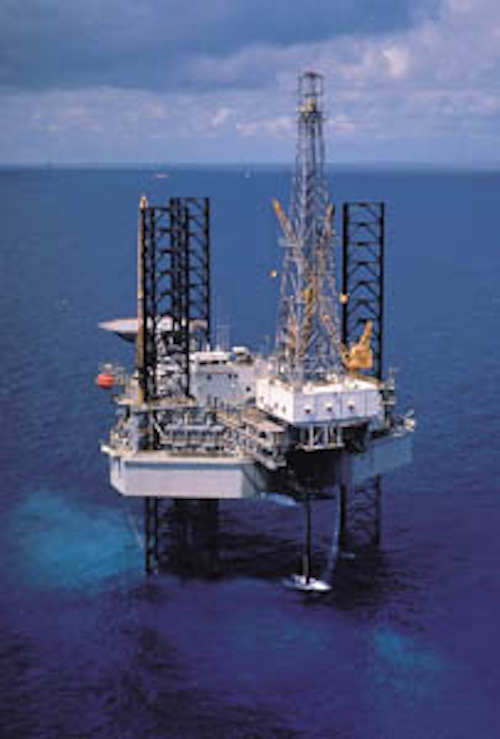 West Africa supply critical to ongoing success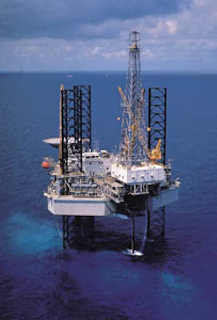 Global Marine's Glomar High Island V currently is drilling for CABGOC off Angola (Photo courtesy Global Marine).
Turnkey drilling and integrated services have been offered in West Africa only since 1994. It's been a tough market for these service providers for various reasons. Turnkey and drilling management contractors, however, are optimistic that despite lower oil prices, the lower drilling costs they can offer will make exploration attractive to companies who have deferred activity.
When the first West African turnkey well was drilled by Global Marine through its Global Marine Integrated Services - International (GMIS-I) subsidiary, rig availability was a problem. Demand for rigs in the region exceeded supply and even if a rig did become available, matching drilling windows with exploration schedules was a challenge. Sometimes a window of opportunity came up so quickly that an operator could not deliver casing or a wellhead in time to take advantage of it. Other times concession deadlines would lapse before a drilling window could be found.
"That was the biggest reason for fewer turnkey wells drilled in 1998, compared with 1997," said David Hradecky, Manager-Business Development with Triton International. "There were commitments already made that allowed 1997 to become a fairly robust year in terms of turnkey work. But 1998 hit Triton pretty hard because of rig availability."
Rig availability also was a problem when GMIS-I decided to enter the West African market in 1994. The problem was solved because one of Global Marine's jackups was to be mobilized back to West Africa from Alaska. Otherwise, GMIS-I's first turnkey well for the Summit/Atlas group in Nigeria likely would not have been drilled at that time. Later, GMIS-I contracted Falcon Drilling's Falrig 83 jackup for two years plus options. The Falrig 83, a 250 ft Bethlehem mat-supported slot rig, also drilled the development wells for Summit/Atlas Petroleum's Ejulebe field.
Today, rig availability is not a problem. Half a dozen jackups are available immediately. But low oil prices have made many projects uneconomical and even viable projects have been put on hold for lack of investment capital.
"It's a tough environment right now," said Ken Baum, GMIS-I's Business Development Manager. "Projects are being delayed. But while we don't have as many inquiries coming in right now, we still have a number of projects to bid on."
Low prices
"One way to read this downturn," Baum said, "Is that we are looking at the beginnings of greater opportunity for growth in turnkey and drilling management services. Our clients are reducing their drilling and completion departments and in some cases eliminating them altogether. This could create a situation where our well construction services are more appealing because we have the staff and expertise immediately available on an as-needed basis. And with turnkey we have the ability to offer a fixed price per well."
This year could end up being fairly active for the turnkey and drilling management contractors. "I feel that if the operators are able to access funding for the projects that went undrilled last year, 1999 could be a good year," Hradecky said.
"One incentive that I see," Hradecky continued, "Is that drilling costs are coming down for operators who just could not see their way to drill some prospects with $14-15/bbl oil prices. But now, even with lower oil prices, they also are seeing drilling costs at about two-thirds of what they saw last year."
Utilization of the jackup fleet in West Africa at mid-January 1999 stood at approximately 82%, according to Offshore Data Services. Last summer, the utilization rate was 100%. While the difference between 100% and 82% utilization is only five jackups, the market has taken a big hit on the day rates of these units. That is bad news for the drilling contractors but good news for E&P companies. Jackup day rates fell dramatically and swiftly in West Africa. According to figures from Offshore Data Services, 300-ft independent-leg cantilevered jackups in the region were commanding upwards of $75,000 per day as recently as last October.
By January 1999, however, rates for new contracts for 300-ft independent-leg cantilever jackups were in the high $20,000 area, less than half of what the dayrate was only a few months prior.
More off Nigeria
Activity offshore West Africa may be increasing, particularly off Nigeria. The Nigerian National Petroleum Company (NNPC) reportedly is in a push to force indigenous companies that hold concessions offshore to advance exploration of those concessions. This could lead to additional turnkey or more integrated drilling service contracts.
The intention of NNPC was to accelerate exploration and indigenation by granting local companies concession rights. These indigenous independents would in turn bring in western capital, experience, and technology. The indigenous companies generally do not have the staff to conduct exploration and development work. Some of them have brought in technical advisors to evaluate their leases. In many cases, they also provide funding that indigenous companies may lack. Many times, the technical advisor is a small company with little operating capability.
Several Canadian companies came into Nigeria and took advantage of the opportunity to become technical advisors and evaluate leases for the local companies. These include such companies as Abacan, Profco (now TransAtlantic Petroleum), NTI Resources, and Niko Resources.
Multiple well contracts
The market in West Africa for turnkey and drilling management services has been small compared with the Gulf of Mexico. However, there is perhaps more opportunity in West Africa not only to drill exploratory wells, but also to complete those wells and continue on to drill development wells in the field.
Triton Turnkey, for example, drilled its first well in Nigeria for the Monipulo/Brass Exploration group in 1996. The well, which was a discovery, was completed in 1997. Triton subsequently drilled four more wells for the group.
GMIS-I drilled its first turnkey well in Nigeria in 1994 and completed it in early 1995. The well was drilled for Summit Oil & Gas Worldwide, which was the technical advisor to Atlas Petroleum, the indigenous company. Summit is a division of TransAtlantic Petroleum (formerly Profco, a Canadian company). That well turned out to be a discovery and GMIS-I went on to drill additional exploratory wells as well as the development wells for the field, which was named Ejulebe.
"As a technical partner we provided the technical expertise and the financing to proceed on the development of the block," said Scott Larsen, President of Summit Oil & Gas Worldwide. "We evaluated the block, did a 3D seismic survey, and then decided to go forward with an exploration well."
"We're a very small company and the need to set up a full-scale infrastructure as you might find along the Gulf Coast was not really an alternative in West Africa," Larsen said.
Summit talked with turnkey and drilling management companies regarding the prospect. "We talked with Global Marine who, at the time, was interested in expanding the concept they used with Applied Drilling Technology Inc. (ADTI) into international markets. We discussed the project with a few companies, but Global was by far the most flexible."
The discovery well, Ejulebe #1, was drilled in about 50 ft of water about 15 km from the mouth of the Escravos River in the 215,000 acre concession originally known as OPL 75. "The well was drilled and logged in about 14 days," Larsen said.
Larsen attributed the quick drilling time to attention to detail and logistics. "The logistics of the boats and making sure pipe and casing and everything else was available absolutely helped get the well drilled in 14 days," he said. "While Global Marine had a support base in Port Harcourt, they had never done a turnkey there. The logistics take a while."
"Over the course of some of the wells, I think we hit a few snags, but on the whole, they did a pretty good job of making sure that all of the equipment was available," Larsen said. "The distance from Port Harcourt to our location was a 24-hour boat ride. That's where the real planning took place. A couple of times we got caught with little things, but for the most part the logistics were well done."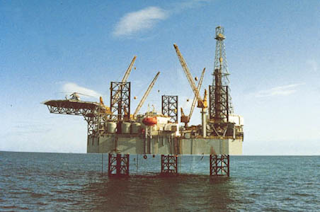 The Glomar Adriatic VIII currently is drilling for Mobil off Nigeria (Photo courtesy Global Marine).
The Ejulebe #1 reached TD over Christmas 1994. An appraisal well was drilled in late 1995 by GMIS, also for Summit. Summit subsequently brought in Canadian Occidental as the service contractor at the beginning of the third well to develop the field and install the necessary infrastructure. At that point, GMIS began drilling for CanOxy.
GMIS also drilled the third well in the field under contract to CanOxy in late 1995. "They were really wildcats," Larsen said. "They were drilled in adjoining acreage to determine how large the development might be and how
large a platform was necessary. So they drilled two more exploration wells that were not successful and then came back and put in the development wells."
"The drilling curve on the development wells was 17-20 days and they were usually right in that range," Larsen said. "It's not difficult drilling, because the mud is very soft. But you have to be careful that your pipe is well set."
The development wells were drilled on a turnkey basis, Larsen said. An arrangement was made for the completions to be done on a shared risk basis, most of which was negotiated by CanOxy.
Three development wells and a water injection well were directionally drilled by GMIS-I through a template set near the discovery well. Drilling took place through 1997. The platform was set in 1998 and production began in September 1998.
Summit may have additional work in the future. The company is still involved with Atlas Petroleum as a technical advisor. The service area that is under arrangement with CanOxy in the Ejulebe field covers only 15,000 acres. The remaining 200,000 acres is left to Atlas and Summit to develop.
"We're in the process of developing the rest of the area," Larsen said. "We're looking at drilling more wells and those wells would also likely be drilled turnkey. We would certainly look at GMIS first since we had a very good experience with them. "We also used GMIS to drill an exploratory well offshore Benin under a company we were working through called Tarpon. That well also was drilled directionally."
"But at the end of the day we would still look at what else is available. Right now is a good market from our standpoint because a lot of rigs are available."
Copyright 1999 Oil & Gas Journal. All Rights Reserved.