BUSINESS BRIEFS
Western Geophysical (Houston) has signed an exclusive contract with PetroVietnam for the marketing of the offshore Minh Hai non-exclusive seismic data. Westland GeoProjects (Cornwall, UK) has been awarded a four-year contract from Dalmorneftegeofizika (Russia) to manage the survey vessel Zephyr-1 , operating mainly in northwest European waters. Sofec , Inc. of Houston has been awarded a contract by Modec, Inc . also of Houston, to supply a turret mooring system for an FPSO to be located in the
Apr 1st, 1999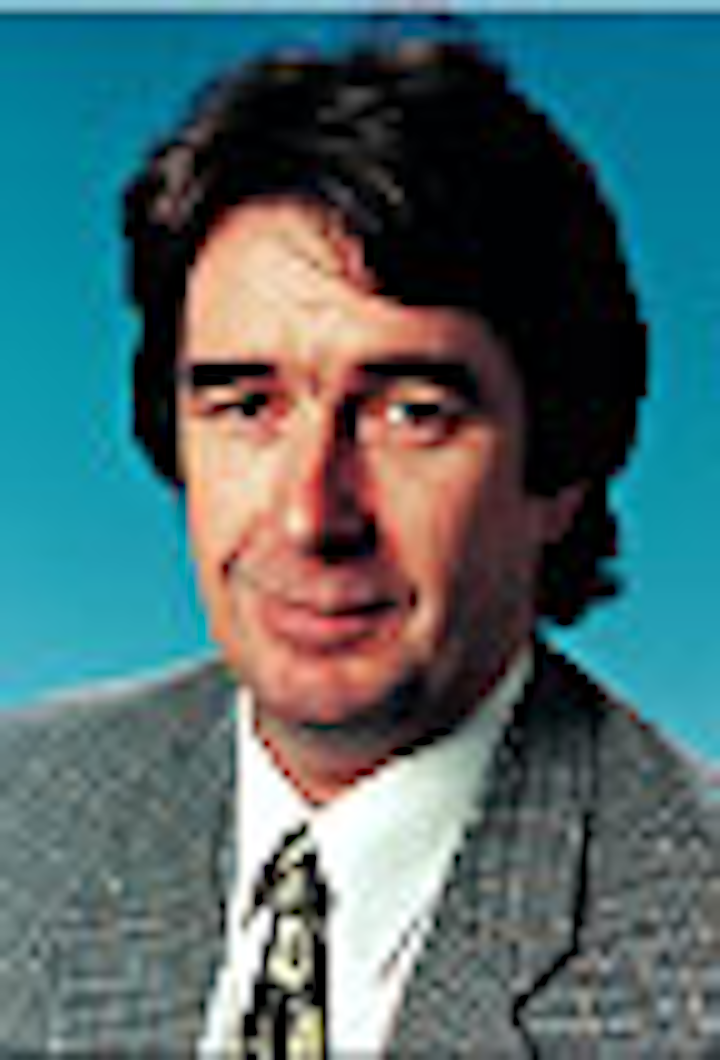 Leslie Bellfore
Houston
Contracts
Western Geophysical
(Houston) has signed an exclusive contract with
PetroVietnam
for the marketing of the offshore Minh Hai non-exclusive seismic data.
Westland GeoProjects (Cornwall, UK) has been awarded a four-year contract from Dalmorneftegeofizika (Russia) to manage the survey vessel Zephyr-1, operating mainly in northwest European waters.
Sofec, Inc. of Houston has been awarded a contract by Modec, Inc. also of Houston, to supply a turret mooring system for an FPSO to be located in the Buffalo oilfield in northwest Australia.
DSND Consub (Norway) has entered into a 2-year contract with Petrobras (Brazil) to execute shallow seismic investigations and positioning on the Brazilian shelf, as well as conduct oceanographic collections of data down to 2200 meters on the Roncador oilfield.
GE Industrial AeroDerivative Gas Turbines (Evandale, Ohio) announced it will supply Dresser-Rand AS (Kongsberg, Norway) with seven GE LM2500+ aeroderivative gas turbines. The units will be used at two separate facilities owned by Statoil.
Oceaneering International (Houston) announced it has completed a turnkey contract for Kerr-McGee Oil & Gas for the tieback of a subsea well in West Cameron Block 638 to a platform in West Cameron 648.
Chevron (San Francisco) announced it has reached a definitive agreement with Pogo Producing regarding future production development and exploration of Block B8/32 in the Gulf of Thailand.
Shell Expro has awarded a contract to Montrose Scota Training International (Aberdeen) for the provision of a comprehensive training administration service. MSTI will manage the contract on behalf of all Shell Expro's UK sites, from their Montrose site.
FMC Energy Systems (Houston) and Modec, Inc. (Tokyo) announced they have entered into an agreement to market and construct FPSOs and TLPs for oilfield use.
J. Ray McDermott (New Orleans) has been issued a letter of intent by Shell Deepwater Development Systems for the installation of three miles of a dual 5-in. pipeline in the Gulf of Mexico for the King project.
Horizon Offshore Contractors (Houston) has been awarded a contract for the installation of a substantial portion of Exxon Pipeline Company's "Hoover Offshore Oil Pipeline System." The 20-in. pipeline project includes a directionally drilled shore approach near Freeport, Texas, and pipelay to 35 ft water depth and burial of approximately 67 miles of pipeline.
Horizon Offshore Contractors and DSND Consub have extended the charter of the Stephaniturm, Horizon's dynamically positioned diving support vessel, an additional nine months (began April 1, 1999 and expected to last through December 1, 1999).
Horizon Offshore has formed an alliance with Cal Dive International (Houston) in the Gulf of Mexico, which provides Horizon with Cal Dive's diving services.
Bouyges Offshore's (Montigny-le-Bretonneux, France) has announced that the Board of Directors of Saibos CML, its 50/50 joint venture with Saipem has awarded the construction contract for its new dynamically positioned vessel (Field Development Ship) to Samsung Heavy Industries.
People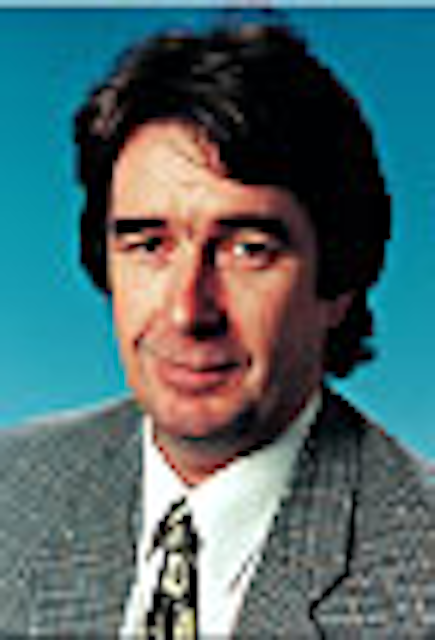 Derek Smith is the newly appointed Strategic Product Manager for Pipeline Integrity International.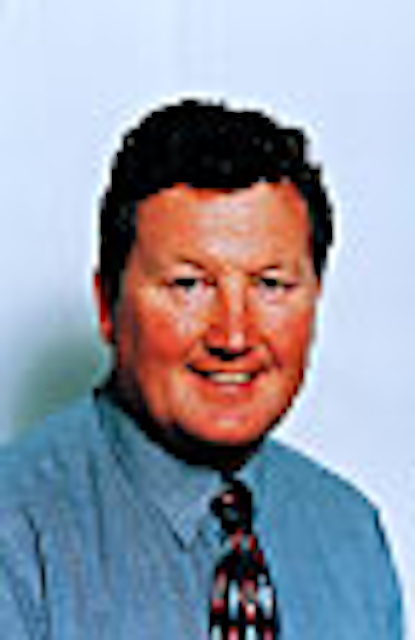 Expro Group (Aberdeen) recently appointedJohn Lennon, Sales and Operations Manager, responsible for well services in the Asia Pacific region.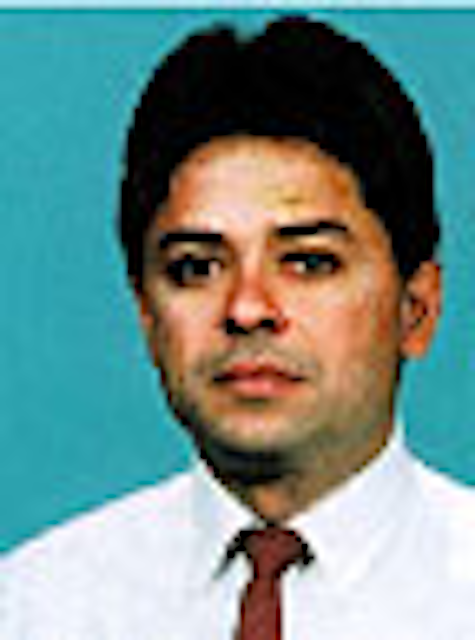 Expro Group (Aberdeen) recently appointedMillan Einstein, EGIS Coordinator for Latin America.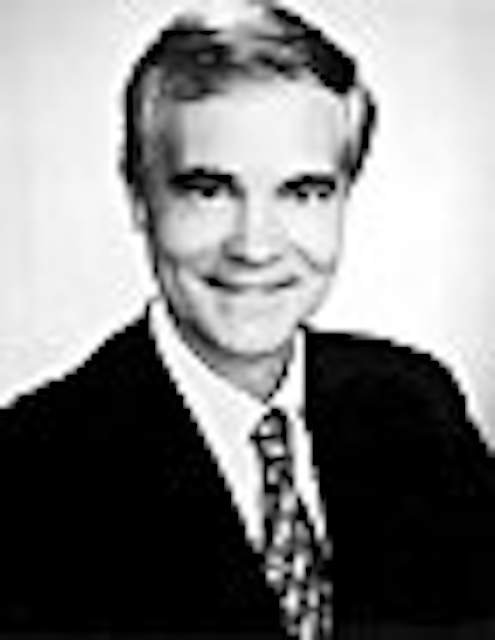 Schlumberger Ltd. (Houston) announced the appointment ofChad Deaton, Executive Vice President, Oilfield Services and Products.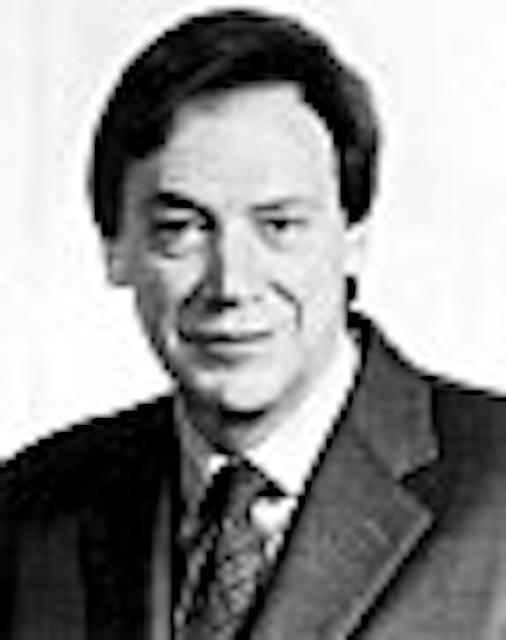 Schlumberger Ltd. (Houston) announced the appointment ofAndrew Gould as Executive Vice President, Schlumberger Oilfield Services.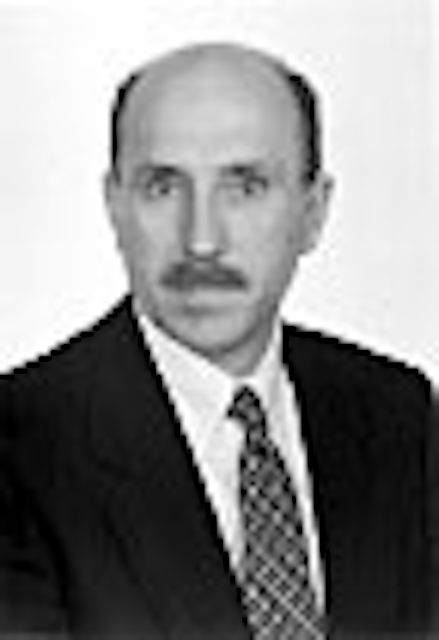 Osmonics (Minnetonka, Minnesota) announced the appointment ofLawrence D. Sullivan as Product Manager for the Osmonics Pleated Membrane Filter product line.
Oceaneering International (Houston) has named
Gregg K. Farris
as Vice President - Information Technology.
Christine Hansen, Interstate Oil and Gas Compact Commission Executive Director since 1993, was named to a new Committee on Natural Gas for the National Petroleum Council.
El Paso Natural Gas Company (Houston) announced the promotion ofThomas P. Morgan to Vice President - Transmission Operations.
Antaeus Energy (Wakefield, Massachusetts) has made two appointments to its management team:Kenneth J. Richards has been appointed Chief Financial Officer; and Dr. Siddhartha Gaur, Vice President - Technology.
Patrick A. Nye has joined American Shoreline, Inc. as Vice President - Exploration, in charge of 3D seismic prospect evaluation and generation.
Petris Technology (Houston) announced that former Symtronix Corporation's Vice President,Marvin T. Taylor, has joined its Corporate Business Management Group.
Shay D. Assad, Chairman and CEO of Raytheon Engineers & Constructors, has been elected to the United States Energy Association.
Secretary of Energy,Bill Richardson, announced several appointments to fill key positions on his staff at the US Department of Energy: David Goldwyn, Counselor to the Secretary; LeeAnn Inadomi, Deputy Chief of Staff for Administration and Domestic Policy; Rebecca Gaghen, Deputy Chief of Staff for International Policy; Calvin Humphrey, Principal Deputy Assistant Secretary, Office of Policy and International Affairs; Sarah Summerville, Deputy Director for Small and Disadvantaged Business Utilization; Stu Nagurka, Deputy Director, Office of Public Affairs; and Isabelle Watkins, Senior Advisor for Scheduling and Advance.
Global Industries (Lafayette) announced the promotion ofRobert P. Brenham to the position of Vice President and Chief Administrative Officer.
MDC Technology (Teesside, UK) announced the appointment ofPete Sharpe as Vice President - Operations.
Veritas DGC (Houston) has promotedCameron Astill to President, DGC Asia Pacific, and Peter Whiting to Regional Processing Manager.
Frederik Hvistendahl has been appointed Managing Director of Hitec Drilling & Marine Systems AS (Stavanger).
Tom B. Slocum has been appointed Manager of the Downhole Services Group at Twachtman, Snyder & Byrd, Inc. (Houston).
Litton Marine Services (Charlottesville, Virginia) announced the appointed ofMalcom Bruce as General Manager, Litton Marine Systems UK.
Mergers, acquisitions & new companies
Landmark Graphics, Microsoft, Pricewaterhouse Coopers, SAP, and Schlumberger GeoQuest have launched "COM for Energy," a new non-profit industry initiative to improve exploration and production business performance on an enterprise scale.
GATX Terminals (Chicago) and Mieco, Inc. (Long Beach) have entered into a letter of intent to form a limited partnership that will acquire the distillate blending and distribution business of Mieco.
Development Engineering (Sandnews, Norway) has formalized an alliance between its Norwegian subsidiary DEI Norge and RC Consultants to form a new joint-venture company - RC-DEI.
Talisman Energy (UK) is working with Transocean Petroleum Technology to examine the feasibility of coiled tubing drilling to extend the life of its Buchan field.
Novistar (Houston) announced the acquisition of Petroleum Financial.
GlobalView Software (Chicago) announced the launching of GlobalData, a joint venture with Data Transmission Network Corporation.
Tuthill Corporation (Canton, Massachusetts) announced the acquisition of P&M Vacuum Services UK, which will merge with Kinney Vacuum.
Balmoral Group (Aberdeen) has formed a joint venture with Trident, creating Balmoral Trident Projects, utilizing the resources and capabilities of Balmoral Marine and Trident Offshore.
Aker Maritime, Cameron, and Diamond Offshore Drilling announced "Installation in Advance (TM). The concept enables the use of lower cost, shallow water semisubmersible rigs to drill in ultra-deepwater.
Shell Guardian (London) and Baker Hughes (Houston) have established a 50/50 joint venture company called e2TECH to develop and market an advanced well construction and remediation technology.
TIW Corporation announced it has purchased the assets of the liner hanger division of ENACO, a division of Tuboscope UK (Altens, Aberdeen).
Weatherford International (Houston) announced it has acquired West Coast International for US$18 million.
Fieldbus Foundation™ announced the establishment of an End User Council in Australia.
Company News
Oceaneering International
(Houston) announced its established affiliate,
Marine Production Systems do Brasil
, has started operations of its new facility at Niteroi, Rio de Janeiro.
DUCO Ltd, a UK entity of the Coflexip Stena Offshore Group announced it has been awarded the ISO 14001 certificate for its Environmental Management System.
National Technical Systems (Acton, Massachusetts) has been accredited as a nationally recognized testing lab, for testing and certification of products.
Sonsub International's (Houston) Scorpion 22 ROV has recently completed spud-in operations for Shell Shelf Division's "Waddenzee" Well in over 1225 ft water depth. Also, the company has been recognized with the Award of Merit from the National Safety Council.
Oil States Industries (Arlington, Texas) announced a further expansion to its US operations with the addition of CE Marine to its list of subsidiary companies.
GasTech (Newark, California) unveiled a new corporate identity campaign, aimed at increasing GasTech's brand recognition across diverse markets.
Bechtel (San Francisco), in commemorating its 100th anniversary, has released its company history - Bechtel: Building a Century.
Northstar Energy (North Andover, Massachusetts) has changed its name to Northstar Industries, effective immediately.
---
Slewing bearings for FPSO vessels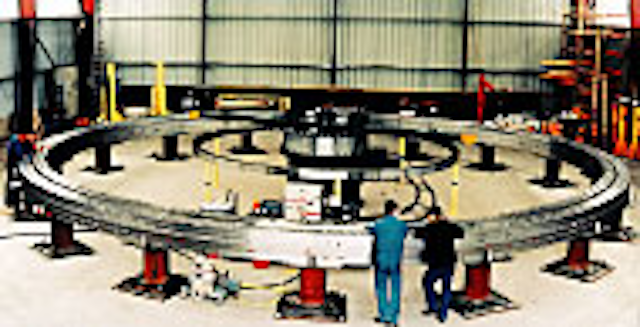 SKF's 70-ton slewing bearing is 13.3 meters in diameter and will face some of the most extreme conditions of widely varying axial and radial loads and temperatures.
A key element in the success of a new floating production storage and off-loading vessel is a 70-ton slewing bearing, according to SKF Ltd. The bearing, developed and manufactured by SKF, is the largest ever delivered for an FPSO vessel. The bearing will allow the ship to rotate while maintaining operational position, independent of the effect of waves and potential weather hazards. The vessel is due to be commissioned in 2000 and will be 291 meters long and 45.5 meters across the beam. Total oil storage capacity will be 960,000 bbl.
---
Klyne flagship sails for home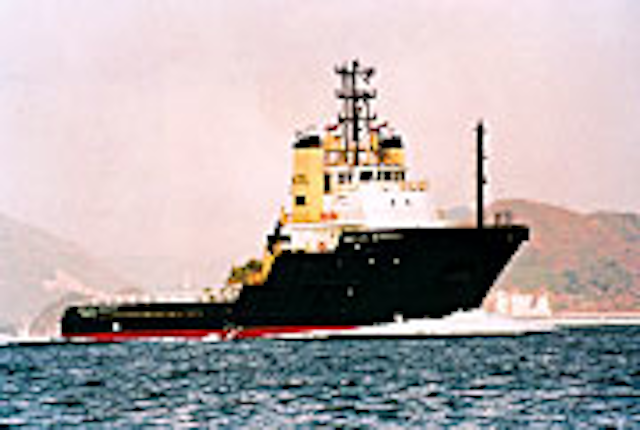 Anglian Monarch leaves Japan for Britain as the new Klyne flagship.
The new anchorhandling tug Anglian Monarch left Japan on her maiden voyage to join the fleet of British owners Klyne Tugs Ltd. The vessel recently completed trials and exceeded planned performance figures. Anglian Monarch is the first deepsea tug of any size to be constructed for an independent British owner in almost two decades. The vessel is 58 meters in length overall, with a breadth of 14.10 meters and a draft of 6.80 meters. Shortly after arriving in European waters, Anglian Monarch will begin work on an offshore support contract already fixed for the vessel.
Copyright 1999 Oil & Gas Journal. All Rights Reserved.