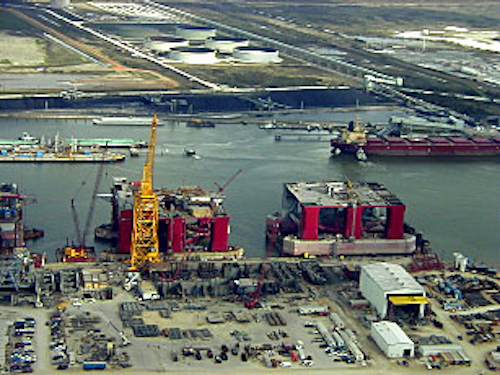 Units re-configured for harshest environments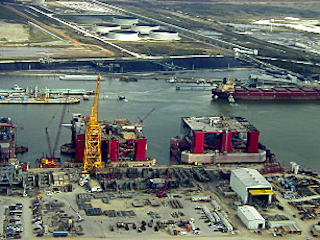 Outfitting of Ocean Rig's first two Bingo 9000 units is well advanced at the Friede Goldman yard in Pascagoula, Mississippi.
With the first two fifth-generation semisubmersible drilling rigs due for delivery in August and November, Ocean Rig is chasing suitable contract opportunities. The company has two particular targets in its sights for the rigs, which are Bingo 9000 units, specially designed for deepwater, harsh-environment work.
The first is in Brazil, where it is in the running to take over the initial part of the work allocated by Petrobras to the newbuild but late-running Amethyst rigs. The second, in Canada, is the rebid Terra Nova contract. Both involve development wells.
In Brazil, where negotiations with Petrobras are well advanced, the work is expected to last 12-18 months, but would employ both rigs working in water depths of up to 1,500 meters. Here, Ocean Rig is in an alliance with Formaritima, the joint venture between Maritima and Pride International which has the Amethyst contract.
Meanwhile, the company is prequalified for the Terra Nova work, which calls for a single rig for four years with options, to drill up to 24 wells. Here, it's the harsh-environment capability that's in play.
Although drilling markets around the world are contracting fast, the deepwater sector is somewhat less affected, and West Africa is one area where the company sees some opportunities, says president and CEO Christian Huseby. In Norway, the short-term outlook is difficult, he accepts, but offers hope in the longer term as much of the existing equipment is old.
Outfitting of the first two rigs is now under way at the Friede Goldman yard in Pascagoula, Mississippi. The company had originally intended to secure contracts for the rigs before proceeding with outfitting, but changed its mind. It also has two more hulls under construction, but unless the market suddenly picks up, the possibility of these being outfitted without a contract can probably be discarded.
Drilling markets
The time it has taken the oil sector to go from boom to bust is somewhat less than the time it has taken Ocean Rig to implement its newbuild drilling rig project. When the project was launched in October 1996, operators were keen to advance into deeper waters and harsher environments.
There had been a virtual moratorium on building new semisubmersible drilling rigs since the late 1980s, and there was little equipment capable of tackling the more demanding tasks targeted by operators without undergoing expensive upgrades. Day-rates were soaring in what was a seller's market.
In 1996/97, on the basis of two $40 million financial offerings to which the financial markets responded enthusiastically, Ocean Rig was able to place orders for two hulls with the Dalian New Shipyard in China.
At first, the marketing drive was aimed at Norway, and an inaugural contract appeared to be on the way in summer 1997. Saga gave the company a letter of intent for a five-year contract with a day-rate of $178,000. But, that September it withdrew the offer, deciding it would only need a rig for three years.
The financial markets were still keen on the project, however, and in late 1997 Ocean Rig raised $320 million on the equity market in Norway - the second largest amount ever in the country. The funds were allocated to outfitting the first hull and placing orders for the third and fourth hulls at the same shipyard.
The firm has now decided to market the rig internationally. To meet potential customers' requirement that a rig contractor should have experience in local markets, Ocean Rig went into an agreement with Sedco Forex. Cooperation was very good at first, says Huseby, but as market conditions became tougher, Sedco was obliged to attend increasingly to its own interests, and in October 1998 the agreement was terminated.
Earlier that year Ocean Rig had raised $350 million through a bond offer in then US and arranged a $100 million bank facility. The firm decided to go ahead with outfitting the second rig.
Rig configuration
While market conditions are problematic, the Bingo 9000 technology has been well accepted by potential customers such as Petrobras. "The concept is based on proven technology put together in a new way so as to provide maximum operational efficiency," says Arne Martin Bolstad, senior vice president for operations.
With an operational displacement of 53,000 tons, the rig is probably the world's largest deepwater, dynamically-positioned semisubmersible. It has a variable load of 7,000 tons, and a transit load of 10,000 tons. The deck measures a massive 80 meters by 66.6 meters, and can carry 10,000 ft of riser.
Large areas are reserved for drilling fluids. This makes possible a highly flexible drilling fluids system, which is part of the key to drilling efficiency, says Bolstad. The drilling mud can be cleaned and returned to the system for re-use. The whole drilling package, including derrick, pipe-handling and BOP-handling equipment, cranes and hydraulics are being supplied by Hydralift.
Rig No. 1 is rigged for drilling in depths up to 7,500 ft and has a 1.75 million lb dynamic derrick. Rig No. 2 is rigged for 10,000 ft with a 2 million lb derrick. Pipe-handling is automated, and a lot of work activities can be done in parallel, such as putting together bottom-hole assemblies and pre-establishing conductor pipe.
The rig can work in seawater temperatures down to -2°C and ambient temperatures of +35° to -20°. The drilling equipment is completely enclosed and steel qualities have been selected to withstand low temperatures.
The DP system is the most powerful in the world, with eight thrusters each of 5,500 kW, providing a power-to-displacement ratio of 0.85 kw to tons. No other unit has greater than 0.7 kw to tons, says Bolstad. The Ocean Rig units are designed to operate with a regularity of 98% in DP mode, and will be capable of virtually continuous operation West of the Shetlands, one of the harshest environments for drilling activities. In the first instance, however, the rigs will be fitted with six thrusters and generators, and upgraded as necessary.
To provide flexibility for customers, the rig can also be outfitted to use a chain mooring system, or to moor up to a pre-laid deep-water system. A no-emissions policy has been implemented in selecting equipment, and the rig is powered by low NOx diesel engines supplied by Wartsila Vasa.
Copyright 1999 Oil & Gas Journal. All Rights Reserved.