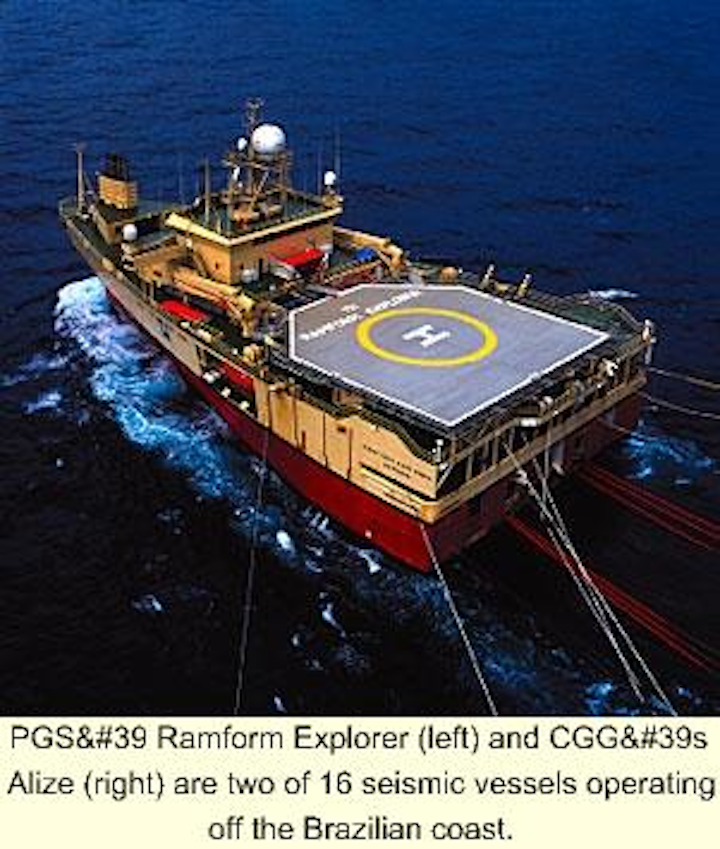 A long series of steps has put Brazil at the top of the investment list for many international oil and gas producers. The most important step was taken earlier this year when ANP (Brazil's National Petroleum Agency) took over from 46-year-old Petrobras the task of administering and regulating the country's oil monopoly for the Brasilia government.
This historical transition was consecrated by the 1st Round of E&P Concession Bids held by the ANP in June. Ten outside companies and Petrobras came together for the first time to compete on an equal basis. Collectively, they won concession rights for 12 blocks, all offshore, including seven in the last Petrobras hold-out - the Campos Basin.
All the operators in this Round are foreign, the first time this has occurred since the era of "risk contract" operators during the 1970s (see separate story). Before these private operators begin drilling the first non-Petrobras well, which will be drilled by Argentina's YPF and Anglo-American Amerada-Hess, a dozen seismic companies are racing to sell the operators the first speculative (non-exclusive) surveys ever shot in Brazil. The seismic vessel fleet in Brazilian waters has grown to 16, all foreign flagged. This number reportedly surpasses both the Gulf of Mexico and North Sea.
Proprietary (exclusive) seismic contracts are also numerous. Petrobras and its joint venture partners, in addition to the new operators with direct ANP concessions, are trying to speed up the exploration programs as the pressure of deadlines to discover oil or relinquish blocks loom in the background.
First foreign operators
Aside from those in the ANP concessions, there are also foreign operators in all but one of the 21 Petrobras joint-venture partnerships. These are areas originally conceded by the ANP to Petrobras for E&P, and in turn, offered by the state company to others on a local version of a farm-out. Negotiations for additional partnerships continue for this First Portfolio and a Second Portfolio, in what are called the "Blue Areas."
These partnerships are a novel way Petrobras has found to provide a shortcut for companies interested in the Brazilian oil scene. Petrobras, as a partner, will assist newcomers with such diverse situations as the geology and ways of doing business locally. At the same time, there is some certainty that, since Petrobras had first choice of the blocks it wanted to retain after the end of the monopoly, the areas being offered to others are likely to be second best.
Petrobras has all of its resources tied up in its regular E&P program and those blocks offered for joint ventures were areas for which company officials felt they wouldn't have the time, funds, or manpower to meet minimum requirements on the areas and would risk losing them.
As one of the conditions for partnerships, the incoming party has to pay all of the costs of at least the initial exploration stage, thus solving Petrobras' funding problem. By granting the partners operatorship of the blocks, Petrobras solves its manpower shortage.
Partners satisfied
Regardless, the partners are apparently satisfied with the arrangement. Twenty-one of those contracts have already been signed, even as work is still being finalized on several bureaucratic and taxation hurdles. Complementing the financial aspects, Petrobras is also counting on some $7 billion to come from project financing operations for offshore production units.
The first one for the giant Marlim field is already operational. Petrobras is negotiating with various Japanese and other financial institutions, and other companies such as Enron, for project financing for Campos Basin production systems. These include Barracuda/Caratinga, Espadarte/Voador/Marimba, Albacora, and Bijupera/Salema.
These are some of the reasons that British consultants Robertson Research International and Rio-based Expetro Associates ranked Brazil as the priority country for new investments in E&P. Expetro's President and Founder Jean Paul Prates said this was a spectacular jump for a country that ranked 43rd only five years ago. He attributes this preference to a twofold situation:
The opening of the oil market in Brazil and the offer of E&P opportunities by both ANP and Petrobras
The deepwater discoveries and technological advances by Petrobras, allowing production from deepwater to be economically feasible.
Despite complaints from some ex-patriates about delays in establishing new "appropriate" regulatory guidelines as well as fear of economic uncertainties, there are not many companies pulling out of Brazil. On the contrary, many new oil companies have set up offices or representations in Rio.
Moving into Rio
Since the process of opening the Brazilian oil market started three years ago, Petrobras officials say they've had visits from more than 2,000 oil-related companies from all parts of the world. More than 500 of these companies were interested in the Petrobras partnership offers and more than 100 of them actually presented proposals. Twenty-five advanced to the negotiation stage in a series of consortia interested in 24 of the areas being offered by Petrobras.
On the ANP side, companies expressing initial interest in the 1st Concession Round, numbered several hundred. Eventually, 63 purchased the data package, 42 were qualified, and 13 actually placed bids, all in consortia.
All those actually signing E&P contracts directly with ANP or with Petrobras, with ratification by ANP, are required to establish a legal company presence in Brazil. Suppliers of equipment, services, consultants, and other organizations must have at least a legal representation in Brazil. Many such firms have set up offices in Rio de Janeiro. BP Amoco, BHP, Amerada Hess, Enron, and British Gas were among the first. In fact, the number is such that oil companies are being blamed for inflating local rental rates.
At least a score of oil companies have already established offices at the ultra-modern RB-One building, located on the city's downtown main street - Avenida Rio Branco. Coincidentally, the higher floors offer views of the landmark Sugar Loaf and Christ Figure on one side, and on the other, a view of semisubmersibles, jackups, and FPSO units under repair or maintenance at the Niteroi shipyards in Rio harbor. Other operating companies are spread along the main road from downtown to the Copacabana and Ipanema beachside areas.
Long-timer Shell
One of the companies with long-time offices in Brazil is Shell, which is actually one of the oldest oil companies in Brazil and has been in Brazil almost twice as long as Petrobras, mostly in the downstream sector.
Based on his own professional experience and probably that of his company's eight decades of familiarity with Brazil, Phil Hansen, the head of E&P for Shell do Brasil, said that many countries require decades to set up regulations for the oil sector. "ANP has had to do it in a short time, and they've done an excellent job in their first year. Before and during the bidding rounds, ANP held various sessions and workshops with potential participants, discussing the major differences and accepting many of the suggestions."
Consumption growing
Despite Petrobras' giant field discoveries in deep water, the geological attractions in Brazil are not the strongest point when comparing new venture pro spects in all parts of the world. However, Brazil offers political and economic stability, solid industrial infrastructure, offshore experience and capability, an agreeable place to live and work, and a captive domestic market for crude and oil products.
With a population of about 170 million, Brazilian consumption of oil products is growing fast. Consumption is close to 1.8 million boe/d. Domestic production is about 1.1 million boe/d. This means 40% of crude demand must be imported.
Consumption is projected to reach 2.5 million boe/d by 2001-2002. Present estimates indicate that Petrobras' production increases alone will not be able to keep pace. That means a guaranteed market for any oil found here.
Of course, there is no guarantee that a company will strike oil. Geologically, Brazil is not the Middle East, Venezuela, or Mexico. Petrobras has found substantial reserves. The company has proven and recoverable reserves of 9 billion boe. On the positive side, only nine of the country's 28 sedimentary basins have had any substantive exploration, and only Campos has had any significant drilling.
Seismic believers
Brazil's coastline is not as calm as it used to be, at least in the petroleum sector. An armada of seismic vessels dedicated to performing non-exclusive survey studies has invaded Brazilian waters in a race to collect data from the country's offshore basins.
Presently, 16 seismic vessels are operating in, or heading for, Brazilian waters, running 2D and 3D surveys. This could be the greatest concentration of seismic vessels in one country, and includes vessels from the US, France, Norway, Canada, and even Russia.
Petrobras geophysicists say that if the rush continues, in about one year the newcomers will double the cumulative
3D seismic performed for Petrobras to date. The seismic vessels, CGG's Alize and PGS's Ramform Explorer, which are considered some of the most advanced, are among the fleet off Brazil. Companies permitted by ANP to run speculative seismic off Brazil are as
follows: Aker, CGG, Fairfield, Fugro, Geco, Geochemical, Horizon, Large, PGS, Spectrum, TGS-NOPEC, Veritas, and Western Geophysical. Local oilmen say that with such an array of technological potential and experience, if there is more oil to be found in Brazil, it will very likely be found now.
Offshore drilling
The increase in mobile rig fleet numbers off Brazil hasn't caught up with the scale up of seismic fleet activities. At last count, there were 28 mobile rigs drilling in Brazilian waters and at least three others are on their way. All of the rigs are either owned by or chartered by Petrobras. None of the new operators have contracted for units, to date.
Indicative of the Petrobras preference for deepwater is the fact that 18 of the 28 offshore rigs are drilling in water depths of 400 meters or greater. In addition, six of the rigs are drilling in water depths beyond the 1,000 meter mark, of which five are beyond 1,800 meters. One, the Noble Paul Wolff, has set a new world record water depth for exploratory drilling, is working in depths beyond 2,000 meters.
These deepwater and ultra-deepwater wells are mostly in the Campos basin. Interestingly enough, two of the wells approaching the 2,000 meter mark are in the Espirito Santo Basin, just north of Campos, and in the location of E&P concessions area won by a consortia of Agip, Unocal, Mobil, and YPF. This group will be the first of the new operators expected to drill in Brazil.
Also, a series of other companies won blocks in the Campos deepwater regions and the northern part of the Santos Basin to the south. This means that drilling activity should increase significantly by the middle of next year, especially if the seismic readings underway come up with promising results.
Records continue
Petrobras continues to set new records offshore. The operator currently holds records for both the world's deepest exploration and producing wells:
Exploration (2,444 meters) - The 1-RJS-538 wildcat was spudded in August by the Noble Paul Wolff semisubmersible east of the giant Marlim field.
Production (1,853 meters): Oil is being produced from the Roncador field in 1,853 meters water depth. The first oil from Roncador was brought onstream earlier this year from R&B Falcon's Seillean FPSO.
Roncador is the biggest field in Brazil, with reserves estimated at 3 billion bbl. The discovery well, 1-RJS-436A, holds the record for largest production from a single well in Brazil - 20,000 b/d of oil. Petrobras considers that only "a long duration flow test." Permanent production from Roncador is through the world's largest semisubmersible-based floating production and storage system in the industry - the former Spirit of Columbus. The vessel which has a processing capacity for 180,000 b/d of oil.
Converted to floating production in the Davie Yard in Quebec, Canada by Brazil's Maritima Petroleo, the vessel was delivered to Petrobras in September and re-named the Petrobras-36. It is scheduled to start producing by next March, and by 2001, should be reach ing peak production. With a production capacity of 180,000 b/d, the P-36 is almost twice the average production of the largest floating production vessel and storage vessel now operated by the offshore industry.
Author
George Hawrylyshyn is the Rio de Janeiro-based contributing editor for Offshore Magazine, as well as the Editor/Publisher of the monthly magazine Brasil Energy. He can be reached by e-mail: ghawry@brasilenergia.com.br.