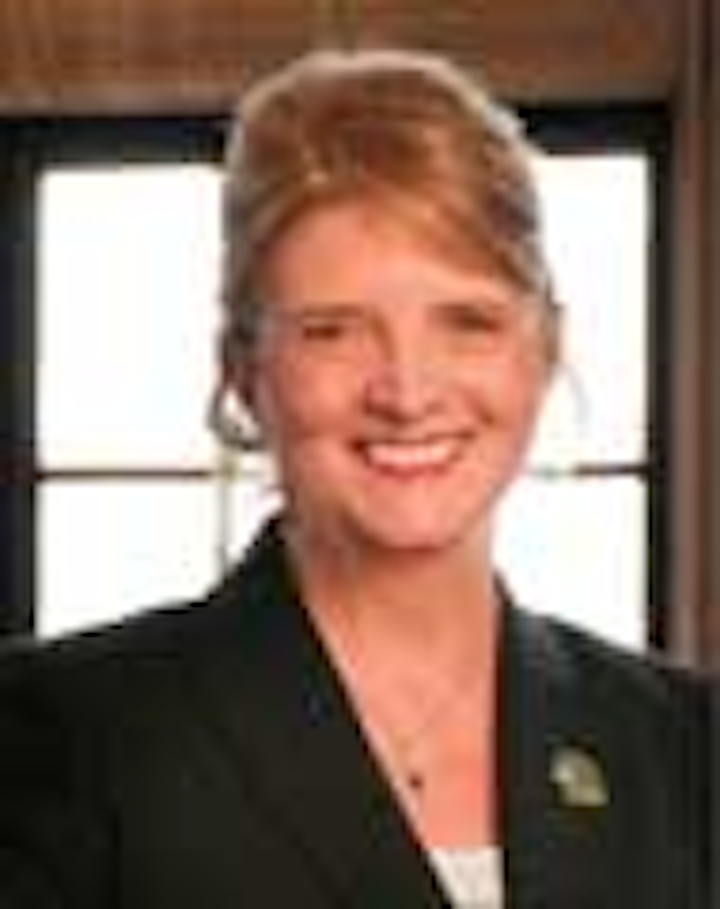 GE Oil & Gas has appointedCharles Nugent as vice president, manufacturing.
Howard J. Thill, Marathon Oil Corp.'s vice president of corporate, government and investor relations, has elected to retire after 12 years of service.
Anya Weaving has joined SOCO as CFO.
FloaTEC has appointedTK Das as president.
BP has appointedDr. Angela Strank as chief scientist.
Strank
Greene's Energy Group has promotedAntwan McMillian to manager, testing and services.
McMillian
Harkand has appointedMike Brown as general manager of diving services in North America.
Phil Adderley has joined Fine Tubes as technical and quality director.
EFC Group has promotedLouise McGowan to commercial director.
3sun Group has appointedLes Dawson as chairman of the board of directors.
Jody Walker has joined Nylacast as business development manager, USA.
Walker
Nautronix has promotedSam Hanton to director of survey and Alan Buchan to director of survey projects.
dGB Earth Sciences has appointedGary Smith as vice president for sales and marketing.
Ramco Tubular Services has appointedLindsay Young as international business development director.
XPD8 Solutions has promotedGordon Ellis to operations director.
Stabil Drill has namedA. Mauricio Alvarez as Latin America sales manager.
Alvarez
Met Office has appointedPatrick Sachon as its new head of oil and gas.
Mark Johnson has joined Wellsite Rental Services as president.
Johnson
Wood Group Mustang has promotedTim Griffin to vice president, industrial operations.
Griffin
Serimax has appointedJan Langeland as Norway country manager.
Tri Tool has hiredRobert Korey as oil and gas sales manager.
Foster Marketing has namedRachel Bonnette as marketing director and Kari Schoeffler as account executive.
Subsea Tieback Forum
The Subsea Tieback Forum & Exhibition was held March 4-6, 2014 in San Antonio at the Henry B. Gonzalez Convention Center. The event attracted a record number of 2,870 attendees and 224 exhibitors. John Felarca of BHP Billiton received the best presenter award for his presentation "100km Umbilical Tieback W. Australia – Macedon." Pierre-Jean Bibet of Total E&P received the best presentation award for his presentation "Pazflor Subsea Separation, Two Years After." The annual event heads to the Ernest N. Morial Convention Center in New Orleans March 3-5, 2015. Antonio Critsinelis of Chevron will serve as advisory board chairman.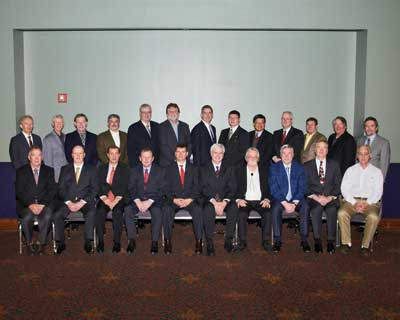 2014 Subsea Tieback Forum Advisory Board
Standing from L to R: Russell McCulley, Offshore; Gene Raborn, Technip; Steve Whitaker, Hess Corporation; David LaCaze, Shell International E&P; Tom Kelly, FMC Technologies; Pete Stracke, Statoil; Bob Writt, BHP Billiton; John Fitzgerald, Granherne; Mason Wu, DMAR Engineering; Bob Carter, Vaela Resources; Barry Brasher, Anadarko Petroleum Corporation; Jay Hursh, Aker Solutions; Christopher Curran, BP E&P
Sitting from L to R: Bobby Voss, GE Oil & Gas; Paul Beer, Freeport-McMoRan Oil & Gas; Antonio Critsinelis, Chevron Energy Technology Co.; Tony Ray, ConocoPhillips; Jon Sonka, ExxonMobil Development Company; Mark Carter, OneSubsea; Chuck Horn, Genesis; Randy Seehausen, INTECSEA; Steve Frantz, Talos Energy LLC; Richard Hart, Eni Petroleum
Not pictured: Bruce Cooley, LLOG; Bruce Crater, Endeavor Management; Clyde Hewlett, Oceaneering International; Jim Macklin, InterMoor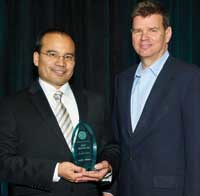 Advisory Board Chairman Jon Sonka presents John Felarca of BHP Billiton with the Best Presenter award.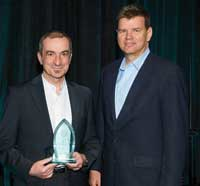 Advisory Board Chairman Jon Sonka presents Pierre-Jean Bibet of Total E&P with the Best Presentation award.
Company News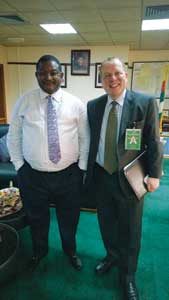 Mr. A. L. Yakubu, Group Managing Director of Nigerian National Petroleum Corporation (NNPC) and Glenn Ensor, Managing Director of PennWell International at NNPC's HQ in Abuja in March.
PennWell's annual Offshore West Africa conference and exhibition returns to Nigeria after recent events in Ghana and will stage at the Eko complex in Lagos for the first time in late January 2015.
The event will take place under the auspices of NNPC and will offer detailed insight into the latest developments affecting the offshore sector in this region alongside an exhibition featuring the industry's leading operators and technology providers. More at www.offshorewestafrica.com.
LetterOne Group has agreed to purchase RWE Dea from the RWE group, under a deal valued at around €5.1 billion ($7.1 billion). This includes around €0.6 billion ($835 million) in assumed liabilities. LetterOne is a privately owned Luxembourg-based investment concern founded in 2013 and reportedly backed by Russian billionaire Mikhail Fridman.
Delmar has achieved more than one million man hours with no recordable or lost time incidents in 2013—zero TRIR (total recordable incident rate).
Oil Field Development Engineering (OFD) has announced the formation of its Marine Engineering Department. The department provides mooring analysis, global performance analysis, and structural engineering of floating structures (TLP, semisubmersible, spar), the development of topsides floatover loads, supporting frames and mating hardware, deepwater decommissioning support, as well as compliant tower design.
National Oilwell Varco Inc. has reorganized into four financial reporting segments: Rig Systems, Rig Aftermarket, Completion and Production Solutions, and Wellbore Technologies. The Rig Systems group will focus on design and manufacture of discrete drilling equipment components, and on building integrated drilling equipment packages. Its Rig Aftermarket group will consist of the consumables, spares, and services required to maintain the equipment components and packages for the lives of the assets. The Completion and Production Solutions group will focus on improving wellbore completions and oil and gas production technologies. The Wellbore Technologies group will focus on enhancing drilling performance at the rig through downhole tools, bits, drill pipes, waste management services, solids control, drilling fluids, instrumentation, tubular inspection, and tubular coating services.
SBP Holdings, through its wholly owned subsidiary Bishop Lifting Products, has completed the acquisition of Delta Rigging & Tools.
Antelope Oil Tool & Manufacturing Co. has acquired CTE Industries Ltd., an independent manufacturer and supplier of oil field cementation equipment.
DNV GL has opened an office in Ho Chi Minh, Vietnam.
GE has opened its newly expanded oil and gas facility in Fót, Hungary. The GE Oil & Gas manufacturing plant added a new 8,000-sq m (86,111-sq ft) manufacturing facility and a new 3,000-sq m (32,292-sq ft) office building. The new manufacturing base will provide central unit control panels for pipelines, LNG production facilities, and other oil and gas applications. The increased capacity adds more than 100 jobs, including 40 engineering positions.
Petronas has named McDermott International "Best Contractor HSE Performer, 2013" for work performed on its Kepodang gas development project. The company performed procurement, construction, installation, and commissioning for a central production platform, a wellhead module, a satellite wellhead tower, 2.7 km (1.7 mi) of infield flowlines, and an onshore receiving facility.
Aqualis ASA has signed a memorandum of understanding to acquire Tristein AS, a marine operations provider. The transaction is expected to close by early 2Q 2014.
Atwood Oceanics has moved its corporate headquarters to the Energy Crossing II building at 15011 Katy Freeway. The 89,000-sq ft (8,268-sq m) facility features a ground floor training center for delivering competency-based drilling and technical skills curriculum, and a learning center to emphasize workforce development for both shore-based and offshore teams.
RAE Energy has acquired pipeline coating company Offshore Joint Services from Forum Energy Technologies.
ALS Oil & Gas has acquired BMP Enterprises, a North American completions services provider.
Teekay Offshore Partners has agreed to acquire the Netherlands-based, long-haul towage and offshore installation services provider ALP Maritime Services.
ValvTechnologies Private Ltd., an assembly and global sourcing facility located in Chennai, India, has passed the ISO 9001: 2008 assessment certification by DNV.
American Electric Technologies Inc. has relocated its corporate headquarters to 1250 Wood Branch Park Drive, Suite 600, Houston, Texas, 77079.
Oceanteam Shipping has exercised an option to buy the remaining 30% shares of engineering company KCI. The Norwegian contractor plans to expand KCI's multi-discipline design engineering services.
Baker Hughes Inc. has opened an Artificial Lift Research and Technology Center in Claremore, Oklahoma. The $60-million facility was built to satisfy growing research, development, and more extensive testing requirements for the artificial lift industry.
Fendercare Marine Middle East has opened a new regional head office in Sharjah.
HANSA HEAVY LIFT has opened a new office in São Paulo, Brazil.
Glacier Energy Services has acquired Professional Testing Services, a provider of nondestructive testing and inspection services.
Element Materials Technology has agreed with Bodycote Hardingscentrum BV to launch a new automatic ultrasonic testing (AUT) validation service to oil and gas clients. Under the service agreement, Element facilities in Breda and Amsterdam, the Netherlands, will undertake the metallurgical sectioning required to perform AUT validation, while Bodycote Hardingscentrum BV in Diemen, the Netherlands, will provide immersion ultrasonic testing support.
Celanese Corp. and Airborne Oil & Gas have signed a strategic supply agreement for the development and supply of composite materials for pipe systems.
Energistics, the upstream oil and gas standards consortium, and the Society of Exploration Geophysicists have signed a memorandum of understanding to explore joint development opportunities of open standards for the upstream oil and natural gas industry.
Ramco Tubular Services has acquired a controlling interest in Pipetech International AS, a provider of advanced and environmentally friendly water-based cleaning technologies to the North Sea oil and gas and petrochemical industries.
Tejas Tubular Products Inc. has appointed Adrialpetro as its exclusive agent for Colombia, Ecuador, and Peru.