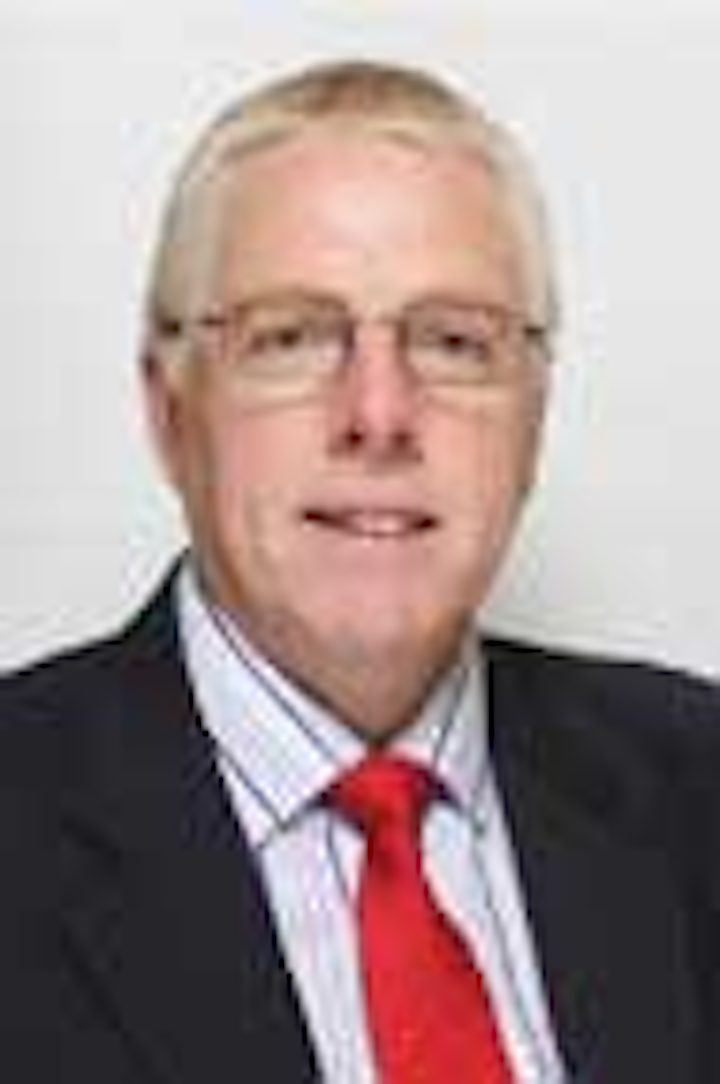 Robert R. Harl, CEO and director of Willbros Group, has announced plans to retire when his current employment agreement expires on Jan. 2, 2015. The company's board of directors has elected John T. McNabb II as executive chairman of the board on an interim basis and has elected S. Miller Williams as lead independent director.
GE Oil & Gas has appointedPatricia Vega as president and CEO in Latin America.
McDermott International has appointedStuart Spence as executive vice president and CFO.
The Society of Petroleum Engineers Aberdeen section has appointedRoss Lowdon as chairman.
Baker Hughes Inc. has appointedKimberly A. Ross as senior vice president and CFO.
Bob "Sonny" Fogal has decided to retire from front-line work as Zentech's director of business development after more than 57 years in the offshore oil and gas industry. He spent his entire career in the rig building business, starting with Levingston Shipyard and subsequent work with major designers and builders in the US as well as Singapore, Japan, China, Brazil, India, South Africa, and the Middle East.
David L. Roland has joined Diamond Offshore as senior vice president, general counsel, and secretary.
Lloyd's Register Energy has appointedJoanna Pohorski as senior vice president, Compliance Services.
Subsea 7 has reappointedAllen Stevens and Robert Long to its board of directors.
J. Kevin Bartol has resigned as executive vice president, CFO and treasurer of Rowan Companies. The company has promoted Melanie M. Trent to executive vice president, general counsel and chief administrative officer and will assume responsibility for the Legal function, as well as retain responsibility for the Human Resources, Information Technology and Communications departments. She succeeds John L. Buvens Jr., who is retiring from after more than 30 years with the company.
C.J. Cummings, Stewart Gossen, and Conrad P. Kathol have resigned from Niko Resources Ltd.'s board of directors. Tim Henry has resigned as vice president, general counsel, and corporate secretary.
Petrobras CEOMaria das Graças Silva has received the Global Pacific & Partners Award in the Offshore/Deepwater Player category at the 20th Latin Oil Week, an event held at the Copacabana Palace Hotel in Rio de Janeiro. She also received an honorable mention as a Patron of the Global Women Petroleum & Energy Club, an association created to bring together high-profile women in the oil and gas sector throughout the world.
Trond Olsen has joined ClampOn as president. He succeeds Hans A. Wagner, who has been named senior vice president - Business Development.
Vikoma International Ltd. has appointedKaren Lucas as general manager and director.
Edward Snyder, manager of instrument engineering at William Jacob Management, has successfully completed the University of Alaska course in "Fundamentals of Arctic Engineering." The course is a prerequisite for securing an Alaska professional engineering license. In August his application for license as a Registered Engineer for the state of Alaska was approved.
Hugh Barrs has joined Ceona as senior vice president quality, environment, safety, and health.
Barrs
Alex Imperial has taken over as DNV GL Oil & Gas's regional manager for South America.
Canadian Overseas Petroleum Ltd. has appointedDr. Richard Mays as vice president of business development.
Sigma Cubed Inc. has appointedMauricio Arboleda as executive vice president of operations.
Deloitte Corporate Finance LLC has namedThomas W. Sloop as managing director in its Houston office.
Walter Steedman has been elected chairman of the Offshore Survey Division of the International Marine Contractors Association.
Steedman
Lord David Owen has resigned as a member of Hyperdynamics Corp.'s board of directors. He also served on the Nominating and Corporate Governance and Governmental Relations committees of the board.
BMT Reliability Consultants has appointedDan Oakley as sales director.
Oakley
Circulation Solutions has promotedZach Grichor to vice president of business development and Mark Laurent to vice president of operations.
RigNet Inc. has namedPal Jensen vice president -- Energy Maritime.
RMSpumptools has appointedTed Boeri as vice president of global sales.
SAL Heavy Lift Singapore Pte Ltd. has transferredAlexander Poetz, a senior project engineer and naval architect from its Hamburg headquarters, to its Asia/Australasia base in Singapore.
Poetz
Ryan McPherson has joined ProSep as general manager for the Middle East.
McPherson
Nautronix has appointedThomas McCudden as global sales manager for NASNet.
Deborah McDonald has joined Logan International as marketing director.
Anne LeBoutillier has joined Ocean Specialists as director of global marketing and business development.
2H Offshore has appointedPaul Hopkins as principal engineer in Norway.
Alan White has joined Harkand as head of engineering services in Europe.
White
Christopher Salinas has joined Alloy Metals and Tubes International as senior outside sales representative.
Salinas
Romy Mathew has joined SOR Inc. as regional sales manager in the Middle East.
Survivex has promotedLisa Flint to human resources director.
Bjørn Jalving, executive vice president Subsea at Kongsberg Maritime, has received the Compass Distinguished Achievement Award from the Marine Technology Society for his long career and achievements within AUV technology. Jalving developed the control and mission management system and was heavily involved in system design of Kongsberg Maritime's HUGIN AUV. Jalving was responsible for the team that designed and implemented the HUGIN aided inertial navigation system. In 2000, a HUGIN 3000 from C & C Technologies provided consistent position accuracies of 2 m (7 ft) and 4 m (13 ft) at depths of 1,300 m (4,264 ft) and 2,200 m (7,216 ft) in the Gulf of Mexico. This navigation technology has also been applied in Kongsberg Maritime's HAIN system for ROV navigation and dynamic position vessel reference.
Jalving
Company News
InterMoor UK Operations has completed seven years and more than 2,300 projects without a single lost-time incident. The safety record includes the companies – InterMoor Ltd., InterMoor Marine Services Ltd. and ChainCo – and operations at three bases, five storage yards, and many quayside locations. InterMoor also has opened a new storage, maintenance, and inspection facility in Aberdeen, UK. The new base – on a three-acre site with a warehouse, 20 permanent onsite staff, and a multi-million dollar mooring inventory – will support the company's global mooring operations.
Acteon has acquired UTEC Survey to enhances its global survey and data gathering capabilities.
PMI Energy Services, a Superior Energy Services company, has opened a shorebase in Morgan City, Louisiana, to support shelf, coastal, and inland waters production and drilling activities.
Aqualis Offshore has opened an office in Mexico City. The company will also establish an operations office in Ciudad del Carmen to support offshore rig owners and oil service companies.
Seatronics has partnered with Teledyne RD Instruments Inc. to sell its marine measurement and navigation products. Seatronics will sell Teledyne RD Instruments' Acoustic Doppler Current Profilers exclusively in Saudi Arabia, UAE, Qatar, Oman, and Bahrain; and will represent the company for Doppler Velocity Logs (DVLs) nonexclusively in Qatar, Saudi Arabia, Oman, and Bahrain. Seatronics do Brasil Ltda will sell DVLs in Brazil on the same, nonexclusive basis.
Premier Hytemp has invested $20 million in a second precision engineering facility in Singapore to service global oil and gas markets with components for wellheads, subsea trees, valves, and downhole tools.
V.Group has concluded the acquisition of Core-IRM, an inspection, repair, and maintenance services provider in Southeast Asia.
AGR has entered into a memorandum of understanding with Antilles Oil and Gas NL to assist in well planning, design, and execution, and to provide drilling capability.
Deltamarin Ltd. has established a subsidiary to enlarge the scope of the group's naval architecture and engineering services. The new company, Deltamarin Floating Construction Ltd., will focus on delivering engineering, procurement, construction, and installation services to the marine and offshore industry on turnkey basis.
Baker Hughes Inc. has acquired Weatherford International's pipeline and specialty services business. The acquisition provides Baker Hughes with an expanded range of precommissioning, deepwater, and in-line inspection services worldwide.
Maersk Drilling is selling its drilling barge business, Maritime Contractors Venezuela S.A., to Panama-based investment company Barrystar Holding.
NSSLGlobal, an independent service provider of satellite communications, has merged with the ESL group of companies, a satellite solution provider and system integrator.
SKF USA Inc.'s factory in Houston has received the "External Specialist Recognition" by the American Bureau of Shipping to provide condition monitoring services to the offshore industry.
Bureau Veritas has acquired MatthewsDaniel Ltd., which provides loss adjusting and risk assessment services for the global offshore industry. Its loss adjusting activities include incident investigations, root cause analysis, damage and reinstatement assessment, and cost estimation. The company's risk assessment portfolio focuses especially on marine warranty surveying activities.
Caterpillar Oil & Gas delivered the 100th offshore generator set featuring Brazilian local content from the company's Piracicaba, Brazil, manufacturing facility. The 100th unit, a Cat 3512 Diesel electric propulsion generator set, was packaged, tested, and certified with an industry-leading level of Brazilian local content per ANP standards.
Tenaris has confirmed the purchase of the remaining 50% of the participation of Socotherm Brasil, which belonged to Socotherm Americas – a division of ShawCor.
CRC-Evans Pipeline International has opened its new global headquarters in Houston.
Bibby Offshore has opened an office in Stavanger, Norway.
ABS has opened a new office in Beijing. The office will focus on business relationships and expanded offerings that strengthen its collaboration with local enterprises, universities, and research institutions.
PIDE Solutions Group has entered into a three-year educational partnership with SAIT Polytechnic that includes donation of PIDE's Piper 2.0 software powered by DataDraw, valued at $600,000. Piper 2.0 is an intelligent drawing and design platform tailored specifically to support volumetric measurement and reporting requirements across the upstream oil and gas sector.
Aberdeen-based subsea IMR providerN-Sea Offshore Ltd. has announced plans to move into new premises at Salvesen Tower.
Mirage Machines has expanded its headquarters in Derby, UK, by acquiring new 5,000-sq ft (464.5-sq m) office premises adjacent to its existing engineering headquarters, to facilitate the extension of its manufacturing and service operations workshop to 17,000 sq ft (1,579.4 sq m).
Enteq Upstream Plc has appointed Shenkai as its new distributor in Shanghai.
Citec has completed the acquisition of m7 Offshore. m7's Norway location now functions under the name of Citec Norway AS, while its operations in Singapore now functions under the name of Citec Group Singapore Pte Ltd.
Applus RTD plans to open a base in Bergen, Norway, to supply nondestructive testing services.
NOV Elmar has moved into larger premises in Tananger, Norway.
SNC-Lavalin Group Inc. has completed its acquisition of Kentz Corp. Ltd., an engineering, construction management, and technical support provider. The acquisition supports SNC-Lavalin's ongoing transformation into a global Tier-1 engineering and construction company.
BATS Wireless and Aviat Networks have formed a partnership to market stabilized antenna tracking systems. The BATS systems, when coupled with Aviat's microwave radios, deliver ultra-high-capacity connectivity. It will deliver wireless communications and data opportunities to FPSOs, FSOs and drillship operators, and will enable end users access to faster and more adaptive networks.
Sierra Oil & Gas S. de RL de CV, Mexico's first independent exploration and production company, has secured equity commitments of $525 million. Headquartered in Mexico City, the company plans to participate in exploration, development, and production optimization opportunities made possible by the country's recent energy reforms. Under the terms of the transaction, energy-focused private equity firms Riverstone Holdings LLC and EnCap Investments each have committed $225 million in funding. Infraestructura Institucional, Mexico's largest infrastructure private equity firm, has also committed $75 million.
Sembawang Shipyard Pte Ltd. has signed a shareholders agreement to establish three subsidiaries in Singapore. The subsidiaries are Semb-Eco Pte. Ltd., an investment holding company; Semb-Eco R&D Pte. Ltd., which will handle research and development and holding of patents; and Semb-Eco Technology Pte. Ltd., which will be responsible for the manufacturing and commercialization of patents.