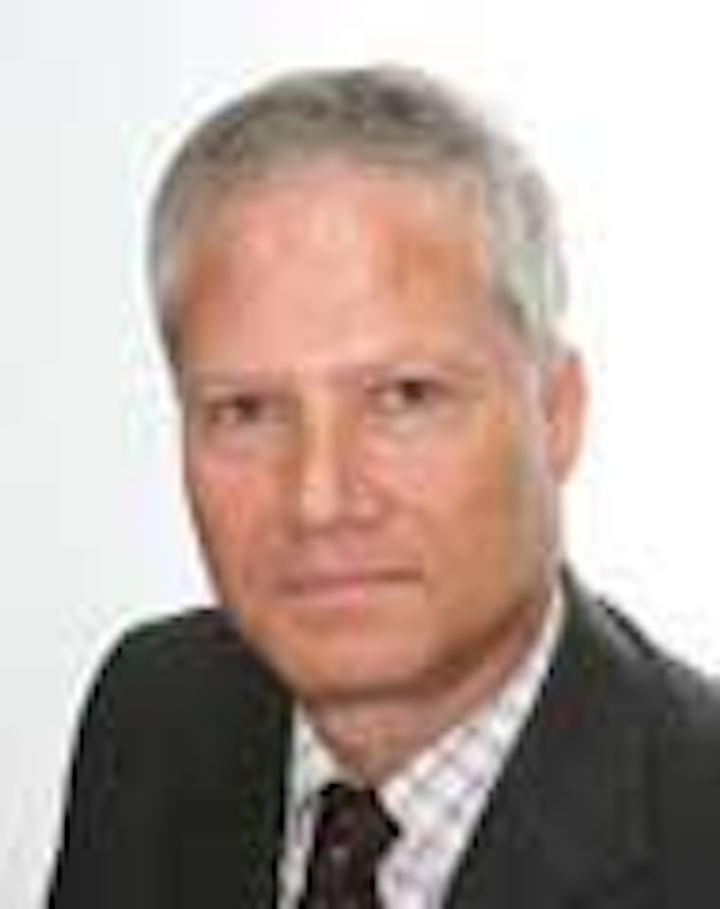 | | | |
| --- | --- | --- |
| | | Jeremy Beckman • London |
UK offshore production has staged a recovery after years of steady decline. According to latest figures from the government, oil and gas output rose by 1% during the first half of 2014 compared with the same period last year. Industry association Oil & Gas UK attributes the increase to higher development spending on new projects and previously shut-in fields re-entering production such as Elgin/Franklin, Gryphon, and the Penguins cluster.
However, the association points out that operating costs are also 60% higher than in 2011, and suggests that extracting the UK's estimated remaining reserves of 20 Bboe-plus could cost more than $1 trillion. "If the current level of rising cost continues, the UKCS will cease to provide a healthy return on investment," warned CEO Malcolm Webb.
One cost the industry will find increasingly difficult to avoid is decommissioning of redundant offshore facilities. The total outlay across the UKCS last year was £470 million ($753 million), according to another Oil & Gas UK report. This year operators expect UK decommissioning expenditure to reach £1 billion ($1.6 billion) for the first time in a single year, followed by an average of £1.5 billion/yr ($2.4 billion/yr) from 2014-2023.
Over the years ahead, 43% of the spending will likely be directed at facilities in the UK central North Sea, with well P&A accounting for 44%.
Wintershall goes subsea at Maria
Wintershall has awarded the initial hardware contract for Maria, its first operated greenfield development offshore Norway. Under an engineering, procurement, and construction assignment, FMC Kongsberg will supply a subsea production system comprising two integrated template manifolds with associated trees and auxiliary equipment. Additionally, FMC will provide the dynamic and static umbilical, production riser base, subsea umbilical termination unit, and subsea control system. Total value of the contract is $280 million.
Unusually, Wintershall plans to connect the facilities to three platforms, all operated by Statoil. Maria's production will be exported through existing infrastructure to the Kristin complex 20 km (12.4 mi) to the west, and to Heidrun and Åsgard, respectively 39 km (24 mi) and 15 km (9.3 mi) to the north.
Wintershall discovered Maria in the Norwegian Sea in 2010 and drilled a successful appraisal well two years later on the Maria North structure. There are additional reserves that could potentially be tied in at the Rodriguez prospect, 8 km (4.9 mi) to the southeast. The Norwegian Petroleum Directorate estimates Maria's reserves at 132 MMbbl of oil and 50 bcf (1.4 bcm) of gas.
Compressors extend Norway platform lifespans
Two new compressors have entered service on Statoil platforms. The system on the Kristin platform is designed to increase light oil recovery from the field by 160 MMbbl and to extend its producing lifespan through 2034. On the North Sea Kvitebjørn installation, the 1,000-metric ton (1,102-ton) module, built by Rosenberg Worley Parsons Group in Stavanger is configured to lower pressure on the platform to accommodate falling pressure in the reservoir, allowing more oil and gas to be produced. This is the first phase of a pre-compression program on Kvitebjørn, with space left for another compressor under a second pre-compression phase.
Later this year another compression system is due to start up on the Heidrun platform, helping to recover a further 7.5 MMbbl of oil. Two more compressors will also be installed at the Troll field center, helping to extend the field's life by 18 years to 2063.
Chevron sells Dutch production interests
Chevron, one of the longest-serving production operators in the Dutch North Sea, has agreed to sell its assets in the sector to Petrogas International E&P, a subsidiary of Oman-based Petrogas E&P. The package includes interests in 11 offshore blocks with net production of around 2,000 b/d of oil and 41 MMcf/d (1.2 MMcm/d) of gas, and 100% of Chevron Transportation, which owns Dutch offshore and onshore crude oil and natural gas handling and pipeline infrastructure. Chevron said its strategy was to focus more on upstream assets in Europe with long-term growth potential.
Delft-based research institute TNO says it is collaborating with various companies on a three-pronged upstream gas program, designed to ensure that the Netherlands can still produce sufficient gas to meet its energy needs by 2030. One aim is to develop technologies to aid detection and development of newly discovered fields in regions where development to date has been limited (i.e. the northern offshore Dutch sector and shallow gas). Another is to determine where mature fields can be better exploited and kept in production longer. The third project focuses on extraction of gas that is difficult to produce (i.e. "tight" reservoirs), and on reducing the cost of developing "stranded" fields.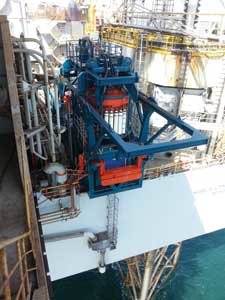 N-Sea TUP diving system. (Photo courtesy N-Sea)
Dutch contractor N-Sea gas completed a shallow-water diving campaign for Oranje-Nassau's L6D offshore field development using the Transfer Under Pressure (TUP) dive system. N-Sea supplied the equipment for work on a christmas tree this summer, stationing its closed bell system on theParagon C46-1 jackup. The equipment comprises a three-man bell, launch and recovery system, a triple-lock decompression chamber, gas diver control (Air/Trimix/Nitrox), and a hyperbaric rescue craft.
Faroe dips toes in Irish waters
Faroe Petroleum has entered the Irish offshore sector, taking 100% operated interests in three new licensing options (LOs) in the southern part of the North Celtic Sea basin. LO 14/1, 14/2, and 14/3 cover 3,458 sq km (1,335 sq mi) in water depths ranging from 80-110 m (262-361 ft). Faroe's target is the relatively little explored Triassic play, comprising Sherwood sandstone reservoir juxtaposed against lower Jurassic oil-prone source rocks. The company sees similarities with the giant Wytch Farm oil field offshore/onshore southern England.
Providence Resources, the sole company to drill wells offshore Ireland in recent years as well as collecting blocks, says it is in advanced stages of bringing in a partner for appraisal/pre-development drilling next year on the Barryroe oil field off southern Ireland. Elsewhere, the company and its partners are working with Irish/UK regulators on a potential development of the Dragon gas field, discovered by Marathon in the 1990s in the St. George's Channel offshore west Wales and thought to extend across the Irish median line. The partners aim for consent to drill a development well and have appointed consultants to work on the proposed DICE (Drahon Interconnector) system between the UK and Ireland.
Offshore Dublin, Providence is seeking approval to acquire seismic and drill an exploratory well on the Kish Bank oil prospect.