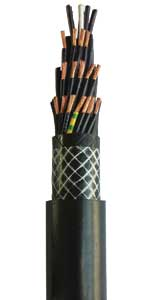 One of numerous cables for offshore application offered by Elettrotek Kabel. (Photo courtesy Elettrotek Kabel)
Elettrotek Kabel has opened a new branch office in Dubai, Elettrotek Kabel Middle East, to better serve the local oil and gas industry.
The group was founded in Bagnolo, Italy, in 2001 as a distributor of special-application electrical cables for offshore, marine, and other applications. Over the years the company has added branches with warehouses in the US, Germany, and Switzerland, and exports to 45 countries.
Elettrotek Kabel's offshore cables are for use mainly on drillships, FPSOs, fixed platforms, floating production platforms, and floating storage and offloading (FSO) vessels. Customers include the main oil and gas companies.
The range includes:
Cables according to NEK 606 and IEEE 1580
Control, power, and instrumentation cables
Flame retardant unarmored and armored types
Fire resistant unarmored and armored types.