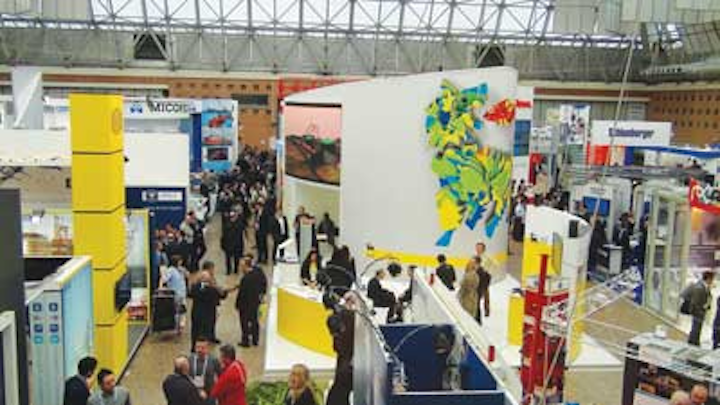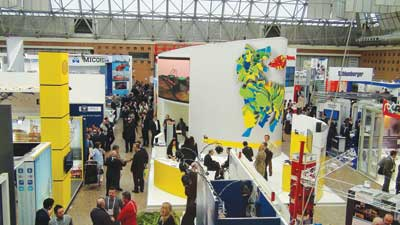 Scene from the exhibition hall at the Offshore Mediterranean Conference in Ravenna. (Photo courtesy OMC)
The 12th annual Offshore Mediterranean Conference and Exhibition (OMC 2015) in Ravenna, Italy, on March 25-27, 2015, will examine energy scenarios that could emerge over the coming decades.
Eni CEO Claudio Descalzi will chair the plenary session, "Focus on Change: Planning the Next 20 Years. Diversifying Choices, Increasing Opportunities." This will feature keynote addresses by chief executives of international and national oil companies in the Mediterranean region.
A combination of geopolitical turmoil in some of the main producing regions and the growth of US shale production have kept hydrocarbon markets in balance over the last few years, but this may not last.
The recent Russia/Ukraine crisis and growing instability in some North African countries, and the impact on exports to Europe will make security of supply and diversification of energy sources an increased imperative. The need to meet forecast demand growth, while at the same time offsetting the decline of many mature developed fields, will force the industry to make even larger investments in technology.
OMC's technical program, organized in parallel sessions, will cover all aspects of the E&P chain, complemented by workshops. The program includes a session on enhanced oil recovery (EOR) and a two-part session on offshore regulations and technologies five years after Macondo. The first part will focus on regulatory initiatives implemented by countries hosting activities (Croatia, Cyprus, Italy, the US, and the Northern Seas), and the legal aspects and the relevant implications. The second part will present some of the new technologies companies are using to combine safe oil and gas production with environmental protection.
The exhibition area has grown by more than 20% compared to 2013 and now stands at almost 25,000 sq m (300,000 sq ft). Exhibiting companies from Europe, Northern Africa, Middle East, and America cover most sectors and activities related to the oil and gas industry, offshore and onshore, including E&P, geosciences, drilling, well systems/equipment, safety, and transportation.
Among those confirmed are Eni, Sonatrach, NOC Libya, EGPC, EGAS, Qatar Petroleum, Edison, Shell, Total, Schlumberger, Halliburton, Baker Hughes, Aker, Siemens, Prysmian, Tenaris, Weatherford, FMC Technologies, Saipem, TMK, Technip, Lloyd's, Siemens, T.U.V., and ABB.
There will also be four national pavilions featuring companies from France, China, the US, and Denmark. A complete list of exhibitors and their products is available atwww.omc2015.it.
In addition, oil and gas companies will make presentations dedicated to young people considering careers in the industry. For the first time, OMC's Youth Program will include a contest open to students of technical universities.