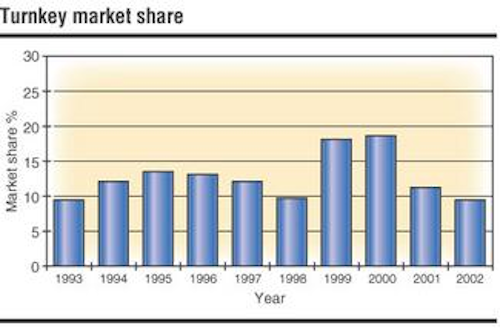 An 'insurance policy for drilling budgets'
Jennifer Pallanich Hull
Gulf of Mexico Editor
Rig counts in the Gulf of Mexico may have dipped from last year's rates, but turnkey operator Applied Drilling Technology Inc. isn't reflecting that drop.
Busy when the rig market is up, and less so when it's down, "We do ride the rig tide in the Gulf," said Kenneth Baum, vice president of contracts and marketing. The drilling and completions management company drilled 676 turnkey wells in the Gulf in 2002 and was on track to drill even more than that in 2003, ADTI President Blake Simmons said.
ADTI, which drilled the first turnkey wells in the GoM in 1980, has drilled over 900 turnkey wells in the Gulf and more than 10 million ft of hole. The international company has worked in the North Sea since 1992.
Company founders considered ADTI as a supplement to then-Global Marine's services, with ADTI performing turnkey drilling and Challenger Minerals investing in wells.
"They were interested in having more than just drilling rigs to offer," Baum said. Histor-ically, turnkey companies were in business to keep their parent company's rigs busy. "That is not a very wise business model."
Houston-based ADTI is a stand-alone company that employs whichever rig is most suitable for a given job, Baum said. The company has used GlobalSantaFe rigs on only 6% of the 900 wells the company has drilled, he added. ADTI used more than 40 different rigs from nine companies in 2003.
Deciding which rig to assign to a contract involves juggling availability with water depth, surrounding structures, whether a rig was previously onsite, capability, type of rig needed, and proximity of the rig to the contract site. This is also where ADTI's extensive database comes into play, as the company records data regarding rig efficiency.
ADTI's turnkey approach was initially high margin and low-volume. The company didn't drill a lot of wells at first, but there was room to make a bundle on anything it did drill. Over the first 13 years, the company drilled 108 wells, for an average of eight wells per year. For the company to make more money, ADTI had to face down other bidders.
"Competition for turnkey was not the other turnkey businesses. It was day work," Baum said.
The company reasoned that cutting margins to become more competitive with day work would solve the problem, and ADTI's volume shot up as the company snapped up bids. ADTI has drilled an average of 75 wells a year since the company changed its approach. Drilling more wells spreads out the risks associated with turnkey work. In the busiest year, 2000, ADTI drilled 123 wells and performed 26 completions.
Baum estimates 11-13% of all wells drilled in the Gulf of Mexico over the last decade were drilled on a turnkey basis, with ADTI drilling the bulk of those.
And with the shear volume of wells the company's drilled, ADTI has compiled a database for the knowledge the company has learned about drilling in the Gulf.
"We have a phenomenal amount of drilling information and well logs," Baum said.
"The more efficiently we can drill wells, the more efficiently we can manage costs, and the more costs can go down," Simmons said. When the company finds a problem and solves it, "we dissect the well problem and re-inject that into our execution of future wells."
Baum said when there are pronounced hole problems in one area, ADTI addresses the issue with multiple operators to identify the problems and potential solutions.
"By us being more knowledgeable about an area, we can alert the client up front," he said. It's not "a big surprise to them at the end of the well."
In one instance, Baum said, an operator contracted with ADTI for a certain number of wells in one area over several years. Because ADTI stored up knowledge from each well it drilled, the company was able to apply efficiencies to later wells, saving the operator enough money that the operator was able to drill additional wells, he said.
"We're out there getting practice on drilling every day," Baum said.
And other companies aren't shy about asking for that expertise.
"We're constantly being asked, 'What do you do when you see this?'" said Randy Connor, manager of turnkey sales.
null
null
A logical approach
Simmons said there are times when it is logical to drill a well on a turnkey basis, such as putting a cap on risk or when the operator is not familiar with an area.
"They use us as an insurance policy on their drilling budgets," Baum said.
Simmons said time has matured the perception of the turnkey approach. Majors have begun using turnkey contracts.
"They've grown to understand what we do and how we handle our business," he said.
Operators with a smaller staff "look to us to be their drilling department," Baum said.
"Our drivers are very, very similar to the people we work for," Simmons said. "We have to have safe, well-managed operations. We fail if they're not safe."
Drawing up contracts
When ADTI inks a turnkey contract, it doesn't pad in incentives for time or budget.
"We view turnkey as the ultimate incentive," Baum said. There is often a deadline for starting a well, but not completing one. "We can have problems like anyone else."
Another solution is going turnkey to a certain depth and then running day rate to total depth (TD), which ADTI does a couple times per year.
"The majority of our wells, we turnkey all the way to TD," Connor said.
ADTI's average well goes to 11,000 ft TD over three weeks.
"More often than not, our average well these days is a directional well," Baum said. Some will be into higher pressure, and most are with a jackup. While some wells are ideal for the turnkey approach, not all qualify.
"There are always some wells out there that we cannot be cost-competitive on. They are deep or challenging," Baum said. "To provide the operator with a fixed price option that makes sense for him, we just can't do that all the time."
Depth alone is not a problem, he said, as the company has drilled below 20,000 ft on several occasions. The time to bow out comes in mixing depth with other factors, like certain environmental issues or an unknown or tricky area.
"Those are the kinds of wells that the operators would love to see us turnkey," Connor said. When ADTI says it shouldn't turnkey a well, he said, the operators understand.
Before ADTI bids a well, the company performs in-house studies. Connor said the operator and contractor usually come to a similar conclusion on how long the well will take to drill.
The company employs 15 engineers who handle the engineering for drilling bids. To arrive at the bid, Connor said, ADTI studies the well specifications, the water depth, and targets and builds a drilling program that will complete the objectives.
"We ask a lot of questions, but we drill it to their requests," he said.
ADTI routinely takes advantage of measuring-while-drilling, logging-while-drilling, directional drilling, and drilling fluids technologies. The company will use hot technology, but "we're not out there with serial No. 1," Baum said.
Complementary activities
ADTI has taken its turnkey approach another step forward by performing turnkey completions on wells. From its first turnkey completion in 1997 to its 100th in 2003, Connor attributes the rise in activity to the company's ability to respond quickly to work requests.
"It's just been a natural evolution," Baum said.
The contractor performs about 20 turnkey completions a year and hopes the activity level will increase.
Not only is completion work different from drilling work, but so is the approach to turnkey contracts. On a drilling contract, Baum said, there is more time to study the set-up and prepare for the work. With a turnkey completion, he said, the logs are only available at the last minute. ADTI uses a more generic contract and an estimate in the early phase of turnkey completions, Baum said, and then finalizes the numbers when the logs are available. Five engineers perform the engineering for completions bids. The company also sets templates, pipelines, and platforms.
While there is plenty of work in the Gulf, ADTI continues to expand internationally. The company is turnkeying wells in the North Sea and bidding onshore wells in West Africa and Latin America.
"We're looking at getting back into that business in a bigger way," Connor said.