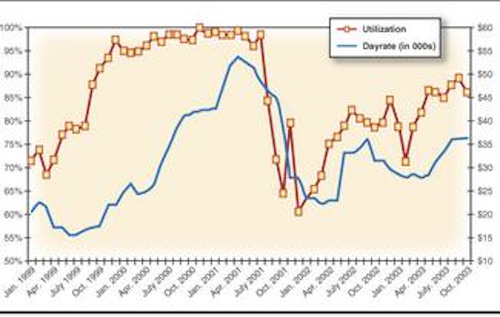 Rig utilization to inch upward
Jennifer Pallanich Hull
Gulf of Mexico Editor
In 2004, operators will be more cautious in what they drill, and they will work to build up reserves in areas where production is already onstream, analysts say.
Pete Joslin, manager of petroleum services for the Americas at Deloitte & Touche, expects operators to be more cautious in their drilling and develop more partnerships to handle the high-risk activity.
"The way companies are going to survive in deepwater drilling is to reduce their risk," he said.
As one example, he cited ChevronTexaco's farming out of interests in Tahiti on Green Canyon blocks 596 and 640 in 4,000 ft of water before the discovery well was drilled. The supermajor announced the Tahiti discovery in 2002, and in 2003, ChevronTexaco said appraisals backed up original estimates that the field holds 400 MMbbl to 500 MMbbl of ultimate recoverable oil reserves.
"If you knew it was a sure thing, you'd never farm that out," Joslin said. "If the big companies are divesting interest, they want to divest risk."
On the other hand, spreading out the risk allows smaller operators a shot at potentially large payouts.
"Deepwater is a statistical play, and you've got to drill wells to be successful," he said.
But the key for 2004, Joslin said, will be to mature deepwater projects faster.
On the production side of things, Joslin expects to see more creative engineering use of floating production systems and tethered floating systems over the next 12-18 months. Kerr-McGee, which has had quite a bit of success with its spar approach, will push deeper, he said. And these developments place infrastructure in strategic locations throughout the Gulf.
"Infrastructure is probably second to making discoveries," he said.
Rig rates to inch upward
Looking at the past 18 months, during which rig utilization rates posted modest, if any, increases, Kurt Hallead, a managing director at RBC Capital Markets, expects to see about a 5% increase on rig rates in 2004 over the 2003 average rate of 109 rigs.
"We see about 115 rigs running on average in 2004, up 5% from 2003," he said. "Our outlook for the Gulf of Mexico has become more conservative as the year has gone on."
Since 2Q 2002, he said, the rig count has held steady between averages of 106 and 112.
"Most of the feedback we get, both from drilling contractors and the E&P companies, are that opportunities on the traditional shelf are not as great as they once were," Hallead said.
But where the traditional shelf falls short in opportunities, the deep shelf is still a siren's call.
"The deep shelf has been one of the primary drivers in the market," he said.
And the $20,000/d difference between the going day rates for a premium jackup and a commodity jackup as of late 2003 could jump to a $25,000/d to $30,000/d spread in 2004 if utilization rates remain at 95% for the premium rigs, he said. International demand for jackups could further squeeze the market for premium jackups, he added.
"There's still an opportunity for the spread to widen," Hallead said.
Rig utilization rates have held steady for the last six quarters.
He expects commodity jackups to stay in the 50-60% utilization range, a level those rigs have held for the last six quarters.
While there was initially some concern that the deep shelf focus was a fad and there would be little follow through, companies have had successes on the deep shelf, he said.
"The only issue is they're a lot more expensive," Hallead said.
Boosting reserves
While companies have filed exploration plans for most of the planning areas in the GoM, said Mike Rodgers, a senior director at PFC Energy, the majority have been filed for the Garden Banks, Green Canyon, and Miss-issippi Canyon areas in particular.
"I suspect a lot of that planning is to find relatively smaller reserves that are in proximity to existing infrastructure," Rodgers said.
Some existing facilities in those planning areas will have excess capacity as older discoveries play out.
"I believe a lot of the exploration planning that's going on in Garden Banks, Mississippi Canyon, and Green Canyon is focused around finding things to keep those facilities busy," he said.
Overall exploration numbers in 2004 should remain steady around 100, consistent with the last two years, he said, as planning permit submissions remain level with the last couple of years.
Rodgers expects about 15 discoveries to go onstream in 2004. He said it can be difficult to project what international companies will develop because fields across the globe often vie for the same funding.
"There's a lot of competition within some of these companies for funds to develop these discoveries," he said.