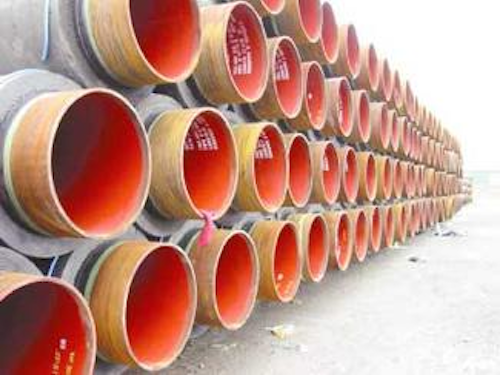 Mineral processing company Minelco has scored its first hit with a new form of heavy ballast concrete coating for pipelines. Late last year, the company signed a contract to deliver 620,000 tonnes of its magnetite, MagnaDense 8 Separated (MD8S), to Bredero Shaw. It will be used for coating the 650-km Nyhamna-Sleipner stretch of Langeled, the pipeline serving the Ormen Lange gas development in the Norwegian/North Seas.
The contract is a prestigious one, as this will be the world's longest subsea gas pipeline. Minelco's material will be used to coat the 42-in section in Norwegian waters, which accounts for just over half its 1,200-km total length. It will be shipped to Bredero's plant at Farsund in southern Norway. Deliveries are due to begin in June and continue through July 2005, and will more than double the company's overall output this year and next.
Langeled represents an important breakthrough for Minelco into the offshore sector, and CEO Per-Erik Lindvall is optimistic this work will lead to further business. Last month the company was preparing further bids for pipe-coating contracts.
null
Half the volume
MD8S is a high-density form of ballast, which enables the volume of coating to be reduced by up to 50%. Another potential offshore application is in the construction of concrete mattresses, used for stabilizing subsea pipelines. The reduction in volume makes handling of the pipeline joint or mattress easier, and could enable more items to be shipped at a time, thereby cutting the number of shipments required.
The material is also available as loose ballast, again applicable for offshore use. Minelco has held talks with spar platform manufacturers on the possible use of MD8S as platform ballast. The advantage in this application would be the reduced volume of material to be shipped and installed compared with traditional ballast.
MD8S is made from magnetite ore from the Kiruna iron ore mine in northern Sweden, which is operated by Minelco's parent company LKAB. The ore is processed at Minelco's plant at Kiruna. Compared with the hematite ore provided by most suppliers, magnetite is denser and stronger, according to Lindvall. At a given price level, it is also denser than other materials, which can be used in pipe-coating, such as barite and slag.
MD8S is one of a number of MagnaDense grades, which range from a coarse 30 mm in grain size – MD30 – down to powder fineness. MagnaDense 8 is located toward the finer end, consisting of particles with a maximum size of 8 mm. It is produced from MD30 by a process of crushing, magnetic separation, and screening that increases the compact density from 4.4 to 4.8 tonnes/cu m, around twice that of traditional ballast.
Minelco undertook the development of the production process in consultation with Bredero. It is now able to control the process to achieve the correct distribution of grain sizes. If the material contains too great a proportion of fines, it consumes too much cement during the make-up of the coating. It is important that the concrete has the right viscosity/workability, achieved via a mixture of ballast grain size, water/cement quantities and additives.
Other benefits of MD8S are that it has the same strength as normal concrete but a greater heat retention capacity. In a pipeline context it therefore maintains the temperature of the pipeline contents more effectively than other materials. This could have beneficial implications, for example, in cases where additional insulation is needed, due to temperature considerations.
The company's breakthrough into the offshore market, where the main competition comes from South African producers, has come at an interesting time, Lindvall says. There is currently a shortage of iron ore worldwide, although Minelco faces no difficulties, as reserves at Kiruna are sufficient for another 50-100 years at current rates of exploitation. At the same time freight rates have more than doubled. These conditions have helped to strengthen the company's position in delivering to key offshore provinces such as the northern Atlantic, Gulf of Mexico, and West Africa.
For more information, contact Per-Erik Lindvall, Minelco. Tel: +46 920 38160, fax: +46 920 19088, per-erik.lindvall@minelco.com, www.minelco.com