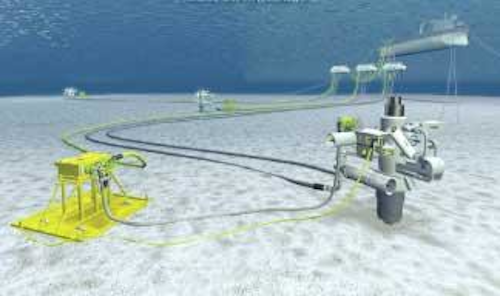 Judy Maksoud
International Editor
The laws of probability weigh against Vaalco Energy Inc. The fact is that Houston-based Vaalco, operator of the Etame field off Gabon, is a company made up of only eight people. Yet, despite its size, Vaalco has established a foothold offshore West Africa, and if Vaalco management's plan is carried out, the comp-any will double in size by next December.
Building on success
Fully 98% of Vaalco's revenue comes from Gabon, according to Robert Gerry III, Vaalco's chairman and CEO. For that reason, Vaalco is focusing much of its attention and many of its resources on the Etame field.
"Our future depends upon it," Gerry said.
Etame has only been onstream for slightly over a year, so Vaalco has not had the luxury of looking for a lot of outside activities. Now, the company has the cash flow to search out other opportunities in Africa, and Gerry is interested in expanding investment in the region.
"We intend to remain an international company," Gerry said. "We've geared ourselves to remain international. We've had success off Gabon, and we would like to remain in West Africa."
With Etame covering only 3,000 of the 750,000 acres Vaalco holds off West Africa, there are still drilling opportunities on other leases. "We've got four or five other very interesting prospects, two of which we will drill," Gerry said.
The company has a definite goal. "What we want to do is to grow Vaalco," Gerry said.
null
Because resources are limited, the likelihood of pursuing opportunities in other geographical areas is small. "It takes too long for a company like Vaalco to initiate an original concession, do the seismic work, perhaps find partners. There is a three- to five-year timeframe you have to deal with," Gerry said
So in terms of future investment, the simplest way forward is to take a piece of someone else's project. "Of course, we would prefer to operate. We do operate, so we know how to do it," Gerry said.
A primary objective is to make Vaalco more diversified, with investments outside Gabon. "I would like Vaalco to be more than a one-country company," Gerry said. With that objective in mind, Vaalco is on the lookout for other opportunities while subsea installations move forward to increase production on Etame.
Contracting expertise
Vaalco really doesn't need a lot of people when a project is in production mode, Gerry said, but when the company is drilling wells and bringing them onstream, it needs additional support.
The need for engineering expertise led Vaalco to develop a strong relationship with two Wood Group companies – Mustang Engineering and J P Kenny, the firms that supplied Vaalco with the engineers who guided development on Etame.
Keith Caulfield, a project manager seconded to Vaalco by J P Kenny, explained the partnership concept, which he described as the key to successfully operating off West Africa.
"Everyone talks about partnerships, but for Vaalco, it is not a cliché; it is an iron-clad necessity," Caulfield said. And the partnership concept extends beyond management to the vendors that supply production equipment for the field.
"We are forced to depend on the vendors' expertise for progressing the project effectively," Caulfield said. That is why Vaalco holds its vendors accountable for sharing expertise. Caulfield's role is to make sure vendors understand that Vaalco does not have a large department of engineers to second-guess the vendor who specs the job. So if the vendor questions specifications in a request for quote, Vaalco expects the vendor to raise those questions before the bidding process begins, Caulfield said.
"The real big sword of Damocles hanging over us is schedule," Caulfield said. Failing to secure the correct equipment at the outset can create insurmountable hurdles in bringing fields into production and can run costs far beyond what a small company can endure.
So far, this unique approach to outsourcing expertise is working. Caulfield credits the vendors for assuming an unusual role and making the most of their individual contributions to the project. And it doesn't hurt that most of the equipment being used on the field is proven.
"The basic technology of the field is relatively common. And that's the way Vaalco likes to work. We don't need a whizz-bang gizmo out there. We want serial number 100 out there, not serial number 1," he said.
Three wells are in production on Etame, and a new well, ET5-H is to be drilled in March or April 2004. Field installation for flowlines and umbilicals will be completed in April or May. And first oil is expected in June.