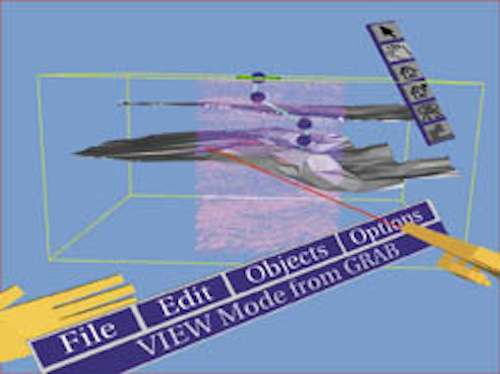 New technology sends interpreters into the "caves"
Victor Schmidt
International Editor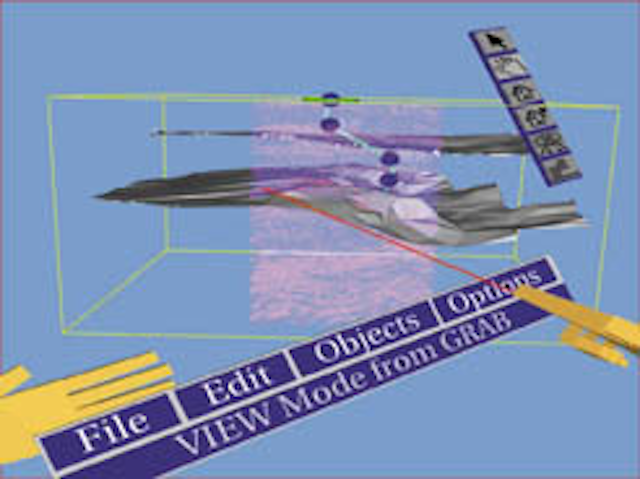 Virtual reality will become routine for interpretors.
For untold centuries, peoples lived in caves, protected from the elements, shielded to work, and to dream. Special caves were dedicated to spiritual pursuits and art. Ritual journeys led to rooms where enlightenment occured, often in deep, hidden places. The virtual reality "cave" is about to return the oil industry to this ancient practice, but in better surroundings.
Recent installations of Silicon Graphics Reality Centers form the seed of this transformation (see Geoscience column - December 1997). Virtual reality (VR) technology has been demonstrated at the Society of Exploration Geophysics meeting in November 1997 and again at Landmark Graphics' Worldwide Technology Forum in February 1998.
Walden 3-D and the University of Houston Virtual Environment Technology Laboratory (VETL) are working in partnership with MuSE (Multi-dimensional user-oriented Synthetic Environment) Technology of Albequerque, New Mexico to develop the next generation of interpretation workstations.
Coming workstation
The current paradigm is beginning to change - from a single interpreter working alone with a one or two-headed computer system, to a more shared environment. This is being accomplished by tying interpreters back to a main server where each person in the team can access the 3D data set (earth model) in turn. The new paradigm will be an extension of this process, more interactive and real-time.
While it will be possible to work alone on elements of an interpretation, the more likely approach is a team-intensive exploration of the data set. Using VR technology several professionals with different skill sets will be able to focus their collective wisdom on the earth model.
This is possible in a "serial" fashion today, as demonstrated by Landmark Graphics in their most recent conference. The move to a "parallel" approach will create new synergies and efficiencies.
New paradigm
Walden 3-D Corp. is integrating MuSE Technology's projection and communications software systems with the University of Houston's VR-Viz software. A new entity, WVS Corp., was established to develop workstations using "walls", "desktops" and "rooms" to project and manipulate data in 3D VR environments.
All three work-systems will use similar technology: high-speed computer graphic engines connected to projection systems that send lighted images onto back-projection screens.
The interpreter moves into the environment wearing special glasses to view the images.
The glasses contain polarizing filters that are switched on/off at 30 times per second, allowing each eye to see the images separately. The mind can then build the complete third dimension using normal vision.
Controls are attached to the interpreter's shirt collar and are held in each hand. These instruments tell the computer graphic system where the interpreter is within the virtual environment. The VR system generates "hands," that are seen by the interpreter. One holds an option menu, while the other moves a wand, to activate options and manipulate the data cube.
The wall: A wall is a single screen on which multiple images are projected from the back. A version of this system has been used worldwide to demonstrate the functionality of the VR system. This wall will be very useful for management presentations, similar to the Reality Centers in use today. Silicon Graphics is already using MuSE software in some of its Reality Centers.
The desk: The desk is a combination wall and table. The table will serve as a second projection wall giving more complete depth imaging. One great advantage to this desk is the ability of team members to be "virtually" present for the interpretation. The wall can carry televised images of the team members so their active participation and body language are visible to every other member. The team members do not have to be in the same room, city or country, but all will view each other, the earth model and interpretation changes by high-speed data links.
MuSE Renaissance software provides the capability of exploring, presenting, nagivating, examining and interacting with the data. MuSE Continuum software allows communication between each team member. Dave Harless, Vice President of Sales for MuSE, said, "Muse Continuum allows interdiciplinary communications. When there is an asset team that is evaluating a prospect, in the same session, professionals from multiple disciplines can collaborate in the same session from remote locations."
The room: When the team is physically present, a room (Reservoir Object Oriented Management System), a four-walled VR "cave," will permit the team to work together in-person. The earth model is projected onto the three side-walls and the floor. The room uses human faculties to best effect, since humans generally look to either side and down to the front.
Interpretation
Eventually all the software capability of current interpretation workstations will be accessible through the new VR systems. The earth model can be presented as solid, translucent, or transparent. It can be rotated to any attitude.
Slices can be taken in any direction or can be presented sequentially in a given plane. Horizons and faults can be identified and potential well tracks can be generated. Scale changes are initiated with body movement: moving toward the cube enlarges the image; moving away reduces the image size.
If a zone needs special attention, it can be highlighted with a box. The remainder of the data set can be blanked so the interpreter can concentrate on the detailed area. Examination, interpretation, and special processing will be possible on the extracted box.
WVS Corp is a service center organization, providing access to this state-of-the-art technology. It will provide time and technical support to companies wishing to explore and develop this new approach to interpretation. Three True 3D Virtual Visualization Service Centers are planned in various areas within Houston.
Client companies will be able to interprete their proprietary data sets at these centers using either their own personnel or WVS provided experts will be available to create interpretations for them.
For more information contact H. Royce Nelson of Walden 3-D at 281-579-0172, Doug Harless of MuSE Technologies at 903-677-3684 or visit the Walden 3-D's website:www.walden3d.com/wvs.
Copyright 1998 Oil & Gas Journal. All Rights Reserved.