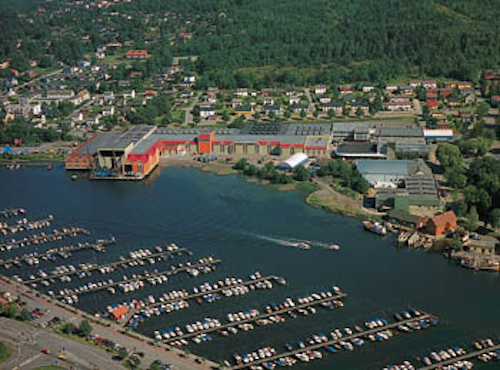 Scanrope's new spiral strand rope factory is situated by the sea at Toensberg in Norway.
Offshore rope manufacturer ScanRope has launched operations at its new spiral strand rope manufacturing facility with an order to supply mooring lines for Statoil's Åsgard project. The company will produce some 800 tons of 136-mm diameter spiral strand lines which will be used as part of the moorings for the Åsgard B semisubmersible gas production platform and the Åsgard C monohull storage vessel, both in some 320 meters water depth. Worth close to NKr 40 million, the order is the largest ever won by Scanrope. Delivery is due in February 1999.
Large spiral strand rope represents a new product for the company, which has many years' experience in delivering conventional wire and fiber rope to the offshore sector. The facility is situated on the coast at Toensberg in southeast Norway. According to spokesperson Stein Andersen: "Ours is the first purpose-built plant for making long-term mooring lines. The whole factory, which represents a NKr 100 million investment, has been designed for optimal productivity and efficiency. It also has a deep-sea berth, which enables us to cut both transport costs and time."
The plant is equipped with a machine able to produce up to 200-ton units of line, the largest yet installed for the offshore market, according to Andersen. It is specially built for making spiral strand mooring lines for offshore application.
The Scanrope plant also has its own extrusion equipment for covering the lines with plastic sheathing, a world first which enhances quality and reduces lead time and possible logistical snags, according to Andersen.
Spiral strand offers greater stiffness than conventional wire rope, which is one of the important criteria for the long-term moorings required by floating production facilities. It also has much better fatigue and corrosion properties than the six-strand wire rope used by mobile drilling units, Andersen says.
Another important criterion is weight, a factor which grows in importance as water depth increases. New high-tensile grade wire material reduces diameter and weight of the spiral strand mooring lines, further enhancing the use of this product in water depths exceeding 2,000 meters.
Copyright 1998 Oil & Gas Journal. All Rights Reserved.