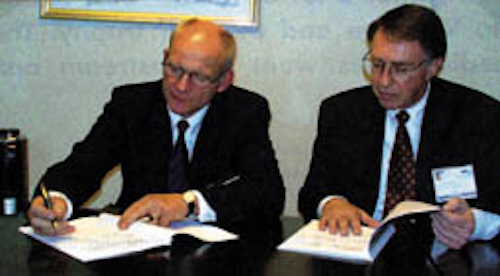 Marshall DeLuca
Houston
Stavanger, Statoil to host DOT '99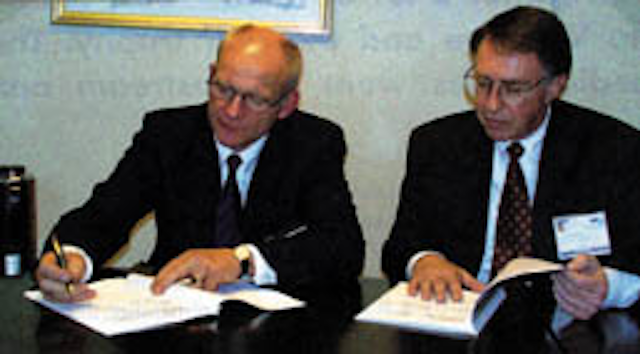 Deep Offshore Technology (DOT '99), the leading forum for the international deepwater industry, will be held in Stavanger, Norway for the first time in 1999. The three-day conference and exhibition will be hosted by Statoil and will take place at the Stavanger Forum Conference Centre on October 19-21. DOT '99 will be the 11th conference held since its inception in 1981. This year's conference, DOT '98, is being held in New Orleans on November 17-19.

DOT '99 contract was signed by Hallvard Ween of Stavanger Forum (left) and Jack Schirra of DOT (right).
Canyon gets contract for deepest pipeline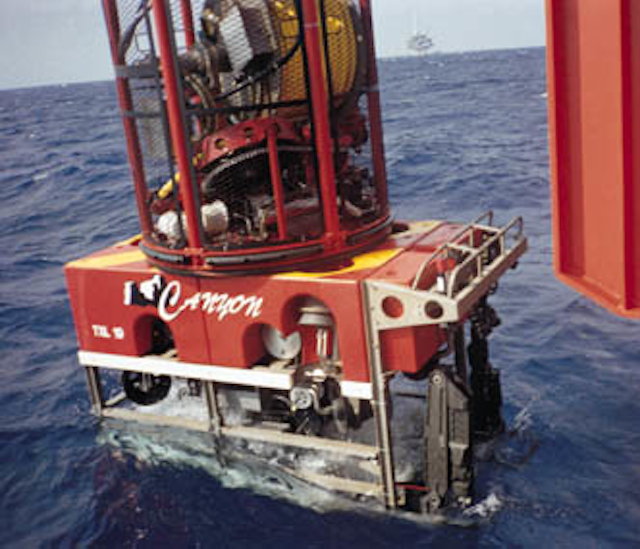 Canyon Offshore has begun work on a major international contract awarded by NeSA BV, the Dutch division of Racal Survey, to undertake detailed pipeline route surveys for the planned 400-km subsea gas pipeline across the Black Sea. The pipeline will run between Djubga in Russia and Samsun, Turkey. When complete, the line will be the deepest pipeline in the world, traversing water depths to 7,200 ft.
Contracts
Baker Oil Tools has been awarded a contract to provide monobore completions for the 12 wells that will comprise the first phase of the Sable Offshore Energy Project off the east coast of Canada.
Nautronix has won a contract from Sedco Forex for dynamic positioning and acoustic positioning systems for the world's deepest drilling vessel, Joides Resolution. The vessel works for the Ocean Drilling Program, a partnership of scientists and research institutions from 22 nations.
Newpark Shipbuilding has been awarded a contract from Diamond Offshore for the repair and modification of the Ocean Prospector semisubmersible. Also, Newpark has been awarded a contract from Hercules Offshore for the drydock and repair of its Rig 21. Newpark has leased a heavy lift barge to drydock the rig.
Hitec has been awarded a contract from Sedco Forex for an AHD active heave compensating drawworks for the new semisubmersible rig Cajun Express ordered by Marathon for the Gulf of Mexico.
Aker Verdal has been awarded a contract from Statoil to build the jacket for the Huldra platform. The contract, worth NOK 250 million, will include engineering, procurement, and fabrication of the jacket and piles.
Pemex has granted a contract worth about $375 million to an international consortium composed of Marubeni of Japan, Marubeni America, Westcoast Energy of Canada, CCC Fabricaciones and Conosrcio Fabricaciones y Construcciones. The service contract is for the compression of 250 MMcf/d of gas produced in the offshore Cantarell Field in the Gulf of Mexico.
British Gas has chartered the 12,000 HP anchor handling tug supply vessel Seabulk Rooster from Seabulk Offshore to work with the semisubmersible Sonat DF-97 for an exploration program off Trinidad.
Racal NCS, under contract to Kvaerner Baker, has completed a detailed deepwater pre-lay route survey for Amerada Hess's Penn State Bundle Installation scheduled for later this year. The survey was conducted to determine an optimum route for the bottom tow bundle.
Under contract to Shell Deepwater Development, Global Industries has mobilized its dynamically positioned Pioneer multipurpose vessel and its deepwater Triton XL 11 ROV to install pre-crossing mats in Garden Banks 128 in the Gulf of Mexico.
Coflexip Stena Offshore has been contracted by Oryx for the supply of two flexible risers for its Viosca Knoll 825 Field in the Gulf of Mexico at a water depth of nearly 700 meters.
Baker Energy has been awarded a five-year contract by Mobil Exploration and Producing to perform operations and maintenance services for Mobil's production facilities in the Main Pass area of the Gulf of Mexico.
Rosetti Marino has completed the construction of the three decks for the offshore Nigeria project, OSO 2Y-2, through a contract awarded to Consortile Rosetti Bouygues Offshore, a joint venture between the two companies.
Bolt Technology has delivered a shallow water seismic vessel, the SS ShengLi 703, to ShengLi Oilfield Geophysical Survey in China.
Texaco Exploration Sakhlin and Mobil Sakhalin Neftegaz have signed a number of agreement with affiliates of oil companies Rosneft and Rosneft-Sakhlinmorneftegaz to include them in the Sakhlin III Kirinsky Block project.
Slingsby Engineering has sold its first Olympian ROV, 120 hp system rated to 3,000 meters, to Rovtech Limited.
Maurer Engineering has been awarded contracts valued at over $1 million from China National Petroleum for high-tech drilling and completion software, training, and support services.
People
Schlumberger Oilfield Services has announced that Rene Huck has been appointed President of Camco International.
Walter van de Vijver has been appointed President and Chief Operating Officer of Shell Exploration & Production Company.
Global Industries has named Peter Atkinson as Vice President and Chief Financial Officer.
The Board of Directors of Enron Oil & Gas has elected Mark Papa President and Chief Executive Officer and announced that Forrest Hoglund, formerly Chairman and CEO, would retain his position as Chairman for a year in anticipation of his planned retirement.
Saeid Rahimian has been named Vice President and General Manager of R&M Energy Systems.
Global Marine has promoted Rick McClaine from rig manager to Manager of safety, training, and environmental affairs.
Seagull Energy has elected James Hackett to become the company's new President and Chief Executive Officer.
Steven Bryan has joined Western Well Tool as Controller.
Oilfield consultants North Star Energy (Aberdeen) have appointed Robbie Ord as International Sales Manager and Ross Allen as Sales Representative for UKCS activities.
KCA Drilling (Aberdeen) has appointed Steve Chisholm Projects Director.
Kjell Almskog is head of the new Oil, Gas and Petrochemicals division at ABB (Zurich).
Robert Addis is the new Managing Director of ROV designers Slingsby Engineering (Kirkbymoorside, UK).
Sonsub International has appointed Keith McGregor to the position of Regional Commercial and Business Development Manager based in Aberdeen, Scotland.
Adams Coiled Tubing, Advanced Coiled Technology, and Adams Engineering have been purchased by three key personnel. The new owners are Jerry Noles, President; Larry Kuhlman, Executive Vice President; and Ben Bays, Vice President. The companies have been renamed Advanced Coiled Tubing, Advanced Coiled Technology, and Advanced Engineering.
Hubert Thyssen is Senior Vice President, and Captain Tony Weller is Vice President - Chartering, of Seabulk Offshore (Lausanne), a new company providing offshore-related vessel operations in the North Sea, Mediterranean, and Africa.
Metering specialist Able Instruments and Controls (Reading, UK) has promoted Jon Spalding to Marketing Manager.
Dailey International has named Al Kite as Interim Chief Executive Officer following the resignation of James Farr, President and Chief Executive Officer.
Trimble Navigation (Sunnyvale, California) has elected Dr. Robert Cooper as Chairman of the board of directors. Company founder Charles Trimble is stepping down form his current role as president and CEO.
Racal Survey (Chessington, UK) has named David Decker as its new Regional Director for Europe and Africa.
Scott Cavitt has joined Houston Helicopters as Director of Marketing.
Pioneer Oil Producers Society has elected new officers: Robert Burke as President, and Hal Siegele, Lou Powers, and Dale Steffes, Program Vice Presidents.
Chemical distributor Ellis & Everard (Bradford, UK) has named James Bliss as Business Development Manager for the oilfield services division.
Tam International has appointed Alain Keller as Sales Engineer responsible for Africa, France, and Spain.
Vapor recovery/tank gauge equipment supplier Whessoe Varec (Newton Aycliffe, UK) has appointed Keith Blundy as Technical Director.
Sir Michael Moore is the new Director-General of Britain's Institution of Mechanical Engineers (London).
Alan Taylor has become General Manager at Klockner Moeller's systems division (Aylesbury, UK).
Bestolife has appointed Colin Rumsey as the UK and European Representative.
Mergers, Acquisitions & New Companies
Petroleum Geo-Services has completed the acquisition of Atlantic Power Group, a provider of management services to offshore production facilities.
Stolt Comex Seaway has completed the acquisition of the Houston-based Ceanic for about $218 million.
R&B Falcon and Cliffs Drilling have announced the signing of a definitive merger agreement for the merger of the two companies.
Marathon Oil has announced that the indirect acquisition of all the outstanding securities of Tarragon by Marathon has been completed.
TransCoastal Marine Service has completed the acquisition of Dickson GMP International and four affiliated companies.
FMC has acquired controlling interest in CBV Industria Mecanica, a Brazilian manufacturer of petroleum equipment.
Aker Maritime has signed an agreement to purchase the UK-based consultancy group Genesis Engineering Consultants, a leading field development and front-end consultant to international oil and gas companies.
Maritime Well Services and UK's Progenitive Service have agreed to form a joint venture company to provide coil tubing services to the offshore industry in Norway.
Information Handling Services Energy Group has announced the acquisition of MAI Consultants of England.
Dennis Tool of Houston has sold a majority interest in the company to Capital Southwest, an investment firm based in Dallas.
Fugro has signed an agreement to acquire LaFehr & Chan Technologies and LCT Software, gravity and magnetics companies based in Houston.
Bouygues Offshore has purchased a majority stake of the capital of Tecnoprojecto Internacional, a Portuguese company specializing in electricity and instrumentation.
ABB Industrial Systems has completed the acquisition of the Automation Unit of Alfa Laval of Sweden.
Continental Emsco's CE Distribution Services division has purchased the distribution assets of Tulsa, Oklahoma-based Sooner Pipe and Supply.
Company news
Aker Maritime has formed a Riser Business Unit to pursue the delivery of deepwater drilling, production, and export riser systems for the Gulf of Mexico, West Africa, Brazil, and the Caspian Sea.
Kerr-McGee received the 1998 Conservation Award for Respecting the Environment from the US Minerals Management Service.
Industry records
TIW has achieved three Gulf of Mexico depth records in EEX's record-setting well in the Llano Prospect in Garden Banks 386. The records include: deepest drilling liner, deepest production liner (measured depth), and deepest production liner (true vertical depth).
Baroid Drilling Fluids and Sperry-Sun also participated in setting the deepest total vertical depth, deepest measured depth, and deepest production casing set records at the Llano Prospect.
Salvage begins on Mr. Bice
Bisso Marine has commenced salvage operation of the 156-ft jackup Mr. Bice which sank in 75 ft of water while under tow in the Gulf of Mexico. The 5,000-ton rig is in a 95° position about 15 ft into the mud. Bisso is using the 600-ton Lili Bisso derrick barge to lift sections of the drill floor and derrick, which have been cut from the original structure. Salvage plans call for rigging the Mr. Bice for parbuckling and refloating, using the Lili Bisso and the 700-ton derrick barge Cappy Bisso.
British-Boreno fast-tracking Morpeth
British-Borneo has successfully installed the first SeaStar mono-hull tension-leg platform (TLP) on its Morpeth Field in 1,700 ft of water in the Gulf of Mexico. The mono-hull TLP is the first of its kind in the world and was designed and built by Atlantia and installed by J.Ray McDermott. Installation of the facilities on the field were achieved 18 months after sanction of the project in January 1997. Installation of flexible flowlines and control umbilicals from the subsea wells to the SeaStar were also completed, as well as hookup and commissioning of the topsides facilities and commissioning of the export pipeline. First oil was produced in September - in line with the project plan.
CORRECTION: In the July issue, Pride Foramer was not included on the survey of deepwater drilling vessels pull-out poster. Pride has seven deepwater units currently under construction, including: six Amethyst 2 class newbuild semis for 5,000 ft water depth, two Gusto 10,000 class newbuild drillships, and a Navis class newbuild drillship for 10,000 ft water depth.
Copyright 1998 Oil & Gas Journal. All Rights Reserved.