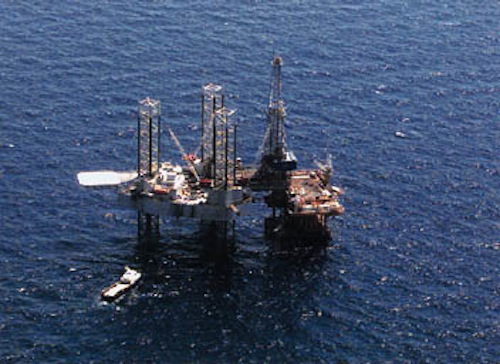 Project moves ahead, regardless of low oil prices
David Shields
Contributing Editor
Mexico City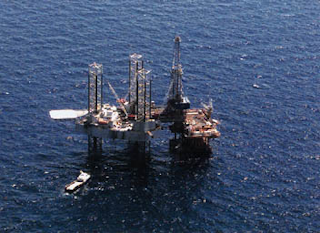 Pemex's Cantarell installations.
Despite restrictions on Mexican oil production imposed by the Riyadh and Amsterdam agreements, the 5-year, $5 billion Cantarell Project, aimed at optimizing offshore facilities on the Cantarell deposit, Mexico's only supergiant oilfield, moves ahead unaffected by the government's budgetary restrictions.
These restrictions have affected oil-industry investment, forcing Petroleos Mexicanos (Pemex) to cut down severely on exploration, on secondary-recovery projects at some other onshore and offshore fields, and on plans to improve oil-handling facilities onshore. Numerous projects in field development, gas processing, refining, and petrochemicals are being postponed until next year or the year after.
However, Cantarell is such a big priority that investments on development and remediation of the field are going ahead as planned. Cantarell is the sixth biggest oilfield in the world. It has been the mainstay of Mexico's oil output for 19 years, with production rates averaging 1 million b/d over that period, but coming close to 1.3 million b/d in recent times. Historically, Cantarell has provided close to 7 billion bbl of oil.
Field expansion
The project is about modernizing and expanding the offshore infrastructure on the field, with a view to increasing oil and gas output in the long term. Pemex remains confident that oil demand will pick up in the long term, making faster development of Cantarell essential.
The heavy-crude Cantarell complex is made up of four adjacent deposits, known as Akal, Nohoch, Chac, and Katz. However, 90% of production comes from Akal, 40 miles northeast of Carmen, in Campeche State. Cantarell is producing 1.03 million b/d, though that figure is unlikely to be increased in the short term due to the current global oil glut, Pemex has plans for Cantarell to produce as much as 2 million b/d at some point in the future.
Oil is obtained from highly fractured, permeable rock at between 1,000 meters and 3,200 meters below sea level. Proven and probable hydrocarbon reserves stand at 13.5 billion BOE. About 40% of Pemex's total investment budget in 1998 will go towards the Cantarell Project. Investments made between 1998 and 2000 will be used to build and install 23 new offshore platforms, drill 214 wells, build new pipelines, and start up a nitrogen-injection secondary-recovery project, which will help maintain pressure in the field.
Private Mexican construction companies have been the winners of several contracts to build and install offshore platforms and pipelines for the Cantarell field:
ICA won the tender for two octapode offshore platforms, which will be worth US$45 million.
Bufete Industrial won a contact for another two, worth 38 million dollars.
Grupo Protexa took a $130 million contract for two more, plus installation of pipeline infrastructure.
Bufete Industrial, in a venture with Transportacion Maritima Mexicana (TMM), won a $180 million contract to install 26 underwater pipelines in the Cantarell area. Just recently, Corporacion de Mantenimiento Integral (Commisa), a joint venture of Brown & Root and Mexico's Grupo R, together with Bufete Industrial, won several major platform contracts worth $705 million in all.
International oil service companies have not been far behind. Among the companies leading the pack are Bechtel, which is the project manager, Dallas-based Netherland Sewell, which is the adviser on reserves and subsoil issues, Brown & Root, which has won contracts worth close to $600 million in all for pipelines and work on platforms, and also Schlumberger and Halliburton, which have contracts for all kinds of oilfield service work.
Gulf's first FSO
Pemex recently started using its first floating storage and offloading (FSO) vessel, which is called Ta kuntah, the Mayan word for "he who stores." Like most of the oilfields in Mexico's southeastern offshore province, the vessel takes a Mayan name. The exception among the oil deposits is precisely Cantarell, which is the family name of a local Campeche fisherman who "discovered" the deposit into the blue Campeche waters.
Ta kuntah will complement the loading infrastructure at the offshore Cayo Arcos terminal, which takes the heavy crude from Cantarell, and at the Dos Bocas, Tabasco, onshore loading terminal. Pemex also has plans to start up a second FSO soon, which it will hire from Japan's Mitsui.
Ta kuntah is, however, looked upon as being a bit special, since it is Pemex's first FSO and, indeed, is the first FSO to operate in the Gulf. The vessel will be operated by Japan's Modec and Mexican offshore operator CCC, which together won an international bidding process to provide offshore storage services to Pemex for a period of 15 years. Pemex has the option of purchasing the Ta kuntah after 10 years, however.
The vessel was built at Sweden's Kochum's shipyard in 1978 and was converted to use as an FSO by Jurong Shipyard in Singapore. It is 390 meters in length, 60 meters in width, and has a 22.3-meter draft. The vessel has a 350,000-ton deadweight, a net storage capacity of 2,342,000 bbl of oil, and a maximum capacity for receiving 800,000 b/d of stabilized crude oil.
It is also designed to withstand severe climatic conditions, including hurricanes such as Pauline. Ta kuntah will withstand 140-mile-per-hour winds and 50 ft high waves. It will be able to load two tankers simultaneously and will have equipment capable of measuring up to 120,000 bbl per hour, while certifying the quality of the crude export blend. Pemex decided to hire an FSO vessel due to considerations of cost and time. It was implemented quickly, company officials say.
Nitrogen injection
Another key project which will be making an impact on Pemex's offshore operations in years to come is the secondary recovery project to inject nitrogen into the Cantarell oil deposits. This represents a major effort to halt the loss of pressure in the deposit and allow the field to keep producing oil at similar or considerably higher rates, compared to those of the past 19 years.
Last year, Pemex tendered a nitrogen production and supply contract for gas injection into Cantarell. The plant, which will produce the nitrogen, is now in initial stages of construction.
BOC Gases, Linde, Marubeni, WestCoast Energy and ICA-Fluor Daniel made up the winning consortium in this first ever BOO (build-operate-own) contract on which bids have been received in Mexico. Pemex decided that nitrogen production is not an essential oil industry function, so the new cryogenic plant, on the Atasta peninsula in Campeche, can be owned by a private consortium. The injection of nitrogen into Cantarell should begin in April 2000.
The plant will produce 1,200 MMpcd of nitrogen daily and will be, by far, the largest of its kind in the world. The project also includes the building of a 400-megawatt power station and a water-treatment plant, which imply additional expenditures. The contract for building the plant is worth close to a $1 billion, but the sale of nitrogen to Pemex in future years will be worth close to $3 billion more to the consortium.
Nitrogen injection on such a large scale is unprecedented worldwide and has been a subject of controversy. Some industry experts say it is untried and could be ineffective at restoring well pressure on Cantarell. There is no precedent for nitrogen injection in such a supergiant field, much less in a field where pressure has fallen to less than half of its original value over two decades of production. However, Pemex's advisers say there is a risk of the deposit ceasing to produce altogether, if the drop in pressure continues unabated.
Pemex ruled out water injection as a pressure maintenance option, due to the high degree of fracturing. This could cause water to be produced and oil to be trapped at an early stage.
Nitrogen injection was chosen instead of natural gas injection for economic reasons, since natural gas can be sold at a premium in the Mexican market or exported to the US. There is no cheap or excess supply of natural gas available.
Also, nitrogen takes up a greater volume in the deposit than does natural gas, therefore should better achieve the purpose of pressure maintenance. One downside, however, is that there may come a point where nitrogen is produced together with oil-associated natural gas, which would oblige Pemex to build a reverse cryogenic process to separate the nitrogen from the gas to be sold in the Mexican market.
Pemex believes Cantarell still has a lot of oil to give for at least another 15 years. Although here are still some big technical and financial challenges to be faced in order to complete the Cantarell Project, Pemex expects to reap even greater profits for exploitation of the deposit in years to come.
Copyright 1998 Oil & Gas Journal. All Rights Reserved.