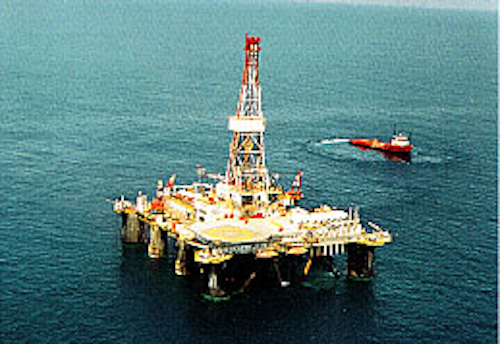 Leslie Bellfore
Houston
Nautronix to DP 709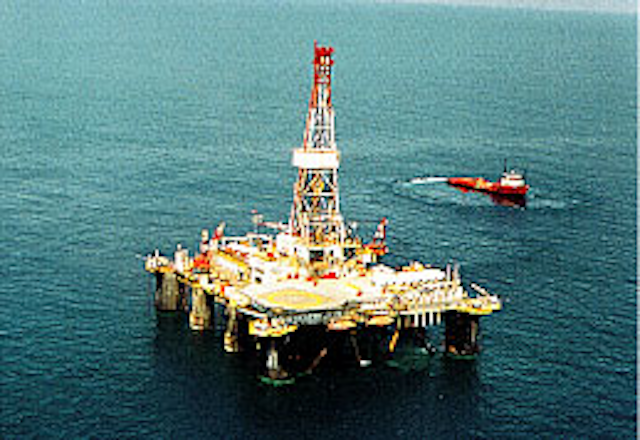 Nautronix (Houston), has been awarded a contract by Sedco Forex to supply dynamic positioning and acoustic positioning equipment to the Sedco 709 semisubmersible. The Sedco 709 is planned to be upgraded for deepwater operations off the coast of West Africa. The existing Honeywell dual redundant DP system will be replaced with a Nautronix ASK4003 Triple Redundant Dynamic Positioning System and the RS915 ultrashort baseline/baseline acoustic positioning system will be re-commissioned for 2,000-meter operating depth. This contract follows on from the successful operations of the company's DP and acoustic positioning equipment onboard the Sedco 707 semi.
Contracts
Aker Verdal (Verdal, Norway), is to build the jacket for Statoil's (Stavanger) Huldra platform in a contract to include engineering, procurement and fabrication of both jacket and piles.
Dynamic Industries (New Iberia, Louisiana), an onshore/offshore fabrication and construction company located at the Port of Iberia, was recently awarded a $3.9 million project by Vastar Resources.
GeoQuest (Houston), has been awarded a five-year, $8 million, services contract from Burlington Resources (Houston), for PowerHouse center-based exploration and production (E&P) data management services and Finder data management software.
Perforadora Central S.A. De C.V. of Mexico has contracted with Bardex (Goleta, California), for a BOP skidding system, consisting of a 10-ton, push-pull capacity pin claw jacking assemblies for use on the LeTourneau Central Super 116 Class jackup now under construction in the TDI-Halter Marine Yard in Pascagoula, Miss.
Alliance Engineering (Houston), has been awarded the engineering, design, and project management contract for EEX's West Cameron 204 Project in the Gulf of Mexico.
Ocean Rig USA (Oslo), and Dockwise N.V. (Hoostraten, Belgium), agreed into contract for the ocean transport of the Bingo 9000-2 bare-deck hull.
Tennessee Gas Pipeline Company, a business unit of El Paso Energy, and Mississippi Canyon Gas Pipeline, a business unit of Tejas Offshore Pipeline, have announced plans to construct a new 400 MMcf/d pipeline connection in Venice, Louisiana.
Origin International, a global IT services provider, has been awarded a multi-year contract by petroleum giant Saudi Aramco to implement SAP AG's flagship software R/3.
Martin Gas Marine (Houston), has awarded a contract to Newpark Shipbuilding (Galveston), for the repair of its 444 ft by 62 ft by 31 ft sulfur barge, the Margaret Sue.
TransCoastal Marine Services (Houston), has been awarded four new pipeline and fabrication contracts to be performed by year-end, as well as received letters of intent to perform work with more than $5.5 million on other projects.
Signet Maritime (Houston), has been awarded a contract from the Texas Parks and Wildlife Department for the transport, placement and submersion of naval vessel YR26 to become part of the Department's artificial reef program.
People
The Minerals Management Service of the US Department of the Interior has selected Charles Schoennagel as the Deputy Director of the Gulf of Mexico OCS Region.
John Lauletta [4,389 bytes], President and CEO of Tuboscope, has been named Director of Pool Energy Services (Houston).
Bruce M. Jordan [4,913 bytes] has been promoted to Vice President and General Manager at Stokes & Spiehler (Lafayette, Louisiana).
Michel Bonnet of Elf Aquitaine (Paris) has been named Vice President and Adviser to the Chairman, in charge of senior executives and officers' administration.
Dr. Jay M. Short has been named President and Chief Technology Officer of Diversa Corporation (San Diego, California).
BJ Services has appointedDee Maclean [5,847 bytes] to the newly created post of marketing coordinator for the company's BJ Process and Pipeline Services Division.
CGG (Massy, Cedex, France) has appointedBruno Deletang [4,321 bytes] as Vice President, Land Acquisition Product Line, where he will return to the company's corporate headquarters in Paris. The company also welcomes Eric Lavorel as Vice President, Land Acquisition Product Line, following the regrouping of its Latin American operations in Houston.
Delmar Systems (Broussard, Louisiana), has announced Matt Smith as Vice President and CEO, based at the company's Lafayette headquarters, Sherif L. El-Gharbawy, as Suction Caisson Design Specialist in Houston, and Assem Alameldin as Mooring Engineer in Houston.
NIBCO Inc. (Elkhart, Indiana), has named Steven Malm as Vice President-International, as he continues his responsibilities supervising the development of NIBCO's international activities.
Solarex (Frederick, Maryland) has announced the addition of Dr. Peter Bihuniak, as Chief Technology Officer.
Gordon A. Mapp [6,632 bytes] has been appointed President, Air Compressor Group, Ingersoll-Rand.
Tom Clinkscales has been announced as Vice President of Technology at Simulation Sciences Inc. (Brea, California).
Rem Ivanovich Vyakhirev, Chairman of Gazprom's Management Committee, and Baron Philippe Bodson of Tractabel, are joining the supervisory board of Wintershall (Kassel, Germany).
Stig Bergseth, Executive Vice-President of Statoil (Stavanger), is the new General Chairman of Offshore Europe 99 (Aberdeen).
Society of Protective Coatings (Pittsburgh, Pennsylvania), has announced three new officers to serve on its board of governors: Ralph A. Trallo, President; Kenneth W. Martin, Vice President; and Charles H. Wyatt, President Elect.
Nautica Marine (Broussard, Louisiana), has appointedCraig Dugas [6,088 bytes] as Design Manager for the company and Bobby LeBlanc as Woodworking Superintendent.
Well and pipeline service specialist PSL Group (Aberdeen) has appointedTony Oldfield [5,361 bytes] as its new Managing Director following the institutional buyout of the group by NatWest Equity Partners. Neil Gordon is the new general manager of BJ Tubular Services (Aberdeen).
In The Netherlands, Herman Zuidberg has succeeded Roger Kee as Managing Director of Fugro Engineers. Jeff Coutts will become Managing Director of Fugro in the UK (Hemel Hempstead), while in Canada, the new Fugro Jacques Geoservices division is headed by Mike Cole as President. In the US, a new marine geophysical company combining the acquisition services of John E. Chance and the interpretative services of Fugro McClelland will be led by Tom Hamilton.
Petroline Wellsystems (Aberdeen) has named Graeme McRobb as Group Quality Assurance Manager.
Energy project advisers Herbert Smith (Paris) have recruited Stephane Brabant as Partner.
Following the restructuring of Rexroth Hydraulics (Bolton, UK), Gary Whitelaw has been promoted to UK General Sales Manager with Mario Pontiero now Area Sales Manager for Scotland and Ireland, based in Glenrothes.
Hydraulic Workholding Systems and Clamping Elements Specialist Romheld (UK) has appointed Mike Lally as Northern Area Manager (Northampton, UK).
Steve Wenman has joined Moore Process Automation Solutions (Yeovil, UK) as Critical Systems Manager.
Alexis Nichols is to join the Society of Maritime Arbitrators (New York) as a full-time arbitrator.
Corrosion specialist Capcis has appointedAndrew Barnes [6,888 bytes] as Manager of Sour Service Testing (Manchester, UK). Ken Bruce [5,924 bytes] has been enlisted as Business Development Manager for Aberdeen operations. AB Connectors (Smithfield, North Carolina), has named Paul Moseley as Program Manager and Judy Sharp as Customer Liaison Officer to its Smithfield plant.
Alliance Engineering (Houston), has appointed James Wyatt as Project Manager and Steve Lawrence as Senior Electrical Engineering Specialist.
Robert A. Noreen has joined Donaldson Gas Turbine Systems (Minneapolis, Minnesota), as Principle Acoustic Engineer. Gary Schaeper has joined JM Clipper (Nacogdoches, Texas), as Engineering Research Manager.
Ted Hampton joins KC Offshore (Prairieville, Louisiana), as Manager-3D Interpretation.
Mustang Engineering (Houston), announced that Nick C. Bradshaw has joined its staff as Senior Engineer Consultant.
MDC Technology (Middlesbrough, U.K.), makes two appointments: Paul Brice, Head of Business Development for Oil Refining, and Gerry Dawson, Head of Business Development for the Oil & Gas division. Dr. Roger Cairns has been invited to become Non-executive Director of Sodra Petroleum AB.
Steven G. Bryan has joined Western Well Tool (Houston), as Controller.
Mike Edwards has been named Branch Manager and James Waslawski has been promoted to Senior Underwriter and Assistant Branch Manager within the Energy Property unit of Zurich Energy Store (Houston). Colorado School of Mines and its Department of Geophysics, along with Baker Hughes, has announed the appointment ofMax Peeters [6,806 bytes] as the first occupant of the Baker Hughes Distinguished Professor of Borehole Geophysics/Petrophysics.
Mergers, acquisitions & new companies
Aker Marine Contractors (Houston), has announced that it has acquired 100% of Talon Sea Anchor and its parent company, HMH Anchors International. The new company is named Aker Marine Anchors, Inc.
Cardinal Services (Houston), a provider of lifeboats and mechanical wireline services in the Gulf of Mexico, has acquired Gunn Wireline Services (Alvin, Texas), a provider of cased-hole mechanical wireline services in the Gulf of Mexico and onshore Texas and Louisiana.
Aqua Care Systems (Coral Springs, Florida), has announced the formation of its Metering Pump Group to serve processing industries in the handling of corrosive fluids.
As a result of a joint venture between OSCA and PSL Group, OSCA Ocean Technologies has been formed, enabling OSCA to provide a package of integrated underwater excavation and pipeline services. Dynamic Industries (New Iberia, Louisiana), is the newest addition to Moreno Energy Services.
The Justice Department approved the merger of Halliburton and Dresser Industries after Halliburton agreed to sell its logging-while-drilling business and its 36% interest in MI Drilling, a drilling fluids business, to resolve concerns the deal would reduce competition.
Aker RGI ASA and Apax Partners & Co have entered into an agreement to merge the materials handling activities of their two companies. Progenitive Services Limited , a subsidiary of one of the UK's leading well and pipeline oilfield services companies, has entered into an agreement to form a joint venture company with Maritime Well Service AS, part of the Aker Maritime international group of companies.
Company news
Harding Resources, Inc. has changed its fax number to 409-775-7024 and changed its E-mail address to barryharding@worldnet.att.net. Framatome (Paris), has announced the creation of an Oil & Gas Division within its Mechanical Engineering Branch, including the Thermodyn and Packinox companies, as well as the recently created and jointly-owned by Isis and Framastome, Prosernat.
ICO's (Houston), oilfield services division, ICO Worldwide, announced it has broken ground on a 235,000 sq ft building that will be operated by Grant Prideco, who will manufacture their Atlas Bradford line of premium threads on oil country tubular goods.
MDC Technology (Middlesbrough, U.K.), has announced record results for 1997/98, together with aggressive expansion plans to help meet increased demand for their solutions.
Shareholders of EVI Weatherford (Houston), approved a name change for the company to Weatherford International, and changing its New York Stock Exchange listing from EVI to WFT.
Coflexip Stena Offshore (Paris) announced the signature of a Letter of Intent from Cabinda Gulf Oil Company Ltd., on behalf of itself and its Block 14 partners, to take part in the Kuito development offshore Angola.
Western Geophysical has opened a seismic data processing center in Luanda, Angola, as part of an ongoing program to establish local facilities.
Bisso Marine (New Orleans, Louisiana), crews have begun salvage operations on the 180 ft offshore supply vessel Bass River.
Industry records
Baker Oil Tools has completed the world's first deepwater Level 5 multilateral from a floating rig for Petrobras. The multilateral well was a new injector on the Voador Field off Brazil. The well was the first drilled from a floating rig as well as the deepest Level 5 ever completed, with a total vertical depth of 9,200 ft and a horizontal distance of 1,950 ft. Petrobras and Baker are working on the seventh Level 5 completion.
Cal Dive International (Houston) recently completed the deepest riser installation in the Gulf of Mexico on the Amerada Hess' Baldpate compliant tower in Garden Banks block 260.
2,400-ton lift completed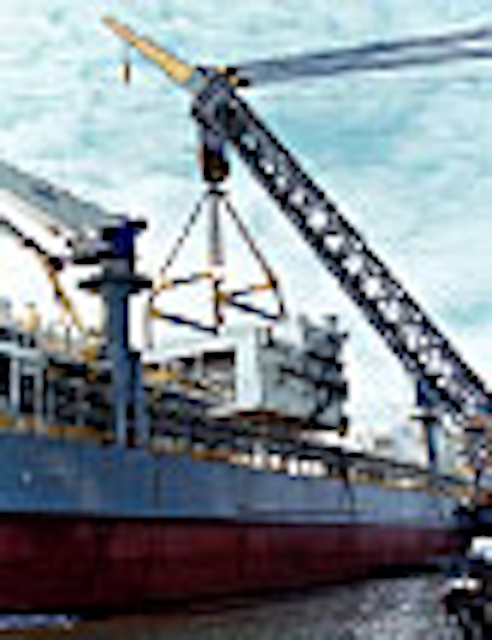 Ingalls Shipbuilding (Pascagoula, Mississippi), and J. Ray McDermott (Morgan City, Louisiana), have completed a 2,400-ton lift as part of the outfitting of Transocean's Discoverer Enterprise at Ingall's Pascagoula, Mississippi yard. A 5,000-ton capacity barge crane was utilized to lift a 2,300-ton mud module onto the vessel. The module was built by Red Fox Fabricators (New Iberia, Louisiana) and houses the ship's mud processing and pumping equipment. More than 150 tons of rigging equipment was used for the lift, bringing the total lift above 2,400 tons.
Copyright 1998 Oil & Gas Journal. All Rights Reserved.