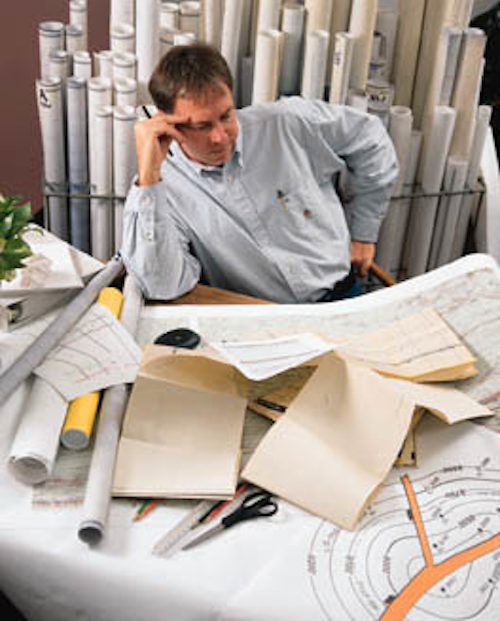 CD-ROM packages data room, visuals
Scott L. Montgomery
Petroleum Consultant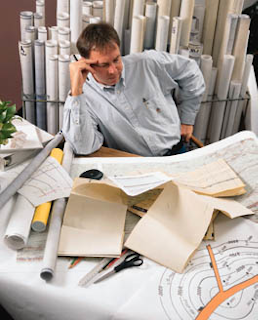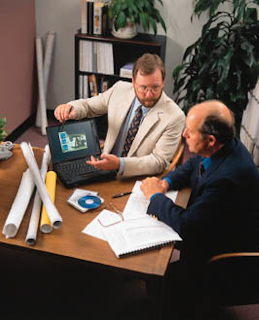 "It may well be that companies most ready to profit from the changes to come are those able to package, deliver, utilize, and sell forms of knowledge, in addition to petroleum resources." Shown are typical data room scenes.
If necessity is the mother of invention, timeliness must surely claim paternity in many cases. An excellent example, in this age of ardent oil and gas acquisitions and divestitures, is the Digital Data Roomtrademark or DDR. This is a brand new technology designed to take any presentation related to prospect sales, property divestments, joint ventures, or trades, transform it into a totally friendly, accessible style of communication, and then distribute it simultaneously to any and all pre-selected potential buyers.
How is this done? By placing nearly every element of such a presentation in an interactive, multimedia format on CD-ROM. The disks can vary from detailed geologic/engineering data to photographs of existing facilities and field tours. The result is a versatile and comprehensive exposition in a portable form that can be viewed by any number of prospective buyers or partners at their own pace and convenience, multiple times if needed.
The new technology, pioneered by Perkinson PetroDigital (Brentwood, Tennessee, US), arrives in the midst of what observers agree is an intense period of acquisition and divestiture (A&D) activity in the history of the industry. There seems little reason to argue with such a characterization. The recent surprise merger between BP and Amoco - dubbed by some as the "birth of a super major" - represents only the largest example of trades, mergers, and other deals conducted during the past three years. These activities helped bolster company profit margins in a time of uncertain prices and aggressive international competition.
Both the intensity and scale of A&D activity suggest that important, possibly profound, structural rearrangements are now taking place within the industry, commensurate with those in the global financial sector. All of that heightens the significance of new powerful technologies designed to meet the general and specific needs of companies engaged in such activity.
Changing technology
Using CD-ROM technology to create high-quality presentations is an excellent idea for a number of reasons:
A CD-ROM is capable of holding huge amounts of information (about 650 megabytes). This is equivalent to 340,000 pages of 8-1/2 in. by 11 inprinted material.
Information can be provided in a full array of formats, including video, audio, photographs (with viewing enhancements), illustrations, documents, computer files, and more. With appropriate software added in, many of these forms can be rendered active and subjected to actual hands-on analysis by the reader/viewer.
CD-ROM technology is well proven and ubiquitous, being standard issue for personal computers and laptops everywhere. It is thus appropriate for any environment in which such equipment might be used: including work, travel, and home.
A CD-ROM is relatively cheap to produce, can be duplicated, is easily replaced, and both widely and quickly distributed.
Finally, in a more general sense, material placed on a CD-ROM is material that has entered the universe of online digital information. This means that it is compatible with a vast and increasing spectrum of other technologies involved in the retrieval, display, and manipulation of digital data, such as digital video drives (DVD), local area networks (LAN) and, of course, the Internet itself. It can therefore be transferred via a number of different specific media, will remain in step with upcoming innovations, and, if necessary, can be easily re-used or adapted (in part or whole) to new uses.
To this, one needs to add the benefits of the DDR that are specific to the oil and gas business. For the deal seller, this includes the ability to produce, edit, and quality control a presentation that never need be performed again. With CD-ROM technology, one can "get it right" and thus guarantee the best exposition thereafter. Then there are all the normal labor and travel expenses incurred by assembling a presentation team and sending people out on the road. These are now eliminated.
Changing conventions
Company personnel are freed to perform other work more directly involved in exploration and production. All costs involved in copying, collating, and mailing data reports, especially with respect to large projects, also disappear. At the same time, the personal touch can be neatly retained.
PetroDigital has made the decision to use real company people to introduce relevant information in each area of expertise:
A petroleum engineer discusses reservoir performance.
A field engineer conducts a tour of saltwater disposal equipment.
A geologist provides an overview of field structure.
The potential buyer is thus offered a chance to view and judge those who have done the actual work. This can only aid in any negotiations that might follow. Moreover, in the case of international deals or ventures, it becomes possible to provide voice-overs in the potential buyer's language. This greatly facilitates review of the included information and also provides a value-added level of service.
For the buyer, there are equal advantages. A high quality, portable presentation serves any potential purchaser or partner's needs up-front. A CD-ROM presentation can be viewed by any number of qualified company personnel both individually or in a group, multiple times if needed, at work, on a plane, anywhere a PC or laptop can go. Added to this flexibility are opportunities for control over the information presented. The approach is to make the display as fully interactive as possible. In specific terms, this means two things:
The viewer is given various means (menus, buttons) to control the order of the presentation. It is possible, for example, to navigate instantaneously from a map of field structure to reserve data, production statistics, or land ownership.
Software is provided to allow useful manipulation of documents, images, maps, and logs.
Maps can be zoomed and scrolled to minute detail. Text is presented in portable document file format (PDF) with Adobe Acrobattrademark software included for multiple scrolling, searching, and other functions. Logs come complete with "intelligent raster" technology provided by Interpretive Imaging (Denver, CO) and can be worked into cross sections, annotated, and edited by means of the company's smart Sectiontrademark software. This ability of a potential buyer to actually work with the information represents a truly marked advance over traditional presentations.
Qualification
Those with "road experience" know to expect a potential purchaser to ask: "How many times have you shown this deal?" It is an inevitable and a necessary question, rendered so by the simple fact that presentations are ordinarily given one-at-a-time. A buyer needs to know where he stands in the general queue, how "stale" the deal might be, and so forth. With the DDR, such questions can be made irrelevant. This is because the relevant presentation can be sent out to as many potential buyers as are pre-selected to qualify. All receive it simultaneously and are free to respond at any time. This makes the entire process more efficient, cost-effective, and, in a manner of speaking, fair.
The most surprising thing about a technology like the DDR is that it has taken so long to arrive. Digital communications are at the heart of most business today. It thus seems overdue that the advantages of digital technology be extended to the communicative process on which the petroleum industry depends for so much of it's A&D activity. Some steps in this direction have admittedly occurred elsewhere.
In recent years, it has become fairly common to offer prospect deals or new services via videotaped lectures or tours (these tend to vary from the useful to the deadly). Some large deals during the past year or so have reportedly involved placing sizable amounts of data on CD-ROM, in simple scanned (dumped) format.
Technologies like the Digital Data Roomtrademark, which streamline and reorient existing modes of work while adding many informational enhancements, reflect in their own way some of the larger scale changes now ongoing in the industry. Their timeliness may indeed contain a type of message. It may well be that companies most ready to profit from the changes to come are those able to package, deliver, utilize, and sell forms of knowledge, in addition to petroleum resources.
Copyright 1998 Oil & Gas Journal. All Rights Reserved.