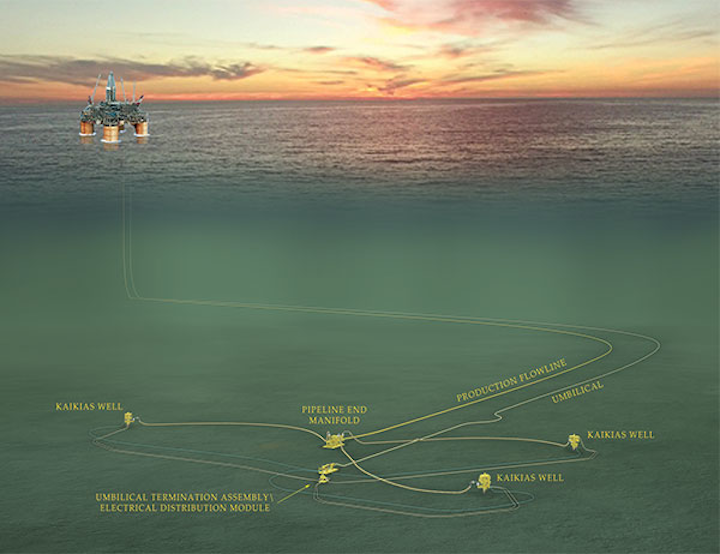 | | | |
| --- | --- | --- |
| | | Bruce Beaubouef Houston |
Shell Offshore Inc. and MOEX North America LLC have each taken the final investment decision to execute phase one of the deepwater Kaikias project in the US Gulf of Mexico.
Kaikias has a competitive go-forward break-even price below $40/bbl, according to Shell.
The project will be developed in two phases. The first phase includes three wells tied back using a single flowline to the nearby Shell-operated Ursa production hub. The wells are designed to produce up to 40,000 boe/d. Phase one is expected to start production in 2019.
Discovered in August 2014, Kaikias is located in about 4,575 ft (1,395 m) of water in the Mars-Ursa basin about 130 mi (210 km) offshore Louisiana. It is estimated to contain more than 100 MMboe recoverable resources.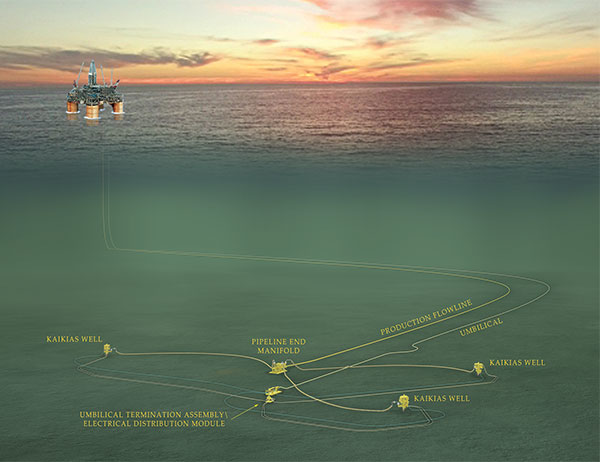 The first phase of the Kaikias project will include three wells tied back using a single flowline to the nearby Shell-operated Ursa production hub. (Courtesy Shell)
Shell, a subsidiary of Royal Dutch Shell plc, is the operator and has an 80% working interest. MOEX NA, a wholly owned subsidiary of Mitsui Oil Exploration Co. Ltd., has the remaining 20% working interest.
Andy Brown, upstream director of Royal Dutch Shell, said: "Kaikias is an example of a competitive and capital-efficient deepwater project using infrastructure already in place. The team has done a great job to reduce the total cost by around 50% by simplifying the design and using lessons learned from previous subsea developments."
In addition, two other Shell-operated projects in the Gulf of Mexico are currently under construction or undergoing pre-production commissioning: Coulomb Phase 2 and Appomattox.
BOEM announces region-wide lease sale
The US Department of Interior, under newly appointed Secretary of the Interior Ryan Zinke, will offer 73 million acres offshore Texas, Louisiana, Mississippi, Alabama, and Florida for oil and gas exploration and development.
The proposed region-wide lease sale scheduled for Aug. 16, 2017, would include all available unleased areas in federal waters of the Gulf of Mexico.
"Opening more federal lands and waters to oil and gas drilling is a pillar of President Trump's plan to make the United States energy independent," Zinke said. "The Gulf is a vital part of that strategy to spur economic opportunities for industry, states, and local communities, to create jobs and home-grown energy and to reduce our dependence on foreign oil."
Proposed Lease Sale 249, scheduled to be livestreamed from New Orleans, will be the first offshore sale under the new Outer Continental Shelf (OCS) Oil and Gas Leasing Program for 2017-2022 (Five-Year Program). Under this new program, 10 region-wide lease sales are scheduled for the GoM. Two will be held each year and include all available blocks in the combined Western, Central, and Eastern Gulf of Mexico planning areas.
The DoI estimates the amount of resources projected to be developed as a result of the proposed region-wide lease sale ranges from 0.211 to 1.118 Bbbl of oil and from 0.547 to 4.424 tcf of gas. The sale could potentially result in 1.2 to 4.2% of the forecasted cumulative OCS oil and gas activity in the Gulf of Mexico. Most of the activity (up to 83% of future production) of the proposed lease sale is expected to occur in the Central Planning Area.
Lease Sale 249 will include about 13,725 unleased blocks, located from 3 to 230 mi (5 to 370 km) offshore, in the Gulf's Western, Central, and Eastern planning areas in water depths ranging from 9 to more than 11,115 ft (3 to 3,400 m). Excluded from the lease sale are blocks subject to the Congressional moratorium established by the Gulf of Mexico Energy Security Act of 2006; blocks that are adjacent to or beyond the US Exclusive Economic Zone in the area known as the northern portion of the Eastern Gap; and whole blocks and partial blocks within the current boundary of the Flower Garden Banks National Marine Sanctuary.