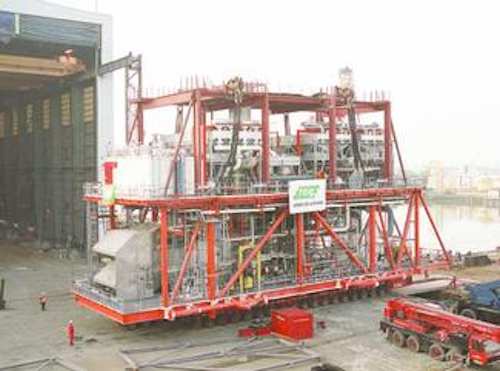 Project cutbacks in the North Sea have hit high-end fabricators hardest, forcing several European yards out of business. The smaller platform specialists have struggled less, as incremental gas field activity has been sustained.
One of the more active yards over the past year has been Schiedam-based HBG Steel Structures, with four North Sea contracts in its line-up. The company has limited itself historically to modules of 5,000 metric tons maximum. These can be assembled in 75,000 sq m of open-air and covered facilities, the latter (12,000 sq m) being temperature-controlled for winter work. There is also open access to the North Sea via a 50-m-wide quay and a 270-m-long jetty in a sheltered harbor, with a water depth of 9 m.
The 950-ton compression module for ConocoPhillips' Murdoch MD platform in the UK southern gas basin was the first of the four to be completed. Finished in June, it is the latest phase of the Caister Murdoch System III project, which is tying in five new accumulations as subsea satellites to the MD platform. The new module will double existing compression capacity for existing fields and future developments in this area. Heerema crane barge Thialf performed the installation.
This was a design/engineering, procurement, construction, and installation (EPCI) contract, which is HBG's preferred scope of work, according to Marketing Manager Koos Krispijn.
For Shell's Carrack field platform, another UK southern sector project, HBG is working under sub-contract to SLP. Here HBG is responsible mainly for procuring and constructing of the 1,200-ton jacket and 1,100-ton piles. Gas from the 10-slot, minimum facilities platform will be piped 85-km to another new (reception) platform at Shell's Sole Pit Clipper complex.
null
Most of HBG's offshore work over the past 10 years has been for Dutch oil companies, Krispijn says. In this sector, HBG is working on the Q4C platform under an alliance with the field's operator, Clyde Petroleum, which was recently acquired by Wintershall. While HBG is responsible for outfitting and construction of the platform and piles (total weight 3,930 tons) and the 22-person, 400-ton living quarters, Clyde itself is handling the design and final equipment commissioning.
"The latter task is something we normally do ourselves," he points out. "But Clyde is a very innovative company, and we have a very integrated team working with them on this project."
Seaway Heavy Lifting crane barge Stanislav Yudin, which works regularly with HBG in the North Sea, is scheduled to install the completed facilities on the field next month.
"Although there are no real innovations on this project, we can say that the platform will have four 60-kw micro-turbines for power generation, using produced gas as fuel. A diesel generator is also available for start-up and standby duties. Another feature Clyde's introducing in the Dutch sector is the high integrity pressure control system, which protects the plat-form against overpressure. As soon as pressure downstream of the choke valves reaches 125 bar – and assuming all safeguarding systems fail – two pairs of special valves at the end of the manifold would close within 2 sec.
This March, HBG was also commissioned by Mærsk to build two process modules, weighing respectively 380 and 650 tons, for the Halfdan and Tyra West developments in the Danish sector. As delivery was due this month, it is an ultra-tight schedule, and time pressures for offshore structures are generally increasing.
"Five to 10 years ago, a platform contract for us would typically take 16 months from contract award to sailaway," Krispijn points out. "Now 11-12 months is becoming the norm."
null
The short-term outlook in the Dutch sector is less certain, due to negative tax changes in the Dutch Mining Law. Wintershall, Gaz de France, and Total may issue tenders for new platforms, but nothing has been confirmed. So HBG is now addressing other markets. "For instance," Krispijn says, "we are in a pre-qualification process with a Venezuelan contractor to supply a living quarters module for ConocoPhillips' CoroCoro project. We do have experience building these modules in the North Sea in the early 1990s, prior to the arrival of unmanned platforms."
Recently, HBG bid unsuccessfully for a jackets contract in the Far East. "At our yard in Schiedam, we can build jackets for water depths up to 60-70 m. We may look for another site nearby in Rotterdam to build bigger jackets, although we're not sure at this stage whether we'd want to compete with specialists in this field in Europe such as Aker Verdal and Dragados."
Last year, HBG delivered its first offshore wind farm installation, a 1,000-ton transformer platform for Horns Rev, 25-km offshore Esbjerg in Denmark. There are many more such projects in prospect across northern Europe, but there are also "cultural" problems to resolve. Wind energy companies tend to be unfamiliar with offshore sector standards, safety being one example, says Krispijn.
"We like to do EPCI jobs, but Horns Rev was not ideal, as the client asked us to only build and transport, so the interface was not easy."
Parent company HBG Group was recently sold by Dragados to Dutch conglomerate BAM, which will likely entail another name change for the Schiedam fabricator. Formerly, it was known as HSM and before that, HCG.