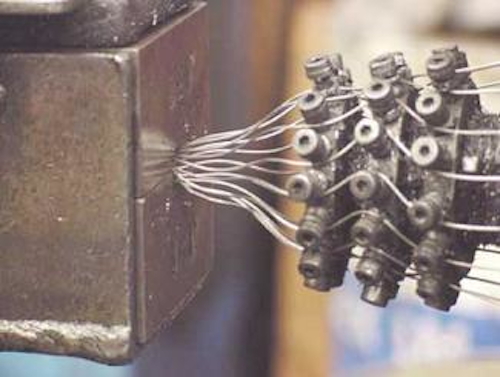 Sandvik Materials Technology has developed Sanicro 36Mo, a high-tensile super-austenitic steel grade to meet demands imposed by sour wells. The Swedish steelmaker sees the new grade as setting new standards in resistance to corrosion, induced by hydrogen sulfide, for example. This is increas-ingly viewed as a necessity as companies drill deeper and encounter sour conditions more frequently.
null
Sanicro 36Mo, patent pending, has demonstrated a tensile strength over 300 ksi, or 2,070 Mpa. Sandvik developed the new grade in response to oil and service companies needing to lower greater loads into wells without increasing the diameter of lines used. The company already offers Sanicro 28 and Sanicro 26Mo to deal with highly corrosive situations, but these steel grades do not have the same tensile strength.
Applications
Sandvik is examining potential applications for the new grade, said wire division product manager Phil Etheridge. Presently, the company is working largely with well logging cable, in which the steel is wrapped over an electrical core. It is supplying Sanicro 36Mo to Texas-based company Camesa for production of well-logging cables. Camesa has so far manufactured two well-logging cables in this grade – one for use in Canada, the other in Indonesia – and it is gearing up to make a third that will be used in South Texas. All applications to date are onshore, but the new grade would also be applicable to deep, highly deviated offshore wells. The latest order is for 28,000 ft to yield roughly 25,000 ft of cable, with delivery expected this month. Sandvik is responsible for all stages of the process from steel grade research to production, from molten material to delivery of ready-drawn wire.
null
Etheridge said that Sandvik originally developed the new steel grade for slickline use and expects to have Sanicro 36Mo available as slickline within a year. Braided lines may follow, in both regular and swaged versions.
For more information, contact Phil Etheridge, Sandvik Steel. Tel: +46 26 26 31 20, fax: +46 26 27 47 20, email: phil.etheridge@sandvik.com, website: www.steel.sandvik.com.