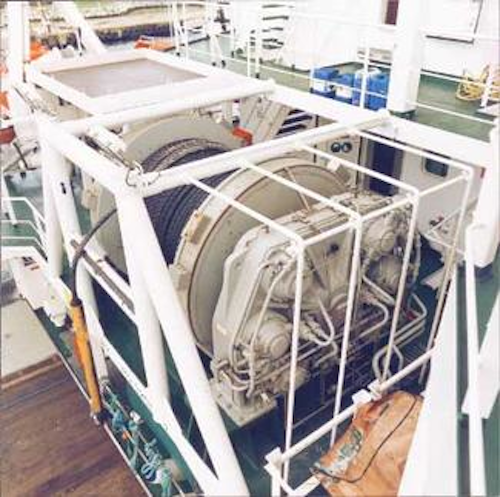 Increased deepwater activity has led to a surge in inquiries for winches for anchor handling, said hydraulic motor specialist Hägglunds, based in Mellansel, Sweden.
Ingemar Borg, marine and offshore business area manager, said the company's motors can increase the winch's speed for lowering of anchors to two to three times that of other units. Furthermore, Hägglunds motors offer extra braking power, also beneficial for anchor handling.
Borg said the company's hydraulic drives provide flexibility and redundancy: "You have more possibility for a stand-by system."
Last year, Hägglunds supplied, for example, drives for a 100-tonne anchor handling/towing winch for the supply vessel Stril Neptun, built by YVC Ysselwerf.
Customers choose the motors not only for safety purposes but also to protect other equipment, Borg said. The low inertia units are capable of starting and stopping quickly and accurately controlling torque. The drives are used offshore for pipelaying, cranes, and winches as well as for drilling and mud pumps.
Borg said Hägglunds has been working with mud pumps for the last two years.
"We haven't been supplying the really big ones," he said. "That's something we're looking into."
Hägglunds' resume includes drives for jackups, winches, drilling top drives, mud pumps, drawworks, piperacks, cranes, and ROV-handling. The company is also focused on a valve system, which it expects to release later this year. The valve system will be standard on Hägglunds' Compact CA and CB hydraulic motors.
null
The CBs, introduced last year, are the company's newest range. These motors are claimed to combine economy of space with high torque, and operate at a very low noise level. According to the company's website, the CB builds on existing designs with a high mechanical efficiency but offers a wider choice of applications. It can be mounted directly onto the drive shaft and is operable with the same accessories as the Compact CA. A wide range of sizes and displacements are available to optimize the drive, in order to match it precisely to the application. Another significant feature is a very low moment of inertia.
Mechanical efficiency is around 98%, and the motor is shock-proof. It supplies full torque at any speed from standstill to maximum, and can also be stopped instantly. It can operate at high speeds with a very low energy loss. The CB provides torque of up to 210,000 lb/ft, with displacements from 920 to 3,220 cu in. per revolution with speeds up to 125 rpm and pressures up to 5,000 psi.
For more information, contact Ingemar Borg, Hägglunds Drives. Tel.: +46 660 870 00, fax: +46 660 871 60, email: ingemar.borg@se.hagglunds.com, website: www.hagglunds.com.