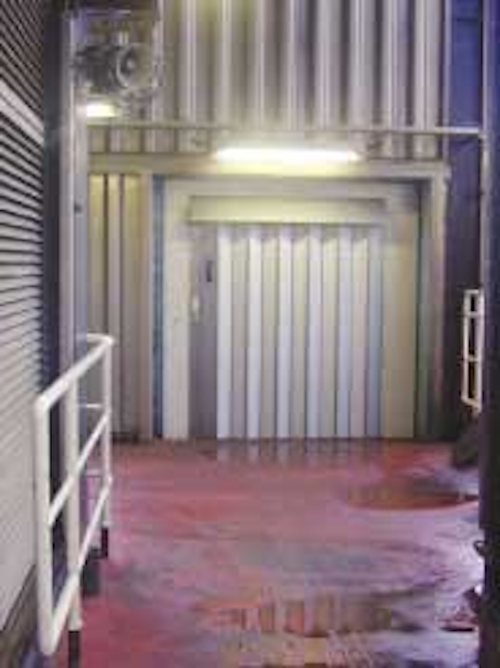 Early this year, Alimak completed an intri-cate contract to refurbish its 2,400-kg goods/passenger elevator on Total's Alwyn North production platform in the UK North Sea. Total had invited suggestions for the refurbishment program in 2002. Follow-ing a detailed site survey, it was established that due to heavy use since its original installation in 1984, the lift car, its door, and all six landing entrances required either major repairs or com-plete replacement.
As the platform is in constant operation, Total needed a solution that would minimize disruption to its schedule. The answer was installation of a temporary lift while repairs were completed to the original system, to bring the installation in line with current statutory legislation.
null
The program involved removal of the top of the lift shaft. Under the supervision of Intervect UK, Alimak's sales company in Britain, the car was hoisted out of the shaft by one of the platform's pedestal cranes. Then the car was stored temporarily on the platform deck, before being lowered onto a supply vessel for transportation onshore for a more thorough examination and subsequent repairs.
Once the lift was removed, an Alimak Scando hoist (2,000-kg capacity) was delivered to the platform and positioned into the shaft. Total replaced the shaft top structure to protect against water ingress, and installation of the hoist was then completed. Throughout the contract, the hoist was used to provide working access and, later on, served as a working platform for removal and replacement of the six landing gates and frames. Special infill front wall panels were made to site-measured dimensions and erected each side of the landing gates to provide a complete front wall. Great care had to be taken to ensure correct alignment of the entrances.
For the refurbishment program at Intervect's workshop in Rushden, the car was completely stripped to expose all steelwork for non-destructive testing, to ensure structural integrity. Subsequently, all surfaces were shot-blasted and cleaned, and treated with a seven-coat offshore painting process, in line with Total's specification. Painting was performed in a controlled workshop environment to guarantee correct hardening between each coat.
Once the structural integrity of the back frame and all lifting points were fully tested, the car was re-built completely, with all components wired and tested. It was transported back to Aberdeen for onward shipment to the Alwyn North platform this January: Close liaison with a dedicated Total project manager included a final inspection onshore. To save time, the lift mast had been left in the shaft during the removal operation, but this also underwent non-destructive testing , as part of the contract.
null
Despite severe weather conditions, which caused temporary suspension of crane operations, the contract was completed on time, including on-site safety awareness training of Alwyn's personnel by the Intervect team. Immediately after commissioning, Total agreed the basis of a new five-year after-sales service contract with Intervect UK.
Alimak's newest offshore order is for a three-floor, 1,800-kg Ex passenger/goods permanent lift unit for the Åsgard B gas production semisubmersible in the Norwegian Sea.
For more information, contact Anders Nilsson, Alimak. Tel: +46 910 870 00, fax: +46 910 566 90, anders.nilsson@alimak.se, www.alimak.com.