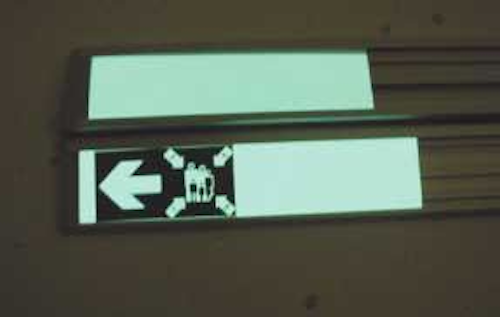 Säkerhetspartner was selected to deliver the low location lighting (LLL) signs for the Thunder Horse project in the Gulf of Mexico this month. Earlier this year, the company also delivered LLL signs for the Bayu Undan FPSO in the Timor Sea.
The systems that Säkerhetspartner produces are photoluminescent in nature and exceed typical intensity requirements by eight times, Thomas Berggren, marketing director, said. Säkerhetspartner's line has an aluminum-strontium composition, which enables it to last longer than zinc-sulfide compositions that can decrease in effectiveness following prolonged ultraviolet light exposure. The LLL signs absorb light and illuminate in the dark, remaining illuminated for at least eight hours, well over the one-hour requirement for illumination following loss of light.
The company guarantees its photoluminescent products for a decade and performs after-glow measurements every five years. Recent analysis of one system after its first five years in operation showed the after-glow remained the same as when it was first installed, the company says. Additionally, Säkerhetspartner certifies LLL systems, including its own products, and hopes to move further into the realm of LLL certification.
null
null
Evacuation planning
Säkerhetspartner also studies vessel designs to optimize evacuation efficiency based on where congestion is likely to occur. Simulex, a software system that aids planning of evacuation routes, can be used to study the distribution and density of people for daytime and nighttime evacuations and the overall time for an evacuation.
Based on results from Simulex, Berggren said, certain actions can ease the evacuation process, such as adding landings to stairwells, inserting other flow routes, and widening doors. Another option is to cut the angle of a turn in that a 90° turn takes longer to make than two 45° turns.
"It's a different solution," he said. "It's mainly staircases where you have the problem."
The most effective way to provide comprehensive evacuation planning, he added, is to begin working with the companies during the initial design phase. When the general design drawing and evacuation plan are complete, an LLL design should be drawn up and submitted for approval by the appropriate regulatory agency, such as the US Coast Guard in the Gulf of Mexico. Following agency approval, Säkerhetspartner provides the LLL based on the drawings. Even in circumstances where customers are not required to provide LLL, they often choose to increase safety levels at certain locations, like fixed platforms.
For more information, contact Thomas Berggren, Säkerhetspartner. Tel: +46 90 77 43 00, fax: +46 90 77 25 95, thomas.berggren@sakerhetspartner.se, www.sakerhetspartner.se.