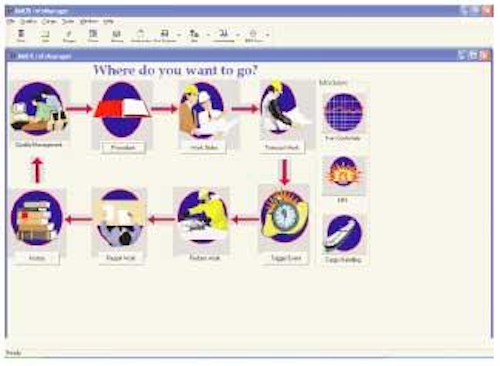 With database management systems making inroads on offshore installations, classification societies are changing their approach to inspections of technical documentation. They are beginning to perform checks in shore-based offices on information taken also from offshore installations, compiled with systems such as the AMOS InfoManager, a documenta-tion management system from Xantic AB, said Managing Director Gösta Algelin. The system has Det Norske Veritas acceptance for quality and maintenance management of database systems.
AMOS is a system designed in the 1980s to track technical documentation for vessels. The InfoManager allows automatic version control of updated documents.
null
"People were struggling to keep track of all the documentation, especially the latest versions," Algelin said. The need for a structured ship-to-shore reporting system was combined with the need for a system to help companies deal with quality issues.
The system works in current, future, and past modes. Users can edit material in the current or future mode, and the former current document automatically moves to old status.
"It is said that you spend 90% of the time putting in data and only 10% of the time pulling answers out of the database," he said. "We are trying to change that."
In most instances, the main office will define documents, database tables, report forms, distribution, version control, and quality standard references. The vessel or installation will hold the procedures for that site, report the activities carried, prompt activities, and maintain site safety and quality activity records.
The office can create a procedure that includes an MS Word document, a work order, and a reminder, or a combination of those items. The system can track procedures, such as one created for a weekly fire drill, from recurring assignment to each report filed on completion of the drill.
Users from four access levels can work in the system: the chief administrator, who generates procedures; the site administrator, who controls access levels; the user, who reads procedures and makes reports on activities; and the guest, with read-only ability.
Reports can be generated based on any incidents or non-conformities that occur, and the system can compile recommendations entered into the system for avoiding or dealing with such incidents.
"All of these documents can be distributed," Algelin said.
InfoManager, written in PowerBuilder 6.5 up to AIM v. 3.6.x and PowerBuilder 8 for higher versions, uses the traditional client-server architecture. The recent release, version 3.6, came out earlier this year. It supports more types of databases, such as Oracle and Sybase. Version 4.0, set for release at the end of the year, will add SQL compatibility to the system. The goal, Algelin said, is to support all databases.
The Non-Conformity module highlights certain incidents and allows site improvement teams to perform an initial level of corrective action. The NC module helps comply with IMO International Safety Management Code section 9 requiring reports and analysis of non-conformities, accidents, and hazardous occurrences.
AMOS' Emergency Response System includes procedures and an address list of people and companies to contact in case of emergency.
For more information, contact Gösta Algelin, Xantic AB. Tel: +46 31 65 53 00; fax: +46 31 65 53 05; gosta.algelin@xantic.net; www.xantic.net.