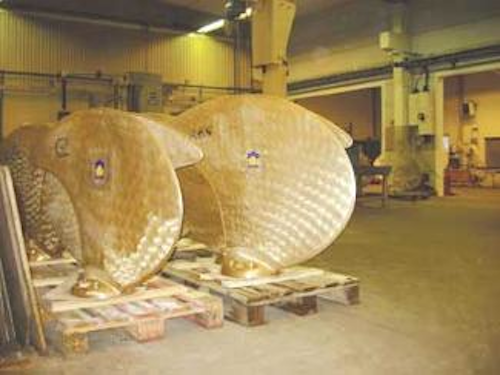 Vessel propeller manufacturer AlcoPropeller will increase its steel foundry melting capacity from 6.5 to 10 metric tons in order to handle larger orders. Fulfilling this goal will require installation of a new melting furnace, said Managing Director Björn Hanberg. Boosting the melting capacity will also make the company one of the largest in Sweden for special foundry items, he added.
null
A 5- to 6-m diameter propeller with a 1.6-m diameter hub requires 10 metric tons of steel. About 15% of the company's propellers are manufactured from stainless steel. The rest are made from an aluminum/bronze combination. In at least one order, the company has used the hot isostatic pressing (HIP) method to meet fatigue requirements for Voith Schneider propeller blades.
The company's focus is on short series castings of up to 4.5 metric tons for ready-machined pieces.
For more information, contact Björn Hanberg, AlcoPropeller. Tel: +46 19 20 7171, fax: +46 19 20 7175; bjorn.hanberg@alcopropeller.se