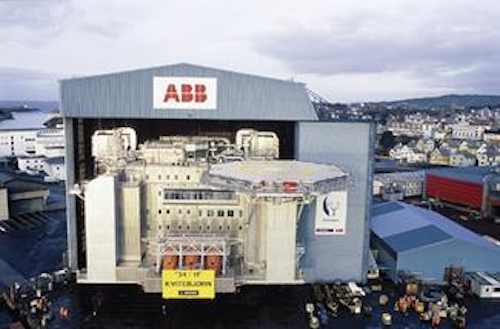 Camfil's H12 filter allows offshore gas turbines to run for longer periods with-out requiring offline cleaning. The filter is an addition to the company's Cam GT filtration product range, which has been on the market since 1998. The Cam GT line "has been working fine with all our installations," said Managing Director Peter Sandberg. To increase run times, the company has been looking to improve inlet system efficiency. The result is H12, a high efficiency particulate air (HEPA) filter that, the company claims, allows uninterr-upted operation for up to 18 months.
It offers a separation efficiency of 99.5% for particle sizes that are most difficult particle to collect (normally 0.3 to 4 microns, also known as MPPS).
"To get a good life out of this filter, you also need a good pre-filter," Sandberg said.
Camfil pairs the H12 filter with an F5 or F7 pre-filter.
Last year, said Jan-Peter Nilsson, key account manager, the recently introduced F9 filter allowed gas turbines to run for 4,000 hours before stopping for offline washing. This year, the H12 filter has tripled performance hours, enabling turbines to run for 12,000 hours before halting for offline cleaning.
"The H12 is a very good upgrade," Sandberg said, adding this is the first HEPA filter designed for gas turbines in the offshore sector. "There's an interest in the market to get a little extra out of their installations."
null
Nilsson said, "With the H12, there's also less fouling in the turbine."
The H12 filter incorporates the same basic design philosophy as the rest of the Cam GT line, which is designed for humid offshore conditions. It features vertical pleats, which allows for good water drainage. Other filters, in contrast, often have horizontal pleating, which can lead to the formation pockets in which water pools. As with all of Camfil's offshore filters, the H12 filter is incinerable, a plus in the offshore market where disposal is a primary question.
Clean room quality
Looking forward, Camfil hopes to stretch the operation times of turbines even further before offline cleaning is required. To this end, Sandberg said, the company is focusing on creating air quality that is comparable to that found in clean rooms.
null
Involved in providing air cleaning and noise control equipment for turbo machinery since the end of the 1960s, Camfil has taken its filter experience across the globe. In May, it delivered five air intake systems for Nuovo Pignone LM6000, 43-MW turbines for the Snøhvit onshore LNG plant in the Barents Sea. The project included filter housing of stainless steel, and a titanium heater to preheat the air. In the southern hemisphere, the Swedish company is also delivering a complete package for two 2.2 MW turbines for the Bass Gas project off Australia. And in the Gulf of Mexico, the company is delivering packages for Holstein, Thunder Horse, and Atlantis.
Also in Norway, the company has delivered systems for two generator sets and one compressor set for gas turbines for Statoil's Kristin development in the Norwegian Sea.
For more information, contact Peter Sandberg, Camfil Industrifilter. Tel: +46 33 17 85 75; fax +46 33 17 85 55; peter.sandberg@camfilfarr.se; www.camfilfarr.com.