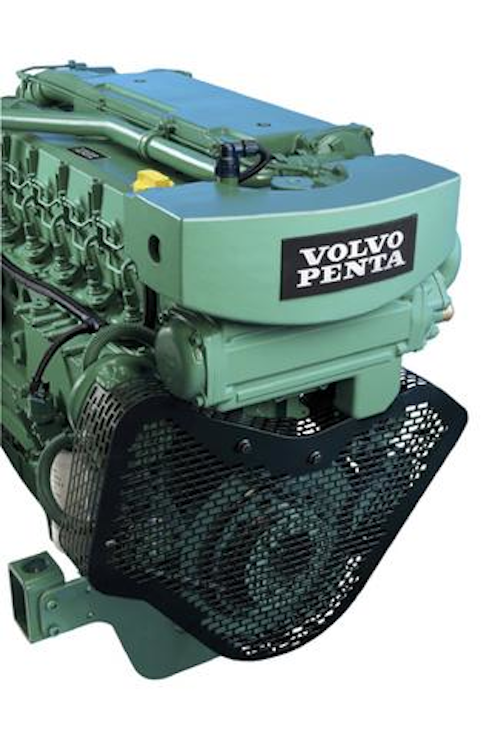 Volvo Penta now offers four diesel engines certified for use in Zone 2 areas in the offshore oil and gas industry. In Z2 hazardous areas, or those that are potentially explosive, diesel engines must conform to strict protection requirements regarding ignition hazards.
"The result is you cannot use the bread and butter engine," said Sverker Alexanderson, sales manager.
null
All Volvo Penta diesel engines for Zone 2 applications feature water-cooled turbochargers and exhaust manifolds, comply with IMO emission regulations, and are fully certified by classification societies.
To meet Z2 requirements, the company modified anti-static fans, used special air-powered starter motors, and added mechanically-driven shutdown and rpm meters. Volvo Penta does not build engines specifically for the Z2 environment, but it has engines that are certified to be adapted for use in those locations. It is offering 100-600 hp in its Z2 engines, and the range is expanding because of requests concerning the engine line.
The smallest Z2 engine is the D7A T. The six-cylinder, four-stroke D7A T diesel engine has excellent torque characteristics, the company says. It provides 147-175 hp.
The TAMD 103A, which has been in Volvo Penta's repertoire for years, is new to Z2 applications. The six-cylinder, four-stroke diesel engine can output 271-390 hp. It is direct-injected and has aftercooler-crankshaft power. The units were developed for medium- and heavy-duty operation.
The TAMD 165A engine has six cylinders and gives 550-600 hp. It is the latest development based on the earlier 16-liter engine 163, the previous 16 liter engine. The 165 engine has a newly developed turbocharger with higher efficiency for more power, and the engine can also handle long periods of low load idling.
The TAMD 74A is a is six-cylinder, four-stroke diesel engine capable of delivering 209-350 hp. It is direct-injected and has aftercooler-crankshaft power.
All of Volvo Penta's Z2 engines are mechanical, but the company is working to create electronically controlled engines suitable for Z2 applications.
Waterjet upgrade
Volvo Penta has also recently upgraded its integrated waterjet systems, which are used often with man overboard situations. The systems allow high speed rescue craft to operate without endangering people in the water to injured by propellers, and without risking damage to a propeller on objects below the surface. ;
For more information, contact Sverker Alexanderson, Volvo Penta. Tel: +46 31 235 460; fax: +46 31 531 876; sverker.alexanderson@volvo.com, www.volvopenta.com.