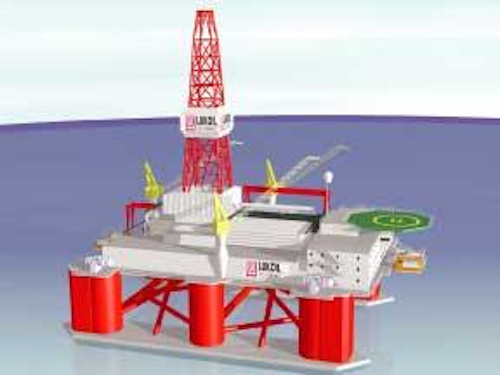 Jennifer Pallanich Hull
Special Reports Editor
Deltamarine is adding a new dimension to its experience in modeling with a software program that allows vessel 4D modeling.
"We've been working with 3D for a long time," Managing Director Jukka Laiterä said.
Deltamarin is now working with 4D modeling in which it applies movement to its models. The company is investing and applying movement and function to a model to virtually assist with planning operations, he said. In the exercises, he said, 4D Product Model software will allow the user to move people in a model, move a load in a crane, load a vessel, and perform other simulations. The simulations give designers an opportunity to study feasibility of a vessel or a marine structure before it's even built, Laiterä said.
The same model is then available in the other phases of the life cycle, for instance, to study maintenance aspects or safety issues during the operation of a marine product or structure.
According to Deltamarin Director of Business Development Markku Kanerva, a complete model of the ship is developed at the first outline project stage. The model contains all data required to visualize the product, produce exact drawings and documents, ensure all decks and spaces fit, and simulate important functions aboard, according to the company. Users can take advantage of 4D Product Model features for marketing, simulations, training, and safety as early as the project stage, according to the company.
null
The company said using the 4D program speeds up the basic design phase by three to five months and it expects the product model technique to push the standardization forward while introducing a major cost savings in shipbuilding.
Teaming up
Deltamarin and RR Offshore have partnered together to provide services in the Caspian and FSU regions.
In 2001 RRO was established as a result of Russian operations' spin off from CSO Aker Maritime. The intellectual background of RRO dates back to Rauma-Repola Offshore in the early '90s. Now RRO is one of the SEIC's partners in the Sakhalin project off Russian and also involved, among others, in the SEIC Kashagan development. RRO, a Finnish project management company, focuses on oil and gas exploration and production facilities. The company, with headquarters in Ulvila, Finland, is affiliated with shipyards Astrakhan Korabel and Krasnye Barrikady in Astrakhan, Russia. Fellow Finnish company Deltamarin specializes in marine consulting and engineering.
Together, Laiterä said, the duo hopes to serve as a bridge between Russian and western companies interested in operating in the FSU.
"There seem to be good prospects for business in the Caspian area and other parts of the Russian federation," Laiterä said.
He said the boundary scrapping between the Caspian's littoral states is not a hurdle for work in that area.
"We don't consider that to be a major problem because that will be solved," Laiterä said. "And there is work there."
The biggest problem with the division of the riches from beneath the Caspian is that it might affect project and production schedules, he said, adding that they had not experienced any major problems with that to date.
The two each have 50% interest in Delta-Astra in Raisio, Finland, which provides management support services and controls the joint engineering function in Russia.
"We team up in engineering for offshore," he said, adding the two companies complement each other. "What RRO doesn't have is the engineering, and Deltamarin dosn't have the contract management function typically needed for offshore projects."
The two have jointly participated in front-end engineering and design phase project work for the semisubmersible mobile offshore drilling unit Shelf-7 modernization, including design scheduling and planning, outfitting and interior arrangement drawings, layouts, piping diagrams, electric load balance, and main diagram. Additionally, they have worked on a concept study for the COC Shallow Water Drilling Unit project and on a part of piping and electric concept phase schemes for a deep draft semisubmersible unit.
"Together, we've been able to offer a nice package of solutions for rig conversions and bigger projects, like Kashagan," he said.
Delta-Astra is a major owner in a Russian engineering office Astramarin in Astrakhan, Russia, he said. Currently we are recruiting more engineers to Astramarin to respond to the growing demand in the area, Laiterä said.
"RRO wants to further develop and improve the services they can provide from the production facilities in the Astrakhan area," he said. "There are good business opportunities out there."