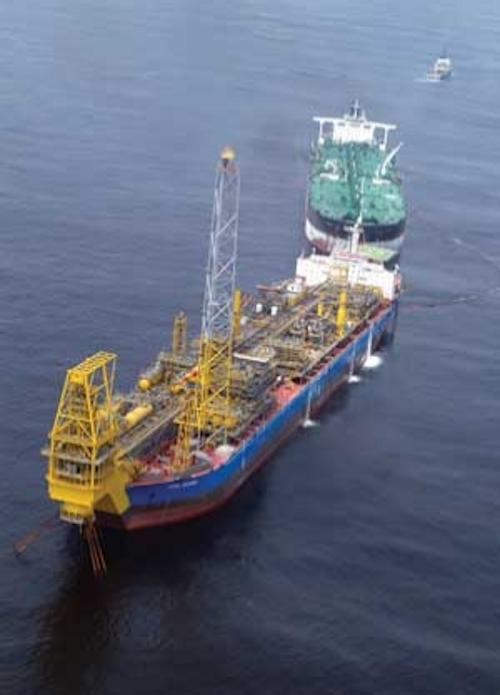 Bruce Beaubouef • Houston
SBM Offshore has updated its current construction program for projects offshore West Africa. The FPSOXikomba has been demobilized from its location in Angola offshore block 15, after Esso Exploration Angola shut down the field. In preparation, the Xikomba will undergo a major upgrade to meet the new project's requirements. Part of the work will be performed in the PAENAL yard in Angola. A contract award is expected during the second half of this year.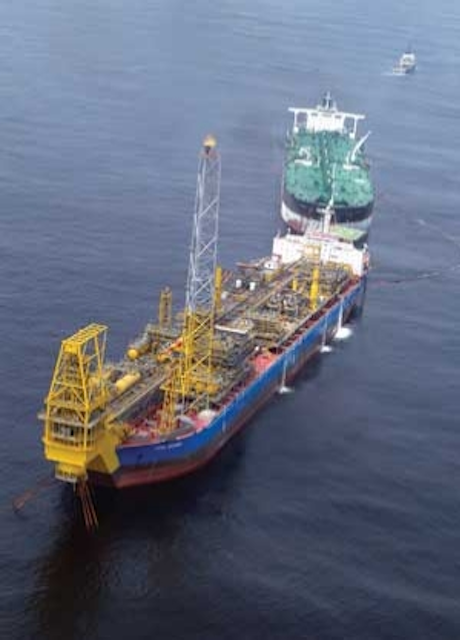 The FPSOXikomba has been demobilized from its location in Angola offshore block 15, and will now undergo a major upgrade to meet new project requirements for upcoming work offshore Africa. Photo courtesy SBM Offshore.
Confirmation has also been received from Total E&P Congo on a contract for the LPG FSONkossa II. The contract has been extended for a total of seven years, until November 2018, with options for a further three years. However, SBM has a letter of intent (LOI) from Sonangol to re-deploy the vessel under a 12-year lease and an operate contract from ENI Angola for an oilfield development on block 15/06.
SBM was also awarded an extension until end-September for the lease and operate contract of the FPSOKuito from Chevron in block 14. Total E&P Angola contracted SBM for a deepwater oil loading system for the FPSO for the CLOV development on block 17. The company will supply the oil offloading lines and will also perform offshore installation of the complete oil loading system (including the deepwater buoy) in the second half of 2013, using the installation vessel Normand Installer.
Eide Marine orders well service vessels from Finnish yard
STX Finland and Eide Marine Semi AS have signed a $413 million-plus contract under which STX will provide outfitting, completion, and delivery of two well intervention vessels. These will each be 122 m (400 ft) long, 45 m (147 ft) wide, and with deadweight of 31,000 tons.
Construction will start next spring at the Rauma shipyard in Finland, with delivery scheduled for March and June 2013. They are designed to operate in rough open sea conditions on the Brazilian continental shelf. The hull form, DP-3 dynamic positioning system, and thruster arrangement are designed for high sea-keeping characteristics. The large deck area, STX adds, should facilitate efficient layout of well serving equipment.
PetroVietnam launches first Vietnamese-made rig
The Vietnam National Oil and Gas Group (PetroVietnam) has inaugurated the first locally manufactured jackup rig in Ba Ria-Vung Tau province. PetroVietnam member PV Shipyard built the platform in 26 months.
The 90-m (295-ft) jackup weighs almost 12,000 tons when fully finished, including 9,685 tons of structural materials, 950 tons of piping system, and 1,748 tons of electrical and electronic devices. The platform, with the supporting legs 145 m (475 ft) long, can drill to a depth of 6 km (19,685 ft).
As part of the launching ceremony, PV Shipyard of PetroVietnam signed a contract with Vietsovpetro to build another 90-m jackup rig for the Vietnamese-Russian joint venture.
Keppel AmFELS delivers fourth rig to Rowan
Keppel AmFELS has completed the delivery of its fourth EXL jackup rig to a subsidiary of Rowan Companies, Inc. four months ahead of schedule and within budget.
The jack-up rig was christenedRowan EXL-IV, and is scheduled to depart Keppel AmFELS' yard in Brownsville, Texas in October 2011.
The ABS-classed EXL jackup design is an enhancement of the LeTourneau Super 116E model. With a leg length of 477 ft (145 m) and hook load capacity of up to 2 million lbs, theRowan EXL-IV employs state-of-the-art technology to drill high-pressure, high-temperature and extended-reach wells worldwide. The rig is capable of operating in water depths of 350 ft (107 m) or more, and drilling to a depth of 40,000 ft (12,192 m).
Noble contracts fourth ultra-deepwater drillship from HHI
Noble Corp. has exercised an option with Hyundai Heavy Industries Co. Ltd. for construction of a fourth ultra-deepwater drillship. Delivery is expected in the second half of 2014.
The $630-million vessel will be based on Hyundai's Gusto P10000 design and will be equipped to work in waters to 10,000 ft (3,048 m) deep. Noble says it will be DP-3 equipped and can handle two BOP systems and multiple parallel activities.
Apache contracts two Atwood rigs for Australia
Apache Energy Ltd. has contracted theAtwood Eagle and the Atwood Falcon for work in Australia. The agreements run for 18 months and 30 months, respectively, for the semisubmersible drilling rigs.
TheAtwood Eagle is expected to start in July 2012 as a continuation of an existing contract. The Atwood Falcon will have 90 days of planned maintenance and contract preparation before heading to Australia to start work in May 2012.
Songa offshore drilling rigs in demand
Songa Drilling's fleet is fully occupied on programs in the Far East, North Sea, and West Africa, according to the company's latest update.Songa Venus, which had been warm stacked in Labuan, Malaysia, is undergoing basic maintenance and operational preparedness for a one-year contract with Petronas off Malaysia, due to start mid-August.
In late June,Songa Mercur arrived on location at Sakhalin, eastern Russia and began drilling operations for Gazflot LLC. During July the rig achieved an operating efficiency of 86%, according to the report.
In the Norwegian sector,Songa Dee continues to operate for Marathon/Lundin, while Songa Delta is under contract to Wintershall/Det Norske Oljeselskap.
Songa Trym is on a long-term with Statoil in Norway, and following a recent letter of award is set for a further three-year stint subsequent to completion of the current contract in mid-2012.
Songa Eclipse, under construction and commissioning by Jurong Shipyard in Singapore, has completed sea trials. It is currently in the final stages of punch list closure from the yard prior to formal rig acceptance, due sometime this month.
In parallel, it is undergoing an upgrade and client operational preparedness work for an upcoming contract in West Africa. It should mobilize to Angola early in September.
More Offshore Issue Articles
Offshore Articles Archives
View Oil and Gas Articles on PennEnergy.com