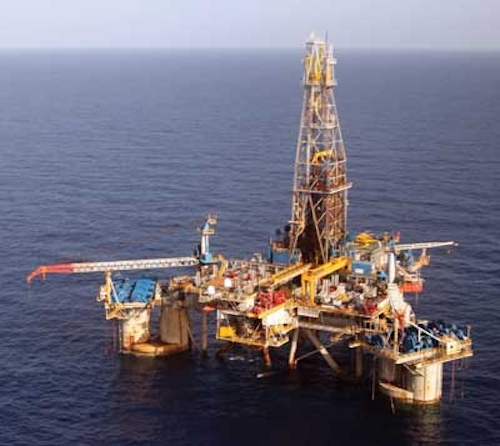 F. Jay Schempf
Contributing Editor
Management at LLOG Exploration Co. L.L.C., operator of the deepwater Who Dat oil and gas field in Mississippi Canyon blocks 503, 504 and 547 in the US Gulf of Mexico, isn't bashful about admitting that their recently installed floating production unit (FPU) for the field already has run out of excess capacity, and that's before the field even goes onstream, which is scheduled to begin sometime before the end of this year.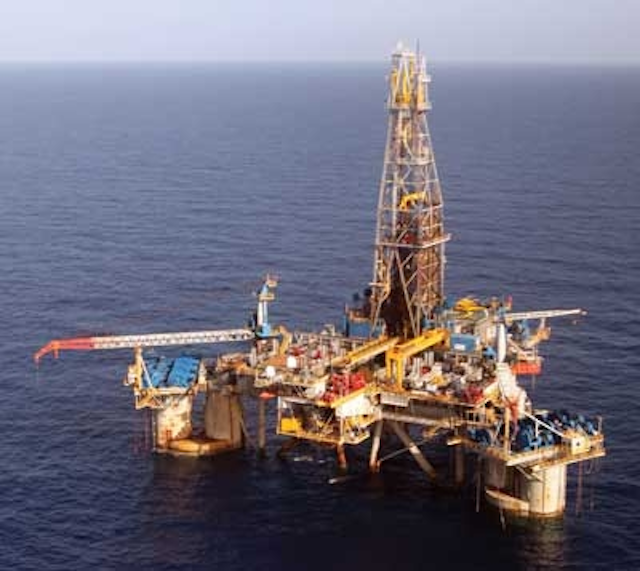 Moored in MC 547, LLOG Exploration's Who Dat field semisubmersible production unit, OPTI-EX, has reached its 60,000-b/d, 150-MMcf/d oil and gas handling capacity – even before first oil begins later this year.
In an offshore petroleum province that has seen many changes in recent months, suddenly having no capacity to add production to a new FPU might seem to be an embarrassing miscalculation on the part of its designers. Most such floating systems are typically overbuilt intentionally for just such exigencies. Better to have too much capacity than not enough. Not so in this case.
Unlike major oil companies and most large independents, LLOG, based in Covington, Louisiana, across Lake Pontchartrain from New Orleans, purchased their FPU "off the shelf," rather than spending years having one designed specifically for the Who Dat field and then taking several more years to build it out. What's more, LLOG has prospects in the same general area identified by 3D seismic imaging that, when drilled, very likely could necessitate the near-future necessity for at least one other, similar, FPU – and perhaps even more.
In a unique situation that put them in touch with Houston-based Exmar Offshore Co., LLOG managed to cut at least four years or more off their timeline for bringing on first oil and gas production to market from the Who Dat field. Exmar had such deep faith in the suitability of their proprietary OPTI-EX design FPU for the deepwater Gulf that they actually built one without a contract – the first such semisubmersible FPU in the industry's history to be built "on spec."
In so doing, they eliminated a number of time-consuming and often severely restrictive options. For example, they could have designed and built their own floating production system – a spar or other semisubmersible platform – but the cost would be daunting to a privately financed company. Alternatively, they might have installed numerous subsea tie-backs to floating systems in deepwater or to fixed platforms on the OCS, both types most likely operated by other companies. This would have involved months of negotiations and would have placed capacity restrictions on LLOG anyway. Among still other scenarios, they could have considered purchasing a spar or other floater in partnership with another company, but that, too, probably would have limited their access to offloading facilities or pipelines. There were other options as well, but they all involved long lead times, significant cash outlays, and restricted production volumes.
Novel FPU design
The OPTI-EX transaction, in which LLOG purchased the semi-based FPU outright for somewhat more than $400 million, payable over 62 months, resulted in what's thought to be the first privately owned FPU in the world. What's more, because the OPTI-EX design answered virtually all questions referring to suitability and safety posed by Gulf of Mexico regulators, it was the first deepwater FPU to be given the go-ahead by the U.S. Coast Guard, BOEMRE, and other government entities to be installed in the Gulf since the April 2010 Macondo incident. The OPTI-EX was moored in MC 547 without incident in mid-July of this year, less than a year after LLOG purchased it.
The proprietary OPTI-EX semi FPU – not a "one size fits all" design but close – was conceived to fill the needs of producers with medium to large fields in water depths up to 10,000 ft (3,048 m), which encompasses the lion's share of currently planned Gulf of Mexico production facilities. The design would qualify for similar fields off West Africa and Southeast Asia as well as other areas with similar water depths and weather conditions. The design is purposely generic to allow customers the leeway to install their own production-handling and storage equipment skids. Added space capacity makes this even easier to do.
According to Exmar officials, the OPTI-EX's deep-draft ring pontoon hull takes in improved motion responses for a wide range of extreme sea states, allowing it to be installed on one of the most onerous areas of the Gulf. The ring pontoon and large ballast capacity also allow for the easy installation of a large number of production and export risers without the need for any internal hull modification.
Specifically, the LLOG unit's single deck, which matches the top dimensions of the hull – about 200-ft square (more than 3,500 cu m) – allows for maximum space to hold various sizes of process equipment and storage and quarters modules, which were added by LLOG to the finished unit. Two large overhead cranes allow access to each module and skid on the deck.
As built and equipped, the LLOG FPU has a liquid-handling capacity of 60,000 b/d, including facilities for handling up to an additional 40,000 b/d of water. The unit's gas dehydration capacity is up to 150 MMcf/d (As mentioned, the Who Dat field alone will fill both capacities to the maximum).
The initial design assumed a quayside integration of hull and topsides to avoid the risks and costs associated with an offshore integration, which often is necessary with float-out production facilities, said Saverys. It also allowed the topsides to be fully pre-commissioned on land. So, besides having designed OPTI-EX, the Exmar team's second big achievement was matching the hull, fabricated at the Samsung yard in South Korea, with the topsides, fabricated in the US. In fact, they noted, while shipyard engineers set up a three-day period for integration of hull with topsides, it took only 2 hours and 35 minutes to execute.
A unique deal
It took a lot of confidence on the parts of both Exmar and LLOG to arrive at this one-of-a-kind deal. For starters, Exmar had built its first semisubmersible FPU – Serial Number 1 – on spec. Furthermore, LLOG bought it almost immediately, discounting a long-standing hesitancy by the offshore industry in general to accept the first version of anything.
But Exmar Offshore Co., a business unit of the diversified Exmar shipping and offshore group headquartered in Belgium, is no start-up company. Its series of deepwater semisubmersible platform designs, suitable for production as well as for drilling and well intervention applications, is well recognized in the industry.
The company and its sister Exmar Group business units not only build, finance and manage vessels and platforms, including FPSOs, but can lease, bareboat charter and set up lease-and-operation agreements for their equipment. They also sell it outright, as with LLOG.
LLOG, too, is no newcomer to the industry. Founded as a privately owned operating company in 1977, it began developing onshore Gulf Coast oil and gas reserves, transitioning into near-shore marine operations in the 1980s and by 1996 had moved into drilling and producing reserves in federal OCS waters off both Texas and Louisiana. In 2002, it made its first discovery in water depths of more than 1,000 ft (305 m), and the next year completed its first well in more than 2,500 ft (762 m) of water. It posted its first strike in water depths in excess of 4,000 ft (1,219 m) in 2005. Since then, LLOG has become the top privately owned E&P company in the Gulf and one of the top 10 private oil and gas producers in the US.
Who Dat basics
LLOG discovered the Who Dat field, which takes its name from a chant delivered loudly and often by fans of the New Orleans Saints NFL football team, in December 2007. The field lies beneath an average water depth of 3,200 ft (975.4 m) in MC blocks 503, 504 and 547. It exhibits 10 stacked reservoirs located beneath 10,000-17,000 ft (3,049-5,182 m) in Pliocene and Upper Miocene Age zones.
The Who Dat field FPU and subsea production, export pipeline setup.
Three wells – two in MC 503 and one in MC 547 – have been completed so far, with 10 more infill wells to be drilled and completed in the coming months using theNoble Amos Runner semisubmersible rig. Combined, the three completed wells penetrated seven of the field's 10 horizons and were completed in mainly oil zones, testing 17° to 26° API crudes with gas/oil ratios (GOR) ranging from 400 to 1,300. Reservoir pressures vary from 6,000 to 12,500 psi, and flow tests indicated an open flow of 10,000 b/d of oil and 60 MMcf/d of non-associated natural gas for the three wells alone.
The OPTI-EX is moored in MC 547, and various subcontractors are engaged in hooking it up to the Who Dat seafloor layout, which features two well centers in MC 503, both about 12 miles away from the FPU, with dual 6-in., round-trip piggable insulated flow lines connecting them to the FPU. One well center features two 4-slot manifolds connected in series to allow for tiebacks from eight wells. A single 4-slot manifold services the other well center. All well center flow lines, as well as both oil and gas export pipelines, are connected by flexible risers to the OPTI-EX.
A 5,000-ft (1,524 m), 11.5-in. flexible riser from the OPTI-EX connects to a 19-mile (31-km), 14-in. heavy wall thick oil export pipeline that ties into Shell's Mars pipeline system. For gas export, the OPTI-EX is connected via a 9.5-in. flexible riser to a 17-mile (27-km), 10-in. pipeline connecting to the Independence Trail pipeline, operated by Enterprise Field Services.
As mentioned, the Who Dat system is scheduled to go on line sometime before year's end.
Seismic inventory crucial
The LLOG exploration team, most of who came with years of both Shelf and deepwater experience with other companies, has taken advantage of both their combined experience and of the company's $150-200 million inventory of seismic data that covers virtually the entire Gulf. Access to high-end, pre-stack, time- and depth-migrated 3D seismic data, including wide azimuth-type data, has become a necessity for companies operating in the Gulf in recent times, and LLOG obviously hasn't skimped a bit on having it.
Though compact in number, the LLOG exploration team is able to handle the same sophisticated data and interpretation software that much larger companies have, and are able to act faster with fewer people, which are valuable assets when preparing for lease sales, making drilling decisions and gaining drilling permits. With access to its volume of the highly detailed geophysical and geological information, the LLOG exploration team has generated more than 300 prospects in the Gulf, with a nearly 70% success rate.
Currently, LLOG holds interests in more than 147 Gulf leases, of which 80% are undeveloped, and production averaged 23,000 net boe/d in 2010. Also in 2010, the company asserted "2P" (proven + probable) reserves of more than 220 MMboe, which was verified by qualified third-party consultants. Some 84% of the company's reserves are located in deepwater (more than 1,000 ft), and its predominant areas of operation are the Mississippi Canyon, Green Canyon, High Island, Main Pass and South Timbalier areas. What's more, the company forecasts production from early 2011 to early 2012 to more than double from fields already discovered.
Its reserves picture is part of the reason why the company has no second thoughts about admitting that the production-handling capacity of its OPTI-EX semisubmersible FPU at Who Dat already is full up.
In addition to four or five ongoing development projects in the Mississippi Canyon and Green Canyon areas, whose production will be handled via subsea tiebacks to existing facilities in deepwater and back on the shelf, LLOG has a significant number of prospects that, thanks to the most up-to-date interpretation of 3D seismic data, present high-impact exploration drilling opportunities. According to LLOG, these prospects will result in significant production in the months to come, provided drilling permits are granted in a timely manner.
More Offshore Issue Articles
Offshore Articles Archives
View Oil and Gas Articles on PennEnergy.com