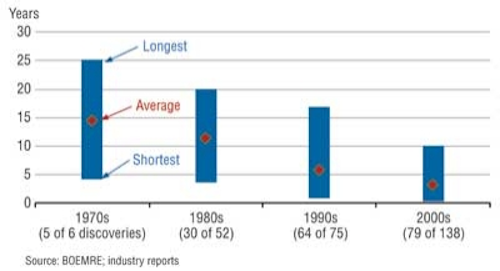 Foreign assistance needed for deepwater drilling, subsea hardware, floating production systems
Michael Robertson
Douglas-Westwood
Mexico's offshore oil and gas production comes from five main areas – Campeche Bay, Burgos basin (gas), Golden Lane, Tabasco, and Veracruz, all of which lie in the Gulf of Mexico. Nearly 30 oil fields are located in Campeche Bay, the largest of which, Cantarell, was discovered in 1976. The Cantarell complex was originally the largest offshore oil-producing complex in the world, second only to the onshore Ghawar field in Saudi Arabia, and accounted for upwards of 60% of Mexico's production. Lying in shallow water depths of 35 to 40 m (115 to 131 ft) and producing from more than 30 platforms, Cantarell, among other major fields, is now in decline. At the same time, the necessity to offset the declining production profile, particularly amid robust commodity prices, is more important than ever before. The country's reserve base also has decreased. According to Pemex, proven reserves have fallen for a twelfth consecutive year to 13.8 Bbbl.
Petróleos Mexicanos
The national oil company Petróleos Mexicanos (Pemex) controls the oil and gas sector with some production handled through multiple services contracts with international companies. Pemex's budget must be approved by the Parliament each year.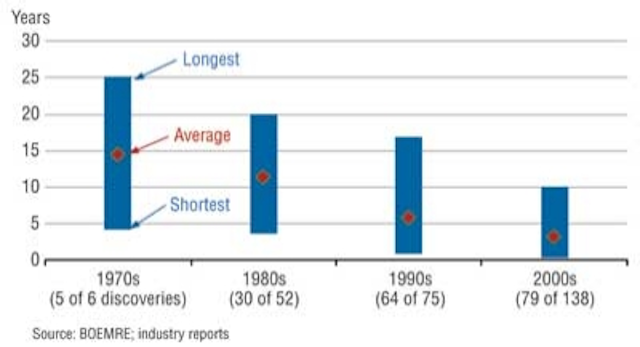 Despite the production declines, exploration activity has significantly increased in Mexico over the last decade.
Pemex Exploration & Production (PEP) is the largest and most active group within Pemex, with approximately 50,000 employees spread between their Mexico City headquarters and four operating groups ("regions") based in Villahermosa, Ciudad del Carmen, and Poza Rica. Each "region" has a number of asset teams ("activos") related to a field or project. In addition, each region contains a standard series of departments: planning, maintenance, operating coordination, HSE, finance and administration, and drilling. In 2010, PEP spent $17.4 billion, approximately 83% of Pemex's total investments during that year.
In 2008, new legislation was put into place that aimed to reform the country's oil sector and to reduce the decline in Pemex's production. Several administrative changes were made, such as adding new seats to Pemex's administrative board for outside industry experts; creating a new advisory board designed to provide independent coordination of long-term energy strategy; and the establishment of a new hydrocarbons agency to regulate the sector. The reforms included the ability for Pemex to create incentive-based service contracts with private companies. As a result, Pemex received greater autonomy under the reforms, including the ability to issue its own debt and establish more flexible mechanisms for procurement and investment.
Recent financial results illustrate a net loss of $3.8 billion despite an increase in income from crude exports given strengthened oil prices. This compares starkly with announced profits from Brazil's Petrobras and is indicative of Pemex's monopolistic status and use as a direct funder of the country's economy. The majority of revenue is injected directly into the economy through tax.
Production
Offshore oil production in Mexico peaked in 2004 at around 3 MMb/d. However, much of this production came from the Cantarell field which, as previously noted, is now in decline. In 2010, the Cantarell complex produced around 600,000 MMb/d, approximately 22% of Pemex's crude oil production.
In the 1990s, Pemex began a number of projects to reverse the decline in the Cantarell complex. A gas lift system, installed in 2005, initially stabilized output at around 1 MMb/d. The company also stepped up its drilling and maintenance programs. This included the construction of maintenance and workover platforms, and the drilling of more than 2,000 wells. All programs aimed to slow the rate of decline on the Akal sector, which accounts for 90% of the Cantarell complex's output.
Efforts to stem production decline were successful, with flat output reported between 2009 and 2010. But the longevity of this plateau is likely to be short-lived without further measures to allow foreign involvement. A review of these incentive-based contracts was publicized in March for small onshore fields, with the intention of using this as a trial run prior to the potential for opening larger offshore production licenses within the Gulf of Mexico. Additionally, in May 2011, Pemex stated that it may issue bonds of up to $3 billion to the international market – possibly from as early as May 16.
Pemex is undergoing plans to increase production from other areas, some of which are detailed below. Despite these developments, it is likely that Mexico's offshore production will decline further, with Datamonitor predicting that crude production will fall to 1.6 MMb/d by 2015 and 1.3 MMb/d by 2020, dictated in part by recent cuts in potential production levels on the Chicontepec prospect. Pemex recently reduced expectations of oil production here to 150,000 b/d down from 660,000 publicized in 2007.
Drilling activity
Despite the production declines, exploration activity has significantly increased in Mexico over the last decade. In 2003, it was estimated that around 24 exploration and appraisal (E&A) wells were drilled offshore. This number rose to 44 through 2011, a drilling level which is hoped to be maintained over the period to 2015 as Pemex seeks new prospects for development to counteract its declining production. The company plans to invest a reported $23 billion this year to boost oil production.
Around 50 development wells are drilled each year, the majority in shallow waters, many of which are surface completed to fixed infrastructure. Notable subsea developments include Noxal, Lalail, Labay, Leek, and Lakach – all of which lie in the deepwater Coatzacoalcos basin.
Pemex recently announced plans to increase the number of drilling rigs under operation in Mexican waters and assuming this goes ahead (indications appear positive), the volume of both exploration and development activity may increase. In March 2011, the company agreed to lease seven jackup drilling rigs from Noble Corp. with dayrates ranging from $58,000 to $100,000. In addition, the company has extended the leases of 25 rigs currently under contract, many of which are shallow water jackup rigs similar to those leased from Noble. Pemex's plans to lease, rather than buy these rigs, reduces lead times and allows the company to step up more quickly its drilling campaign. In total, around 40 rigs are said to be required over the next few years.
Pemex has announced plans to award $5 billion worth of platform construction contracts over the next two years. The 50 new production platforms will be installed on Campeche Bay on fields including Ayatsil and Tsimin. Pemex estimates that those two fields contain reserves of up to 622 MMbbl.
Deepwater development
Historically, the lack of foreign investment and expertise has forced Pemex to rely on largely shallow water prospects, and only a limited volume of deep exploration and production has been carried out to date. However, the majority of prospective reserves lie in deep waters and it has been the focus of recent company strategy to explore and develop the huge potential volume of hydrocarbons off the Mexican shelf. It is expected that following recent announcements, Pemex will begin to offer deepwater drilling contracts to foreign players by early 2012, although the eagerness of foreign participation is yet to be determined.
The NOC's desire to enter the deepwater market was recently confirmed with the signing of a five-year contract of $850 million for SeaDrill's newPegasus ultra-deepwater rig.
The first deepwater exploration started in 1999 with Chuktah-201 at 513 m (1,683 ft) and in 2000 with Nab-1 at 681 m (2,234 ft). Deepwater exploration moved into a higher gear in 2005 with Noxal at 689 m (2,261 ft), also known as Deep Coatzacoalcos. This was the first of a series of 10 exploration wells Pemex planned to drill in the area off Veracruz state.
The Lakach-1 wildcat well drilled in 2006 at 988 m (3,241 ft) is considered a much better proposition. Initial output from the Lakach field is expected in 2014 – with its 1.4 tcf of reserves likely to be developed in conjunction with satellite fields including Ahawbil, Labay, Piklis, and Kuyah.
Another possible deepwater development is the Lalail prospect which lies in water depths of 792 m (2,598 ft). Lalail is expected to come onstream in 2015 and may well be tied back to a floating production platform.
During 2011, Pemex expects theBicentenario rig to be drilling in water depths between 940 and 2,933 m (3,084 and 9,623 ft). The semisubmersible is managed by Industrial Perforadora de Campeche and is contracted to 2016 at $530,000/day.
In wake of the Macondo incident, the National Hydrocarbons Commission has unveiled new safety procedures for deepwater areas which follow similar guidelines set by the US government. Pemex now must prove that it has adequate insurance to cover any loss or compensation from a deepwater accident. While such incidents are infrequent, the variance in deepwater drilling experience between Pemex and a company such as BP is considerable. If Pemex wishes to avoid such a disaster, technical expertise from more experienced foreign players would prove valuable.
Besides deepwater drilling, the construction and installation of subsea production and processing equipment is a key area where foreign participation is likely. In its deepwater strategy presentation, Pemex highlighted that the procurement of subsea trees, risers, umbilicals, flowlines, and separation and injection systems is high on its list of priorities. In 2007, FMC Technologies supplied subsea trees for the Cantarell project while companies such as Aker Solutions, Cameron, Dril-Quip, and GE Oil & Gas have experience in other Latin American markets. It is possible that Pemex will follow a similar trend to Petrobras by offering multi-year frame agreements for certain subsea equipment.
Pemex is likely to follow Petrobras' trend of utilizing FPSOs as early production systems and long-term infrastructure on deepwater fields. However, unlike Brazil, Mexican yards do not have FPS construction capabilities; therefore such vessels will need to be sourced from foreign shipyards. Pemex currently operates theYuum K'ak'naab FPSO on its Ku-Maloob-Zaap shallow water development; the rig is leased from BW Offshore.
Conclusions
Pemex is investing heavily in the exploration and development of its shallow water fields, despite significant production decline from many of its mature basins. It is the company's assets in the deepwater Gulf of Mexico, however, that hold the key to increasing future output. Given Pemex's relative inexperience in the sector, considerable foreign expertise will likely be required, especially in key areas such as deepwater drilling, subsea hardware and floating production systems.
More Offshore Issue Articles
Offshore Articles Archives
View Oil and Gas Articles on PennEnergy.com